Mauricio Valdivia was the kind of person who made sure he told everyone in his family he loved them.
Valdivia, 52, was a family man. He looked after his younger siblings while they were growing up, dropping out of high school and working as a teen so he could help support the family. He eventually had two sons and a wife with whom he was deeply in love, said his younger brother, Jorge Valdivia.
Now the family is mourning Valdivia, who died from coronavirus on April 9.
"Seeing my brother become the person that he was, from a single person to someone who was in a relationship, so in love with his girlfriend, fiancée and eventually his wife, and to becoming a proud father of two sons — it was just beautiful," Jorge Valdivia said.
---
Valdivia immigrated to the United States with his older brother and parents as a child. They lived in Little Village, where everyone knew him, Jorge Valdivia said.
Valdivia would sit on the front stoop of their home, playing music on a boombox and talking to passersby. He had many friends: Everyone would say "hey" to him when he walked down the street — and the girls "really liked" him, Jorge Valdivia said.
As a teen, Valdivia dropped out of school and got his GED so he could work in a factory. Because of that, he became a "student of life," said Jorge Valdivia: His brother loved to watch documentaries to learn, and he became a fountain of knowledge — the kind of person you'd want on a trivia team.
But most important to Valdivia was his family. When they struggled with money, Valdivia would surprise them with groceries, getting them things they loved to eat like peanut butter and jelly.
"He carried the family on his shoulders financially for a while," Jorge Valdivia said.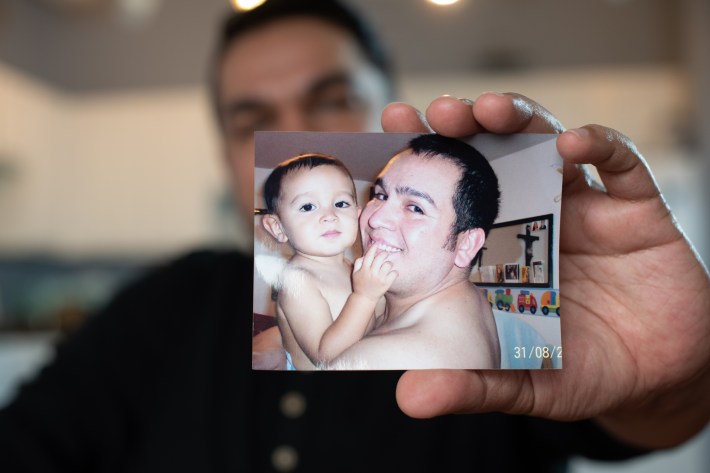 Jorge Valdivia can remember Christmas the year he was 10 or 11. His family couldn't afford presents that year.
"And on that particular Christmas morning, I remember waking up. We were cleaning the living room and my brother comes in with a bunch of bags — and he had surprised the entire family with Christmas gifts," Jorge Valdivia said. "That's probably one of the best Christmas memories that I have."
Somehow, Valdivia, just 19 at the time, had known exactly what to get his younger siblings: a Transformers toy for Jorge Valdivia and a Rainbow Brite doll for their sister.
The kids were "ecstatic," Jorge Valdivia said.
"That was my brother," he said.
Mauricio Valdivia had an uncanny knack for reading people and connecting with others. He'd throw parties where everyone was invited; in the middle of it, he'd disappear and then come back with a wig and go into character.
"The entire room would just fill with laughter," Jorge Valdivia said.
Valdivia showed his love in quieter ways, too: He would check on his relatives to make sure they were OK and, if they weren't, he'd ask if they wanted to chat and have a beer.
He was proud of Jorge Valdivia's work at the National Museum of Mexican Art, too, making it to almost every event his brother organized.
When Jorge Valdivia got older, he worried about telling his big brother he was gay. He didn't think Mauricio Valdivia would reject him, but he had such a strong image of his brother as a beloved fixture of the neighborhood — it was intimidating to think of how many people looked up to him.
But one day, when they were alone at home, Mauricio Valdivia asked his brother if it was true he was gay. Jorge Valdivia said he was.
"And he said to me, 'I just want you to know that I love you and I accept you, and I don't want anyone to hurt you,'" Jorge said.
Mauricio Valdivia was very protective of his brother, and he made it clear he'd beat up anyone who gave Jorge trouble, he said.
"I was just so surprised because I remember thinking this was the one person I was most afraid to tell, and here he was showering me with love," Jorge Valdivia said.
Jorge Valdivia had been afraid, but Mauricio simply kissed his cheek and hugged him.
"I love you," Mauricio Valdivia told his younger brother, "and nothing is ever gonna change that."
---
Mauricio Valdivia was very goal-oriented, as well, his brother said.
One day, Jorge Valdivia came home to the apartment he shared with his brother to find the older Valdivia sweating. He'd been running from one end of their place to the other.
Jorge Valdivia asked his brother what he was doing and Mauricio Valdivia explained: He wanted to get married, so he was going to lose weight.
Just like that, Mauricio lost 35 pounds, Jorge Valdivia said. He reconnected with an old girlfriend, they fell in love, she moved to the United States and they married.
By that point, Mauricio Valdivia — who was undocumented when he moved to Chicago — had become a U.S. citizen, Jorge Valdivia said.
The couple had two boys, now 10 and 13, and Mauricio Valdivia became an insurance adjuster.
On Fridays, Mauricio Valdivia would get home from work and the family would relax together. On the weekends, they'd always do something: Go to the park, go Downtown, go sledding, Jorge Valdivia said.
"My brother showed his sons and his wife everything that the city has to offer," Jorge Valdivia said. "His absence is leaving a huge void in their lives and in the lives of a lot of people."
---
In late March, Mauricio Valdivia and his wife contracted coronavirus. They thought it was just a cold, but Mauricio — who was as healthy as he'd ever been in his life — quickly became sicker, Jorge Valdivia said.
The Valdivias got him to the hospital on April 4. He died April 9.
When the family called his work, a coworker told them, "We just want you to know that Mauricio was very liked by so many people, and this is going to devastate the entire company."
Even people Valdivia had never met in real life grieved his death, Jorge Valdivia said: Someone from another insurance company that Mauricio Valdivia had never worked for emailed the family and said they'd loved working with him over the phone so much they wanted to raise money for his family.
People from all walks of Mauricio Valdivia's life grieved his death, Jorge said, and that shows how special his brother was.
"That was my brother," Jorge Valdivia said. "My brother was the kind of person that told everyone in our family that he loved them. And that he was proud of us. He told me that."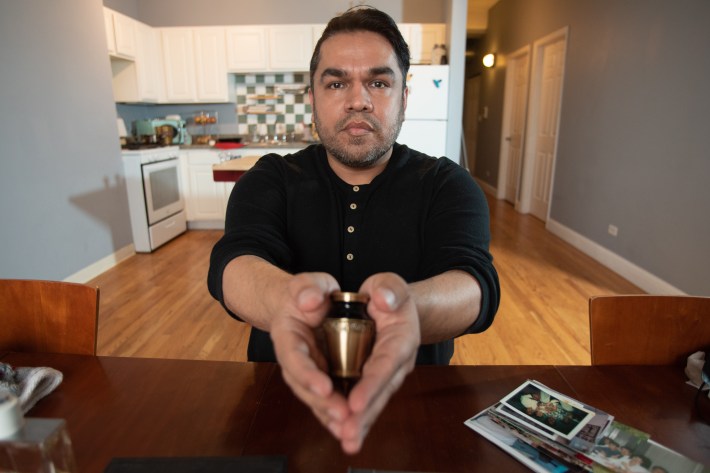 Coronavirus was first found in Chicago on Jan. 24, 2020. In the year since, the virus has killed more than 4,500 Chicagoans. Block Club is remembering victims from across the city with our series, A Year of Loss.
Subscribe to Block Club Chicago. Every dime we make funds reporting from Chicago's neighborhoods.
Already subscribe? Click here to support Block Club with a tax-deductible donation.