Most Cubs fans don't become part of the team's history.
But Bill Griffin was no ordinary fan. He's believed to be longest-serving vendor in Wrigley Field history.
One of the most familiar faces at the Friendly Confines for decades, Griffin found a family at Wrigley Field he didn't have elsewhere. When his health began to falter and he contracted coronavirus, it was those Wrigley Field friends and coworkers who helped Griffin get end-of-life care and a loving burial.
Griffin died of coronavirus May 16. He was 88. He last worked at Wrigley Field in 2017, ending a 65-year career as a vendor selling snacks, Old Style beer, foam hands and programs.
---
"Walking through the main gates [at Wrigley], he was the first guy you see," said Tom Poehling, a Cubs fan who met Griffin through the ballpark and later became his power of attorney. "He was a fixture of the ballpark and a part of the fabric of the ballpark."
Griffin grew up in Oklahoma. His dad died in a work accident when Griffin was 2, and his struggling family sent him to an orphanage when he was 9, his friends said. He joined the Marine Corps as a teenager before coming back to Oklahoma and working for minor league teams, Chicago journalist Dave Hoekstra wrote in a 2019 profile.
Eventually, Griffin made it up to Chicago. In 1952, he became a big-league vendor, working Wrigley and Comiskey Park.
The job gave "Griff" some notoriety. He was known on both sides of town as one of the gruffest vendors. He had a weathered look that matched his demeanor and alluded to his tough upbringing in the plains of Oklahoma.
Griffin had a cameo in the 1993 movie "Rookie of the Year," where he played a third base coach. In the later years of his career, Griffin was stationed at a stall just inside the main Wrigley Field gates.
The job at Wrigley may have made him recognizable, but it wasn't much of a living. Griffin told the Chicago Tribune in 2002: "I don't make the money the ballplayers make. If I did, I'd retire. …There's no retirement plan for vending."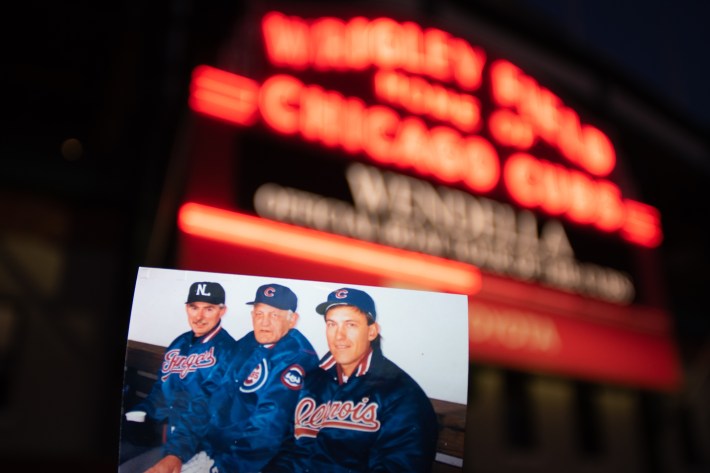 ---
It was at the ballpark that Griffin met some of his closest friends and confidants, like Mike Cahill.
Cahill has been going to Cubs games since he was 7 years old. He came to recognize Griffin as the guy who sold him score cards.
"Bill's been vending there since I was born," Cahill, of Albany Park, said with a laugh. "I always knew him as this grouchy guy and was a little intimidated by him for some time. Then we just got to know him."
Griffin grew closer to Cahill's family decades later. At a 2006 benefit for the now-closed Quigley North High School, where Cahill's son attended, the family noticed Griffin hanging around the periphery.
"He probably went there for the hot meal," Cahill said. "We just invited him to sit with us. He was a lonely guy in some ways. But he had a great capacity to make friends."
One of his good friends included fellow Wrigley Field and Sox Park vendor Ho Pun Padgett, who died in 2014 at 72.
Griffin and Padgett were among the only friends the other had. When Padgett was homeless, Griffin helped get her a vendor job and find her an apartment. And when Padgett died, Griffin saw to it that she was buried, but he never had enough money to get her a gravestone.
Cubs fans stepped up to buy the headstone for Padgett, according to the Tribune. Poehling, who lives just outside Madison, Wisconsin, helped arrange it so Griffin could visit Padgett's burial site at the Des Plaines cemetery.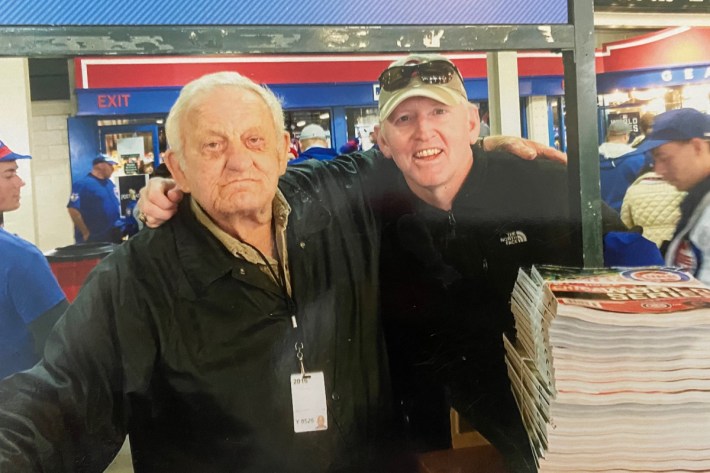 As his health began to wane, the friends Griffin made at Wrigley Field made sure he had as comfortable a retirement as possible. Cubs fans also put Griffin on a plane to make one final trip to his childhood home in Oklahoma right after he retired.
Poehling took more of an active role in looking after Griffin. He made sure Griffin had groceries in his apartment and someone in his Rogers Park apartment building was monitoring his health.
"He really had no advisers," Poehling said. "Some friends, but nobody who could act as an authority."
---
When Griffin's health faltered further, Poehling, Mike Cahill and his wife, Cathy Cahill, helped move Griffin into Astoria senior living center in West Ridge. The fiercely independent Griffin wanted to get back to Rogers Park and moved back to the neighborhood. After suffering several falls, he returned to Astoria.
West Ridge was the site of the biggest COVID-19 outbreak in the state in the early stages of the pandemic. Astoria was among the nursing homes that saw significant outbreaks.
After Griffin died May 16, Poehling teamed with Cahill and others to make sure Griffin was buried next to his beloved friend, Padgett, in Des Plaines.
The graveside funeral ceremony was attended by about 35 people, mostly made up of Cubs vendors.
"You have to be an amazing guy to have casual acquaintances come to your funeral," fellow vendor Joel Levin told the Tribune.
Cahill gave the eulogy.
"William Griffin reminds us all of the wisdom of the great religious traditions that our dignity comes not from our wealth or accomplishments, but only from our common humanity, however imperfect and broken, and from our love," Cahill said at the service.
Griffin helped define the atmosphere at Wrigley Field for a generation of Cubs fans. It is Cubs fans who made sure Griffin's memory will not be forgotten.
"The guy was deserving of whatever people did for him," Poehling said. "He was a success story. He beat odds that many other people would succumb to."

Coronavirus was first found in Chicago on Jan. 24, 2020. In the year since, the virus has killed more than 4,500 Chicagoans. Block Club is remembering victims from across the city with our series, A Year of Loss.
Subscribe to Block Club Chicago. Every dime we make funds reporting from Chicago's neighborhoods.
Already subscribe? Click here to support Block Club with a tax-deductible donation.