Darnell Jones was a jokester, a patriarch who knew how to stretch a dollar while looking like a million bucks. He laughed loudly and believed in hard work.
Like many people, Jones wouldn't go to the doctor unless he thought he was seriously ill. So when his sister, Elois Thompson, begged him to go to the hospital the week before Thanksgiving after he told her he was having trouble breathing, he shrugged her off, insistent on riding it out by taking a few days off from his job at AutoZone.
"I'll be alright. I'll give it a couple more days and I'll go," Jones told his sister, she recalled.
Days later, on Dec. 4, Jones' nephew found him unresponsive inside the South Bishop Street home where he'd grown up and lived most most of his life. He had collapsed after letting his dog, Christine, out in the backyard that morning.
By the time first responders arrived, Jones had died. It was a quiet end for a man whose presence was larger than life.
"It happened so fast, like three weeks," said Thompson, who talked to her brother every day. "Him and the fellas got together to watch the Bears game on a Monday, the week before Thanksgiving. On Tuesday, he called me like, 'Elois, we had such a good time. The fellas set out the food and drinks and told me I didn't have to spend a dime.' He told me they had a great conversation after the game."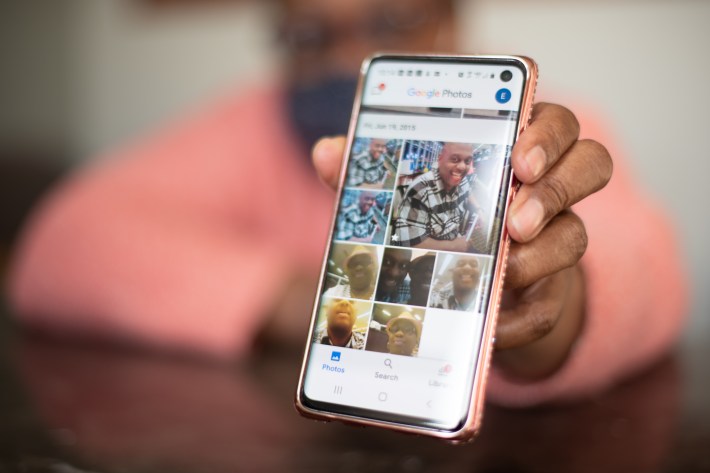 ---
Jones, 55, was the fourth of five siblings. Thompson was seven years older.
They grew up in a noisy house filled with love, headed by a mother who nurtured them and a father who meted out tough love when the occasion called for it, Thompson said.
The family home on South Bishop was home base for many of the kids on the block, who treated the elder Jones like their own father.
Back then, Darnell Jones could be found playing baseball with his friends or running around with a football. It was an idyllic childhood for the most part, save for the group trips to White Castle, which usually ended with Jones, Thompson and their friends running from angry white kids ready to punish them for crossing the invisible border that separated white and Black neighborhoods.
"We had to roll deep. There would be seven or eight of us. They would wait for us to buy our food to attack," Thompson said. "I'd be so mad because we'd saved up our allowance money and they'd try to beat us up and take our food."
Jones loved to dance and excelled at steppin', a style of Chicago dance that evolved from the Bop. Jones, a stepper's set veteran, was known to hit South Side lounges dressed in his best.
Jones showed off his skills when he, Thompson and friends celebrated his 40th birthday 15 years ago at a lounge in Minneapolis, where he lived at the time.
As they were stepping on the dance floor, a crowd formed to watch. Thompson was nervous, but her younger brother kept her calm.
"He just said, 'Keep dancing. You got this,'" she recalled. "After we finished, people were coming to our table to congratulate us and buy us drinks."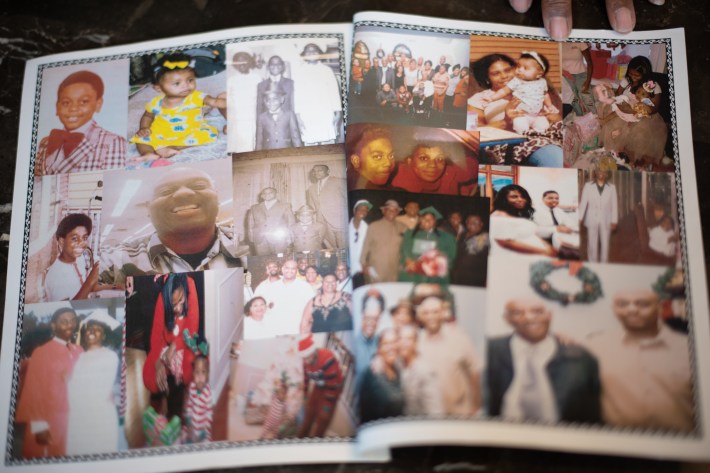 ---
Jones loved steppin' as much — maybe more — than he loved his red Pontiac Grand Prix ("You could hear him coming down the street," Elois said) or a slice of his grandmother's coconut pineapple cake.
But none of those things compared to the love he had for his daughter, Juaniece Jones, who misses her father's jovial, protective presence.
It was Juaniece's father who, along with her grandfather, made sure she could balance a checkbook without reaching for a calculator. When she bought her first home, she was prepared for every expense thanks to her dad and grandma's expertise.
"Both of them could count how many pennies were in a jar just by looking at it," Juaniece Jones said.
"The exact number," Thompson added, chuckling.
While the family wanted to honor Jones with a large homegoing service, the pandemic forced them to keep it small. Those unable to attend in person watched on Facebook Live.
The young men Jones looked after on the block were among the dozens of mourners who paid their respects virtually.
For Juaniece Jones, her father's death has been "eye-opening" in that it has forced her to take stock of her life.
"It hit home. You start thinking about the things you could've done differently. It made me think about some of my choices," she said.
Still, Jones said: If it was God's will that her father was called home, who is she to question it? That unwavering faith carries her and her aunt as they try to navigate a world without the backbone of the family.
"I miss his jokes and his laugh," Thompson said. "I miss it every day."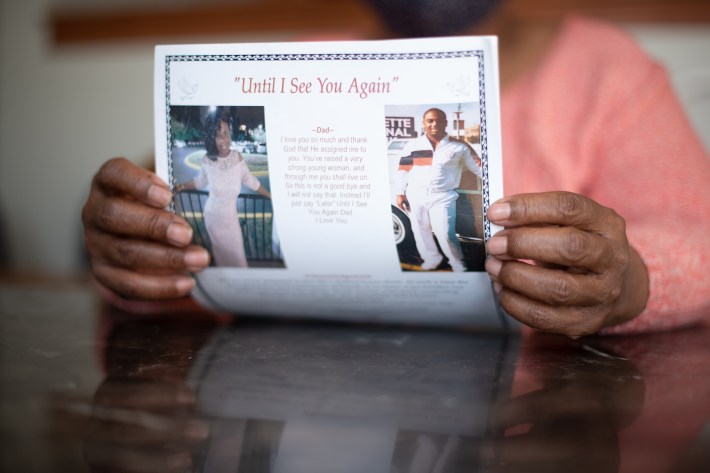 Coronavirus was first found in Chicago on Jan. 24, 2020. In the year since, the virus has killed more than 4,500 Chicagoans. Block Club is remembering victims from across the city with our series, A Year of Loss.
Subscribe to Block Club Chicago. Every dime we make funds reporting from Chicago's neighborhoods.
Already subscribe? Click here to support Block Club with a tax-deductible donation.