In late September, Curtin Bamberg Sr.'s family gathered to release purple and gold star-shaped balloons. They floated up past red brick houses and green trees and into blue skies.
Bamberg, a 73-year-old grandfather, died of coronavirus on Sept. 23. His family came together soon after for a memorial service. As the balloons went up and the family mourned, Bamberg's niece filmed.
"See you later, Curtis," she says in the video. "We love you, Uncle Curtis," someone calls out.
"He floating on," his niece says.
The family chose purple balloons because it was his favorite color. "Those gold balloons is 'cause he's a king," his niece said.
The video shows one balloon gets caught in a tree for a moment. "That means he's still right here with us," someone says.
"He ain't gonna get stuck," his niece says. Laughing, she adds, "He ain't trying to stay. He's trying to get as far away from y'all as he can."
She was joking, of course — Bamberg was a family man, and he would have been proud to see his children and grandchildren gathered together in purple to celebrate his life.
The balloons that went up had different words on them: "Daddy," "Curtis," "Granddad," "Husband."
---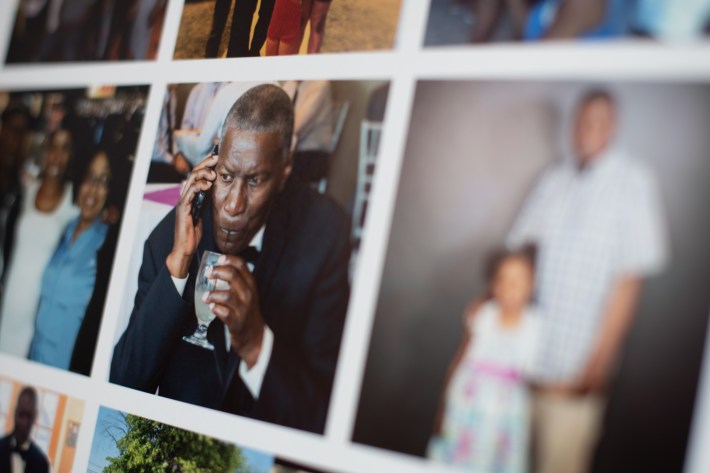 Before Bamberg died, he made last year's Mother's Day special for the women in his life, making them shrimp and biscuits, waffles and fried chicken.
The meal honored his wife, Alnita Williams Bamberg, and three daughters: Janise Williams, Amanda Bamberg and Jada Bamberg.
Bamberg also had three sons: Curtis Edward Bamberg Jr., Thaddeus Williams and Curtis Bamberg II.
Alnita Williams Bamberg said her husband was a hard worker and an excellent provider for their family. He was a retired trucker.
"He made sure that the foundation was laid [so you could] go forth and get what you want," she said.
One example of that: When their youngest daughter, Jada, went to prom, Curtis Bamberg "made sure that all her needs were met for that, as a father should provide for his family," Williams Bamberg said.
Bamberg's family recognized that commitment.
One year for Christmas, Jada Bamberg gave her dad a glass plaque. It held a photo showing a proud Bamberg with his arm around his daughter, who was decked out in a pale yellow prom dress.
The plaque was inscribed, "You loved me, taught and guided me through the years as I have grown. And you've never, ever made me feel like I was not your own."
---
To preserve Bamberg's memory for his kids, his wife is working on sewing each of them a quilt out of his old clothes. One of her daughters suggested it.
And the family has looked for other ways to honor their father and husband. One of Williams Bamberg's daughters gave her a black coffee cup and told her, "You can drink your coffee out of it."
What the daughter didn't say: When the mug is warmed up, the black fades and photos come into view. They're of Williams Bamberg and her husband at their daughter's birthday party and their son's wedding.
At events like those, the two would dance together, two stepping and slow dancing.
"When we would hear certain songs, we would dance," Williams Bamberg said. "The music got him moving. He grabbed my hand, and we'd get up and dance. So that's what I'll miss the most about him."
They loved to dance to the cookout classic "Stand Up In It" by Theodis Ealey, which Williams Bamberg included in a video memorial of her husband.
Alnita Williams Bamberg's memorial video:
She's a student at Illinois Media School. When her professor found out Bamberg had died, she suggested Williams Bamberg make the video as part of an assignment.
Bamberg had encouraged his wife to take that class and to keep going with it, even as he was sick.
"He was telling me, 'Just pass,'" Williams Bamberg said. "He said, 'Don't you stop going to school.' I said, 'I'm not going to stop. I'm not going to stop.'
"And I didn't. I ended up passing. And my graduation is next month."
She finished that portion of the program, which focused on video and audio, with her husband in mind. Soon, she'll go back to study photography and get her associate's degree.
She's working hard — just like her husband did.
"When he set out to do a goal, he stayed on that path," Williams Bamberg said. "He was a man that did not give up easy. He stayed on the path, and when he started anything — anything he set out to do, he accomplished it."

Coronavirus was first found in Chicago on Jan. 24, 2020. In the year since, the virus has killed more than 4,500 Chicagoans. Block Club is remembering victims from across the city with our series, A Year of Loss.
Subscribe to Block Club Chicago. Every dime we make funds reporting from Chicago's neighborhoods.
Already subscribe? Click here to support Block Club with a tax-deductible donation.