Robert Brieske, of Jefferson Park, never said "no" when people needed him. 
Brieske, who grew up in Edgewater, was a Marine who served in Vietnam in 1968 and 1969. That experience, as well as connecting with the Chicago veteran community, taught him the power of brotherhood and the bond that comes with it, said his wife, Judy Brieske.
"I don't know that he ever said 'no' to anybody other than his kids," Judy Brieske said. "There is nothing like [the veteran community] in life. It's a brotherhood and a bond that is with them eternally. Any vet he could help in any way, he'd be the first in line."
Bob Brieske, a longtime lineman electrician for the city, died April 8 at the age of 70 from acute respiratory failure brought on by COVID-19.
His family was not able to have a funeral or memorial due to the pandemic, but they had his body cremated and have grand plans to officially lay him to rest the way he wanted: by visiting Vietnam one last time to experience it in peacetime.
"I don't know when, but at some point in my life or my kids' lives, a part of him will be in Vietnam, come hell or high water," Judy Brieske said.
Although Bob Brieske suffered from PTSD, his wife said he was an emotional support to other veterans who struggled. He was always there to listen and offer advice.
Brieske was an active member of several veteran groups, like Vietnam Veterans of America, Wreaths Across America and Honor Flight Chicago. He traveled to Washington, D.C., every December for wreath-laying ceremonies at Arlington National Cemetery and to tour veteran memorials. 
"He suffered from PTSD, like most of them do, but I can tell you: He saved the lives of a few suffering from PTSD who would talk to only him," she said.
---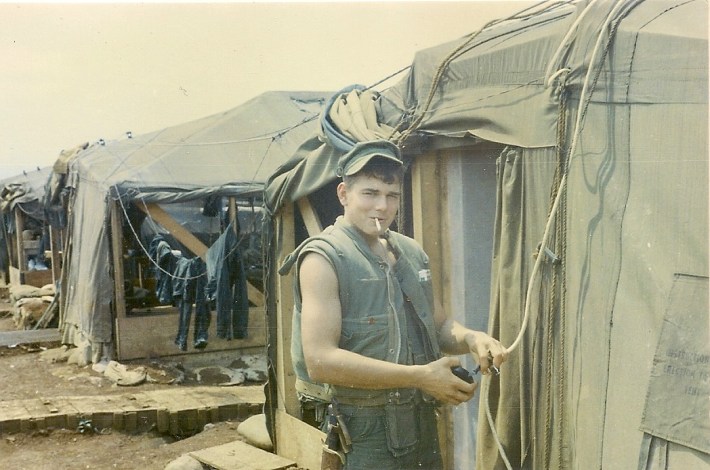 Brieske enlisted in the Marines when he was 17. He wanted the direction and structure it provided, said his younger daughter, Teri Brieske.
"He didn't know what he wanted out of life and took the military as a chance to do something with his life while also trying to figure out what his next step was going to be," she said. 
That next step after the war was working for the city for more than 30 years as an electrician, a career that brought him pride and happiness, his daughter said. He carried that over to his family as a brother, husband, father and grandfather.
"He worked his ass off and he was proud of himself, and that's what [Chicago] is missing: his pride and joy," she said.
Judy Brieske laughed when recalling how she met her husband. They were at a 1988 Wrigley Field protest, calling for the baseball stadium to fly a flag that would honor prisoners of war and people missing in action.
They married shortly after and had their two daughters, now 27 and 26. 
Brieske's family called him a gentle giant who was a caring, laidback family man who constantly made people laugh.
To honor his life and share it with his friends all over the country, Brieske's older daughter made a YouTube video featuring photos of Brieske and their family, starting from his time in Vietnam.
The video includes several photos of Brieske and his motorcycle, which he loved to ride.
Brieske was part of a motorcycle club and, just hours after he died, the members organized a drive-by salute. About 20 of them rode past the Brieske home to honor their friend.
"It was beautiful [and] very touching," Judy Brieske said. "A couple of guys cut out of work just so they could do it."
---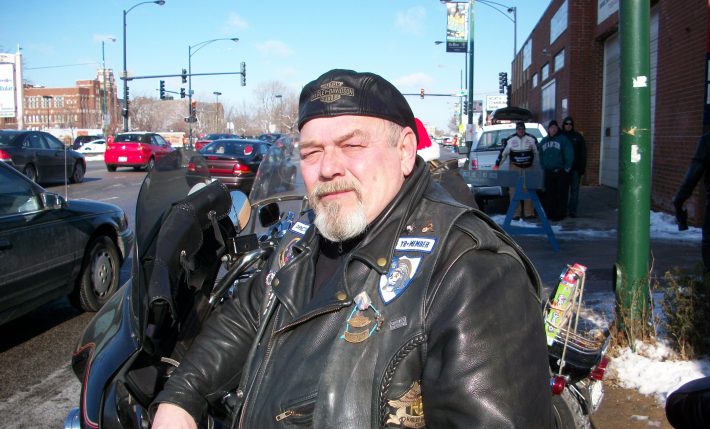 Brieske had resiliency and courage, and his wife said he "escaped death a few times" before COVID-19. The first time was when he served in Vietnam.
Brieske's daughter said the war took a toll on his physical and emotional health, especially because he was exposed to Agent Orange. After he served, he developed disabilities and heart problems from the chemicals and became diabetic, she said. 
"The war hurt him inside and out, but he wore it with pride. He had no shame behind it," Teri Brieske said.
The second close call came from a crash on the Kennedy Expressway during rush hour several years ago. Brieske was injured, and it took him months to get back on his bike.
But once he built up the courage to ride again, it was like the crash never happened, his daughter said.
He also suffered a heart attack and a brain aneurysm, but he fully recovered, his wife said.
"I hate to say it, but four different times he should have been dead and he made it through every time," she said. "The beast of COVID took him down."
Brieske's family wants to remember him as a loving and funny man who was everybody's friend, and as someone who always lent a helping hand. His daughter plans to live her life by the values he stood for: honestly, kindness and humility.
"I want to be the person my dad raised me to be," she said. "Be kind, be humble, be what is right in the world — and then you will know who my dad was." 

Coronavirus was first found in Chicago on Jan. 24, 2020. In the year since, the virus has killed more than 4,500 Chicagoans. Block Club is remembering victims from across the city with our series, A Year of Loss.
Subscribe to Block Club Chicago. Every dime we make funds reporting from Chicago's neighborhoods.
Already subscribe? Click here to support Block Club with a tax-deductible donation.