Lillie Merrill was a classic. A throwback to a time when women wore pearls and gloves to the supermarket, a time when raising your voice in public was déclassé.
She was beautiful and fearless and warm and wise, her daughters said. If you told her she couldn't do something, she'd do it anyway to prove you wrong. If she was mad at you, she'd let you know in a calm dressing down that would make Clair Huxtable shed a tear.
Merrill died of coronavirus April 26. She was 98.
Before the pandemic, her two daughters, Josette Merrill and Charlette Harris, visited her Southeast Side nursing home every day, often bringing gifts for other residents and staff. Josette Merrill retired early so she could tend to her mother.
Then, in early March, staff stopped Josette Merrill from going to her mom's apartment, after federal authorities restricted access as the pandemic took hold. After that, the sisters could only see their mother through Zoom.
Watching their mother slowly succumb to Alzheimer's had been hard enough, but not being able to see her in person as the virus ravaged the facility was too much to bear. They planned to relocate Merrill.
Instead, in late April, Josette Merrill received a call a little after midnight to tell her the news: Their mother had died a few days earlier.
"They let us come see her then, after she died," Josette Merrill said.
---
Born in Hugo, Oklahoma, a tiny town minutes away from the Texas border, Merrill settled in Englewood in 1955 with her husband, Jackson, a World War II veteran she met when he was stationed in Oklahoma City.
The young couple joined Hope Presbyterian Church on West 61st Street, where Merrill was a member of the Usher Board, the Deacon Board, and the Women's Auxiliary Board. Merrill was as meticulous about their two-story home on South Bishop Street as she was about her wardrobe, her daughters said.
And when she decided to return to the workforce, she did, despite protests from her husband.
"She said she wanted to make her own money, so she took a job at Spiegel's Downtown. Our father would buy her clothes, but she wanted to buy her own," Josette Merrill said.
Later, she'd work at St. Joseph's Hospital while taking classes to become a mental health therapist, her way of wanting to give back, Harris said.
"She loved her job, and she loved helping people. It was important to her," Harris said.
Maintaining her independence was just as important.
When Jackson Merrill died in 1992, she remained in the house they shared. Harris moved in the unit below to keep a watchful eye, but Lillie Merrill continued working at Hope Presbyterian and traveled whenever she could.
Even though her daughters were grown and taking care of her, Merrill remained protective of them. Once, when Harris had to take her car into a local shop for repairs, her mother — then in her late 80s — insisted on following her in her car to make sure she had a ride home.
"She hadn't driven in a long time, but that little lady got in her car and followed me all the way to the place. She could barely see over the steering wheel. That was one of the proudest moments, one of the proudest memories I had of my mother," Harris said.
Those same instincts led Merrill to try to protect her child when Josette Merrill's daughter, Javetta, passed away from a degenerative disease when she was 22.
After weeks of Josette Merrill holding vigil at Javetta's beside, the doctors said there was nothing else they could do. Determined to change their mind, Josette Merrill was preparing to return to the hospital when she received a call from her mother.
A few minutes later, Merrill was parked outside her daughter's house, insisting they needed to get fresh air.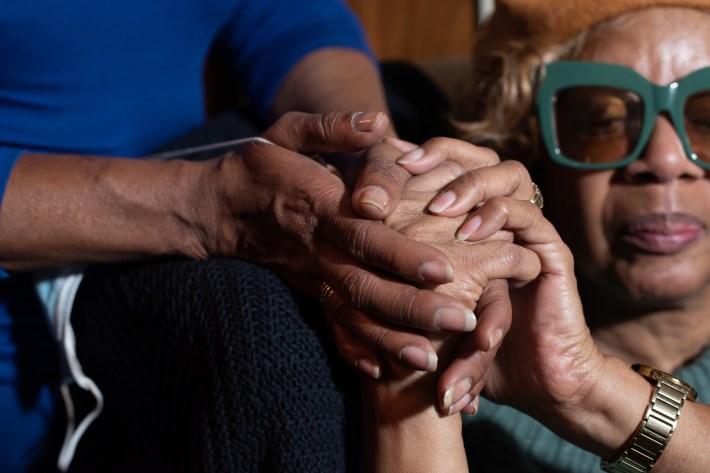 The two went to Lytton's, an old department store. Josette Merrill wanted to return to the hospital, but her mother was determined to keep her away.
When Josette Merrill received a message from her son telling her to call the hospital for news of Jovetta's death, she chastised herself for not being there.
"That's when [her mom] told me that she'd had a dream that morning, and in that dream she was told to not let me go to the hospital because I wouldn't be able to take it," Josette Merrill said. "I was so mad, but then I realized she was protecting me."
As Merrill's health continued to decline, the fiercely independent mother went from misplacing house keys to wandering off without notice. The sisters made the hard decision to move her into an assisted living facility, where she would remain until her advancing Alzheimer's called for closer supervision.
But in the end, it wasn't Alzheimer's that took their mother away, Josette Merrill said. It was COVID-19.
The sisters can only take comfort in knowing their mother and father are now reunited.
"I'm sure that once she got up there, he asked her what took her so long," Harris said, chuckling.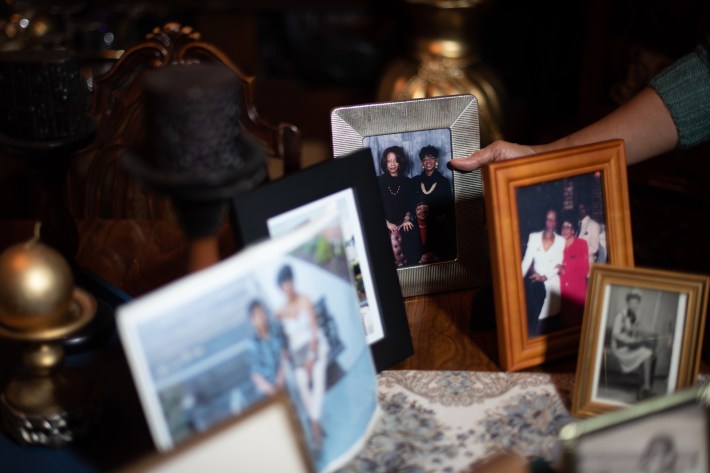 Coronavirus was first found in Chicago on Jan. 24, 2020. In the year since, the virus has killed more than 4,500 Chicagoans. Block Club is remembering victims from across the city with our series, A Year of Loss.
Subscribe to Block Club Chicago. Every dime we make funds reporting from Chicago's neighborhoods.
Already subscribe? Click here to support Block Club with a tax-deductible donation.