CHICAGO — Another 49 Illinoisans were reported dead from coronavirus during the past day.
The most recent victims included 18 people from Cook County, including a man in his 40s and two men in their 50s. The weekend also saw 137 deaths reported.
At least 18,798 people have died from COVID-19 in Illinois, and another 1,946 deaths are probably related to the virus, according to the state.
The state reported 2,944 confirmed cases during the past day, as well as 8,444 cases over the weekend. That brings the total number of confirmed cases in Illinois up to 1,104,763.
RELATED: A Year Of Loss: COVID-19 Has Killed More Than 4,500 Chicagoans. For These Families, Life Will Never Be The Same
Chicago and Illinois are weeks into vaccinating people, and new cases, hospitalizations and deaths have dropped in the city and statewide since a mid-November peak.
The state is administering an average of 28,171 vaccine doses per day, based on a seven-day rolling average. So far, Illinois has administered at least 582,360 vaccine doses out of the 1,112,725 it's been allocated directly. More than 140,000 doses of vaccine have been administered to Chicagoans.
Another 550,050 doses have been provided for long-term care facilities in Illinois, and 110,403 vaccines have been administered in those settings. Those vaccinations are done through a federal partnership with pharmacy chains.
All together, at least 692,763 vaccines have been administered in Illinois.
As of Monday, Illinois is now vaccinating people 65 and older and frontline workers as part of Phase 1B of the vaccination campaign. Illinoisans who are eligible are able to make appointments to get vaccinated at pharmacies, state-run mass vaccination sites and other places.
Chicago — which has a separate vaccination campaign — also moved into Phase 1B on Monday.
RELATED: A Coronavirus Vaccine Is Coming. Here's Everything You Need To Know About Getting One In Chicago
The state is peeling back some of its coronavirus safety restrictions as regions get their outbreaks more under control. Indoor dining has resumed at restaurants and bars that have food in Chicago.
At the same time, a more contagious variant of the virus from the United Kingdom has been found in Chicago.
The state's ability to have indoor service and youth sports "could be cut short if we aren't extremely careful," Gov. JB Pritzker said at a Friday news conference. "The CDC is already warning that the faster-spreading U.K. variant could become the dominant strain in the United States in March. And a virus that's more contagious ultimately results in more cases, more hospitalizations and more deaths.
"I know none of us wants to see another wave of COVID that brings on more mitigations, so let's not let our guard down."
And officials have cautioned it will be months before vaccines are widely available to the public. Chicago's plan tentatively predicts vaccines will be available to everyone 16 and older by late May.
That means people are still at risk and will have to continue taking precautions for much of 2021, officials have said. People should keep wearing a mask, staying socially distant, washing their hands frequently, not gathering, not traveling and not having people into their home, experts have said.
Illinois' seven-day positivity rate fell to 4.7 percent Monday with 74,202 tests reported. It was at 4.8 percent Sunday. The figure represents the percentage of people testing positive among recent tests.
Illinois' seven-day test positivity, which measures the percentage of tests that were positive, fell to 5.8 percent Monday. It was at 6 percent Sunday.
As of Sunday night, 2,962 people were hospitalized with coronavirus in Illinois, including 601 people in the ICU and 302 people using ventilators.
In Chicago, 34 deaths and 2,107 confirmed cases were reported since Friday. There have been at least 4,566 deaths from COVID-19 in Chicago and 230,932 confirmed cases, according to state data.
The city is seeing an average of 12 deaths per day, down from an average of 13 deaths per day the week prior.
An average of 767 confirmed cases are being reported per day, a 24 percent decrease from the previous week. At the same time, testing has decreased by 5 percent.
The city's seven-day positivity rate is at 7.2 percent, down from 8.6 percent the week before.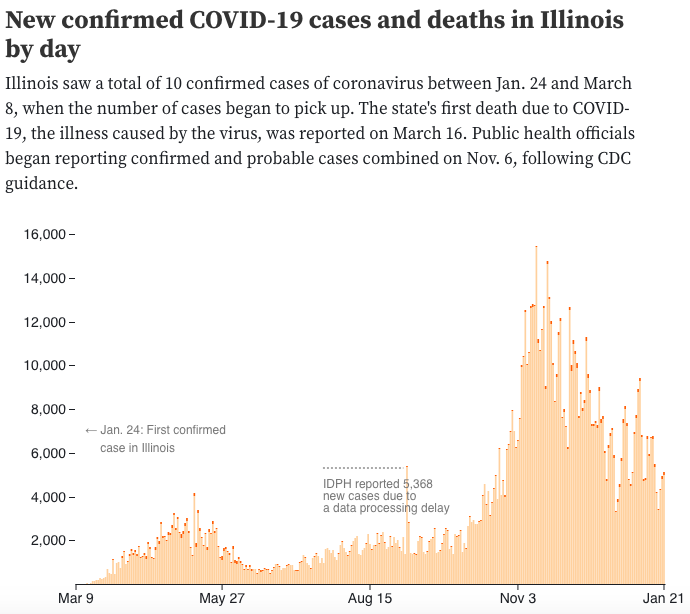 Block Club Chicago's coronavirus coverage is free for all readers. Block Club is an independent, 501(c)(3), journalist-run newsroom.
Subscribe to Block Club Chicago. Every dime we make funds reporting from Chicago's neighborhoods.
Already subscribe? Click here to support Block Club with a tax-deductible donation.