Every Mother's Day, Rogelio Cuevas would give his wife and daughters bouquets of roses. But it was his bright smile they treasured most on the holiday.
For his daughter, Mary Carmen Cuevas, 34, Rogelio Cuevas' smile brought a sense of comfort. He made their family feel joyful and special.
"It was happiness …," she said. "He could be going through the worst times, and he would always have the biggest smile. … It was a warm, bright, light-up-the-room type of smile.
"Everything is OK when you would see his smile."
Cuevas was a hard-working man who ensured his daughters knew their self-worth, they said. Mary Carmen Cuevas said he would treat her mom and her sisters like "queens." His family meant the world to him.
"He was a big sweetheart," his daughter said. "He would always give [my mom] flowers on every special occasion, like every year he would always give her roses. And when I became a mom, he gave me my flowers every Mother's Day."
Cuevas lived in Belmont-Cragin for 30 years. He died Oct. 29 from COVID-19. He was 64 years old.
In mid-January, his granddaughter, Elyssa Espinoza, was watching a movie that showed a spirit singing. She was holding a blanket with images of her family printed on it, and, running her hand over her grandfather's face, she said, "I miss my grandpa."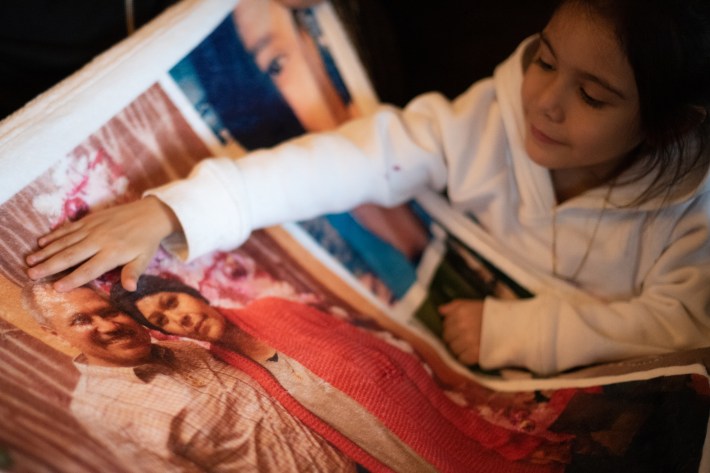 ---
Cuevas' family is heartbroken. They said they didn't just lose their father — they lost a man who brought laughter to the rest of the family and to his neighbors through his quirky jokes.
Mary Carmen Cuevas said her father had a giving heart and he would "treat neighbors as part of the family." He never hesitated to give back, shoveling neighbors' snow and providing school supplies for local kids.
"When we had block parties, he would give out food to all the kids. And since we had a block party towards the end of August, he would hand out school supplies to the neighborhood kids," she said. "He would help anybody out."
Those acts of service were the way Cuevas expressed his care for his neighbors and his love for his daughters, Mary Carmen Cuevas said.
Cuevas had another way of showing his love: food.
He would bake his well-known lemon cake with strawberry preserves and tres leches for Mary Carmen Cuevas, she said.
"I felt loved and spoiled … like an explosion of love that I would feel for him," she said. "He cared about everybody. If you needed something … he will give it to you."
One of her favorite memories of her dad was seeing his face light up one Father's Day when she cooked him his favorite meal: a tray of seafood staples, including lobster, crab legs and mussels.
Adriana Cuevas, 20, said their dad provided a personal touch to family meals, adding jalapeño to honor his Mexican roots.
"He would eat everything with a jalapeño, like everything: eggs, bagels. And he always had a jalapeño next to him …," Adriana Cuevas said. "He really liked spicy food."
Cuevas' love of spicy food was how he honored his culture. He made sure his daughters were also proud of their heritage by telling them stories from his childhood.
"Every day he would go get groceries, and afterwards we would go buy Mexican food, and he would always remind me of the foods that he would eat back in Mexico when he was 4," Adriana said.
---
There were never dull moments when Cuevas was around, his younger daughter said.
Their parties and family get-togethers were filled with laughter. When facing hardships, their dad wouldn't talk about anything that would make the family upset, trying to protect them and bring out the best in life, they said.
Adriana Cuevas said her dad pushed for her and her siblings to be independent, empowering them to reach their goals and meet their potential.
He would tell her, "Whenever I die, I want to make sure you're good. I want to die in peace, and I want you to be independent," Adriana Cuevas said.
Even her close friends called Cuevas "dad" because he would always give them advice.
Mary Carmen Cuevas said her father's love helped her learn to love herself. It gave her a sense of purpose.
"He showed us to know what we want and what we're doing," she said. "He gave us tough love."
His daughters can remember roller skating to the planetarium Downtown and watching their dad play with relatives near Blackhawk Park. He was always there for his family and friends.
"I'll miss him being with me all the time … ," Adriana Cuevas said.

Coronavirus was first found in Chicago on Jan. 24, 2020. In the year since, the virus has killed more than 4,500 Chicagoans. Block Club is remembering victims from across the city with our series, A Year of Loss.
Subscribe to Block Club Chicago. Every dime we make funds reporting from Chicago's neighborhoods.
Already subscribe? Click here to support Block Club with a tax-deductible donation.