Rafaela Castillo would share with people every chance she got.
Castillo grew up in a rural part of northern Mexico, coming to Chicago with her husband and their firstborn so they could seek a better life, said her granddaughter, Iris Garcia. They moved from Pilsen to Lakeview, where she spent most of her life.
Castillo, 89, died from COVID-19 on May 8.
Through all her years in Chicago, Castillo looked for ways to help others, especially fellow immigrants: She'd take in children and teens while their parents worked, she looked after Garcia and her sister, she volunteered through church and would help any neighbor.
Castillo even used her culinary talents to aid people. Come the holidays, she would whip up dozens and dozens of tamales — at least 100 during a big cooking session, Garcia said. She'd wake up at 5 a.m. to start making them, spend the whole day on a giant batch and give them to her children and grandchildren to provide to people in need.
"I mean, it was outrageous," Garcia said. "There were times where if we saw a homeless person, we would give them tamales, too. It was just whoever was in need or whoever wanted it.
"That was just her [and] her way of cooking. Her food spoke from the heart."
---
When Castillo and her husband, Roman Castillo Sr., moved to Lakeview, they lived in an apartment building where she was known as the go-to person for other immigrant tenants, Garcia said.
When a family from Belize moved in, Castillo invited them in and watched over their son while his parents worked. He grew up and became a police officer. When Castillo died, he spoke at her funeral about how she'd welcomed his family, Garcia said.
"It was just something that was second nature to her," Garcia said.
And Castillo was always focused on her large family. She was married to Roman Castillo Sr. for about 70 years. They had 10 children, 12 grandchildren and nine great-grandchildren. You couldn't go to their house without finding another relative there, Garcia said.
The extended family always got together for holidays and barbecues, no matter which part of the country they were living in, Garcia said. They were noisy and tight-knit — "a village," Garcia said.
"She was the glue that really held us together," Garcia said.
Castillo eventually moved into a nursing home in Irving Park, where she became sick with coronavirus this spring. Her family would "visit" her through a window, but they couldn't see her in person.
She was separated from her husband, who lives in another facility.
Castillo rapidly grew sicker and was hospitalized. Her family tried to visit her, but they were turned away due to the pandemic. That experience was deeply traumatic, Garcia said: They saw people from other families screaming and throwing themselves against the floor, worried for their loved ones who were inside the hospital.
They were able to do a video call with Castillo thanks to help from a priest at the hospital.
Castillo was lucid and calm, and she smiled, Garcia said. She just had a little trouble breathing. She'd been in great health before COVID-19, Garcia said.
The family said their good-byes, though they thought they'd be able to see her or talk to her again soon. They were hopeful she'd pull through and they told her how much they loved her and how she'd made a difference in their lives.
Garcia and her grandmother had always been positive with each other, no matter what was going on in their lives, she said. Garcia couldn't bring herself to say goodbye to the woman who had always been a "sunny little lady."
"That was my — my words to her: 'You look great, grandma. See you soon,'" Garcia said.
Castillo's condition continued to worsen. A few days later, she died alone in the hospital.
"We anticipated her living a long life and just — this was cut short," Garcia said.
---
As her children, grandchildren and then great-grandchildren grew up, Castillo would try to teach them to also give to others.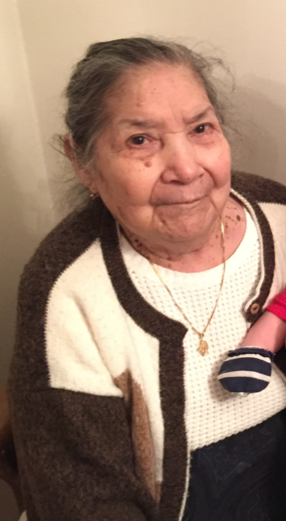 "… She just knew that we needed to see the world without judging eyes," Garcia said. "She was very much open to … any immigrant that came that she saw needed help. … She pretty much instilled that in us."
When Garcia's mother — Castillo's second-oldest daughter — had to juggle work with school while being a single parent with two daughters, Castillo helped take care of the girls. She'd feed them after school, make sure they did their homework and ensure they were well-rested, Garcia said.
It was important to Castillo that Garcia and her cousins be well-educated because that meant they could build better lives, provide for their families and pay forward their good fortune, Garcia said.
Castillo hadn't been afforded the same opportunities when she was growing up, Garcia said. But when she and her family moved to the United States, her husband went to school — and then Castillo made sure her children, grandchildren and great-grandchildren did, too.
As the family members grew up, Castillo would encourage them to go to college or learn a trade. She was proud her children and grandchildren owned homes.
But always, Garcia said, Castillo would remind them: Give back.
Garcia said she thinks of Castillo from the moment she wakes up to when she falls asleep. Castillo influenced every part of her life, from the way she parents to her focus on seeking education. She's tried to teach her kids to volunteer, just as her grandma taught her.
"I think she was just appreciative to be in a country that was so full of opportunity. She was the ultimate immigrant story. She came for a better life," Garcia said. "We made that American dream.
"I think she always felt, 'Pay it forward in helping other people.' That was her goal."

Coronavirus was first found in Chicago on Jan. 24, 2020. In the year since, the virus has killed more than 4,500 Chicagoans. Block Club is remembering victims from across the city with our series, A Year of Loss.
Subscribe to Block Club Chicago. Every dime we make funds reporting from Chicago's neighborhoods.
Already subscribe? Click here to support Block Club with a tax-deductible donation.