CHICAGO — Stephanie Martin has lived in Calumet Heights all her life, but on Friday she told members of City Council she's considering moving out of the city.
On Dec. 1, her 31-year-old son was the victim of an attempted carjacking and robbery that left him paralyzed, she said.
Despite having video of the "vicious attack," identifying the vehicle used in the crime and the figuring out who had rented that car — no arrests have been made, she said.
"I was born and raised in 60617," said Martin, whose daughter is a Chicago Police officer. "Now as a widow, I'm considering my options to relocate. Because I'm terrified."
Carjackings have been surging in Chicago for more than a year. After a 135 percent jump in 2020, the trend is continuing with 144 carjackings reported in the first 20 days of 2021.
The attacks are occurring at alarming rates in neighborhoods across the city, particularly on the South and West sides, Chief of Detectives Brendan Deenihan said during a Friday hearing. The City Council's Committee on Public Safety called the meeting after outraged residents have pushed aldermen and police to do something about the issue, and it stretched for more than four hours Friday.
RELATED: Amid Surge In Carjackings, Top Cop To Send In More Detectives
Several residents from the 7th Ward on the South Side addressed City Council members before the meeting. Stacy Miller said she is scared to leave her South Shore home.
"I'm really tired of feeling like a victim when I come out of my house," she said. "My neck is hurting, I'm turning from right to left. I can't feel comfortable inside of a car anymore."
Marcello Siggers said neighbors "are afraid," and "they want these people held accountable. Nothing more, nothing less. These people are paying taxes in this neighborhood, they've been living here for 40, 50 years. … Our residents are not feeling it. They are not happy."
West Town resident Sam Royko, the son of late Chicago newspaper columnist and author Mike Royko, called on leaders to come up with short-term solutions to slow carjackings. His girlfriend was carjacked in Wicker Park on Saturday.
Royko also pushed leaders with addressing the "systemic racial and educational" issues driving young people to commit the crime in the first place.
"Like my father I love Chicago and I believe in our city," he said. "We cannot just place a band-aid on the systemic issues of our city. … This is really Chicago crying for help right now for the safety and wellbeing of our citizens. We need to answer that call right now."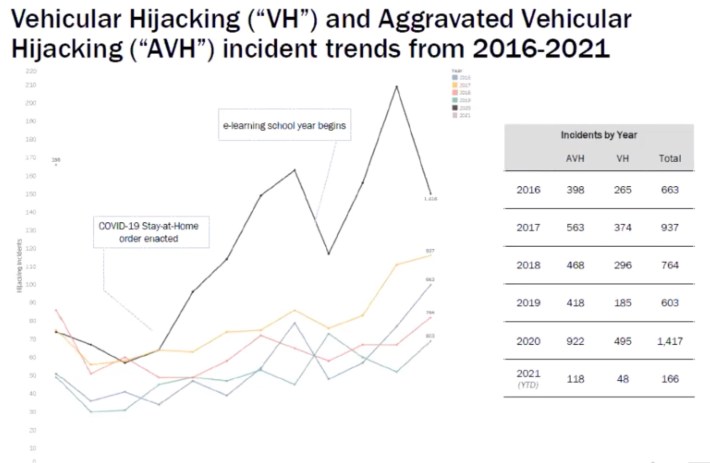 Aldermen questioned police leaders and prosecutors about how authorities are tracking attackers and handling their cases in court. Aldermen suggested using more helicopters to catch offenders, better license plate readers and using ward money to purchase cameras.
Ald. Michelle Harris (8th) said she's been forced to create her "own process" in her South Side ward to combat carjackings, from adding cameras to blocks and asking neighbors to keep their lights on at night. But that's not enough, she said. She called on legislators to strengthen laws around the crime to increase consequences for offenders.
"There's no one person to blame. I think the entire system … everybody in the system has to work together and has to be singing the same song," she said. "A judge can only do what he's been sanctioned by the law to do. We need to recreate the laws. That takes every layer of government working together to get this done." 
Ald. Gregory Mitchell (7th) said the city must change how it polices and how it legislates with regard to carjackings.
"This should be personal. Politics should not play a role in this," he said, adding that he's lived in his neighborhood his entire life. "I have never, ever seen the kinds of things that are going on. These carjackings are something out of a video game."
'Young people need to know they're jeopardizing their future for a joyride'
In Chicago, most of the attackers are between 15 and 20 years old and their motives include "joyriding and to facilitate anonymity while committing other crimes," Chicago Police Supt. David Brown said.
Deenihan said the police, courts, community leaders, parents, pastors, coaches — every member of society needs to be working toward mentoring children.
"Young people need to know they're jeopardizing their future for a joyride," he said. "We need to show people a different path."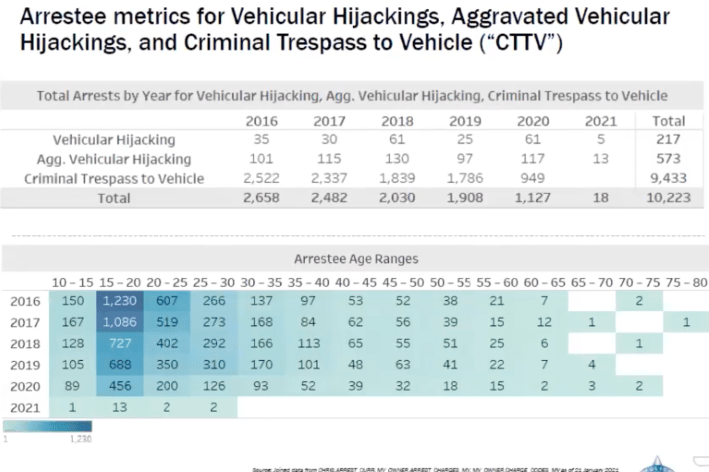 Some aldermen and neighbors favored tougher prosecution for carjackings, even if the offenders are juveniles.
When a case comes into juvenile court, a prosecutor had three options, according to Maryam Ahmad, chief of the Cook County State's Attorney's Juvenile Justice Bureau. They can proceed with filing charges and prosecute the case, they can place a minor on probation if they have no criminal background, or they can decline to file formal charges altogether.
A "points system" is used to determine whether a minor stays in custody overnight. Crimes are assigned various points and automatic detention is triggered by a 15-point crime, such as vehicular hijacking, possessing a firearm or attempting to elude a police officer.
Judge Michael Toomin currently presides over Juvenile Court.
No one wants to see juveniles charged for small offenses, Ald. Harry Osterman (48th) said. But leaders need to figure out a "just way" to change the fact 15-year-olds are carrying handguns, he said.
Miller said she believes young people consider it "open season" in Chicago.
"Treat them like an adult," she said. "If you put them behind bars, let them know this is how it's gonna be. … They'll stop doing what they're doing."
The majority of people arrested in connection with a carjacking are actually charged with a less serious offense, police statistics show.
Out of 1,127 arrests related to carjackings last year, 949 ended in charges of criminal trespassing to a vehicle, which is a misdemeanor. The other 178 resulted in charges for vehicular hijacking or armed vehicular hijacking.
Deenihan said much of that depends upon what can be proved in a criminal case. The lesser charge results in fewer prosecutions.
In 2019, of the 315 criminal trespass to a vehicle misdemeanors that were referred to juvenile court, only 21 percent resulted in cases filed, Ahmad said. In 2020, 226 of these misdemeanors came to court, but only 19 percent were filed.
Ald. Michele Smith (43rd) said City Council passed a law in 2018 that would help the State's Attorney's office prosecute someone for stealing a car even if they were just passengers in the vehicle during the crime.
"This law in 2018 was supposed to fix the very problem you're talking about," she said.
More detectives, meetings coming to neighborhoods
Brown said Thursday the department plans to expand its carjacking taskforce, collaborate with cities across the region and focus on "stronger prosecutions" with the state's attorney's office, judges and federal law enforcement. 
Deenihan said the police would be adding additional detectives. They'll also form carjacking teams in each of the city's five area headquarters.
RELATED: City's Carjacking Surge Shows No Sign Of Slowing, So Residents Are Buying Guns
Brown advised drivers to be alert, not to linger in their parked car and not to put up a fight. But there's growing evidence that Chicagoans are arming themselves after being carjacked. Business owners who provide gun safety and concealed carry classes told Block Club this week they're seeing more people who cite the carjacking spike as their inspiration for obtaining a gun.
Police are also investigating a string of carjackings in the Humboldt Park and Logan Square area, all targeting ride-share and taxi drivers.
RELATED: 4 Taxi And Ride-Share Drivers Carjacked In 5 Days In Logan Square And Humboldt Park, Police Say
Police and elected officials across the city are hosting a series of meetings in the neighborhoods to hear from more neighbors:
Martin, whose son was shot in his neck and paralyzed when he was carjacked, said she's out of tears to cry. Watching her thriving, athletic 31-year-old son go from running to being unable to move below his shoulders has been devastating.
She said she wants real answers from City Hall — and soon.
"What's actually gonna happen? There's so many different pieces, and everyone's in their own little chimney trying to defend themselves," she said after the meeting.
"It won't be one agency or one person. Everybody's gonna have to get this together. They wanna save the disadvantaged children in this. … I can only see my disadvantaged child, who was struck down in the prime of his life. …. It changes people's lives. Even when they survive it, they are changed."
Robert Chiarito and Mina Bloom contributed to this story. 
Subscribe to Block Club Chicago. Every dime we make funds reporting from Chicago's neighborhoods.
Already subscribe? Click here to support Block Club with a tax-deductible donation.