CHICAGO — Chicago Public Schools will start vaccinating its teachers and other employees in mid-February.
But that'll be weeks too late for the Chicago Teachers Union, which is threatening to strike as soon as Tuesday as teachers are pushed back into schools during the coronavirus pandemic.
Vaccinations have been a key issue as the school district and the union spar over plans to reopen schools and send teachers back to classrooms. Preschool and cluster program teachers have already been back in class, and elementary school teachers are supposed to return Monday.
Teachers have held multiple protests to oppose CPS' reopening plan.
The union has said teachers shouldn't return to in-person work until teachers can get vaccinated, among other things. It's asking teachers to all work from home starting Monday and, if they face opposition from the city, to strike next week.
Members of the union are voting now to decide if they'll work remotely Monday.
CPS chief Janice Jackson, speaking at a Friday morning news conference, refused to say if the district will lock out teachers who try to teach remotely Monday, as it has done so far.
"We will look for the results from the rank and file," Jackson said. "But our view of this is that if they vote, that would constitute a strike. We will continue to negotiate. We've increased the amount of bargaining, trying to reach a deal [by the weekend].
"If teachers refuse to come into work on Monday, that is a strike; that is not a lockout."
Jackson also said a strike would be illegal.
It's the latest escalation among a months-long back-and-forth between the district and teachers union.
City and CPS officials have said schools need to reopen and offer in-person learning because students — particularly Black children — are falling behind with remote learning.
But teachers have said reopening won't fix the district's equity issues, and it could endanger teachers, students and families in the school community.
About 77,000 of the district's 355,000 students are expected to return to in-person learning this year.
The district has already been working on vaccinating its health care workers, like school nurses, Jackson said. It's also training nurses so they can vaccinate their school coworkers.
But the district's plan says vaccinations for other staff won't begin until weeks into February, and they'll be limited. And elementary school teachers, who are supposed to return to classrooms Monday and have some students back Feb. 1, won't be in the first group of CPS employees to be vaccinated under the plan.
"There is nothing we want more than to get the shots in the arms of our dedicated staff," Jackson said. "If we could vaccinate everyone today, we would do it."
CPS' Vaccination Plan
Chicago has so far focused on vaccinating health care workers. But the city, which runs its own vaccination campaign separate from the state's, will move into Phase 1B of its plan Monday, which means teachers and other frontline workers will be eligible for vaccinations.
It will take months to get CPS employees vaccinated, though.
The federal government only sends the city about 32,000 doses of vaccine per week, which has slowed down Chicago's vaccination effort, officials have said. Dr. Allison Arwady, head of the Chicago Department of Public Health, said Thursday the city won't be able to immediately vaccinate the more than 660,000 people who will be eligible under 1B.
RELATED: Vaccinations Start Monday For People 65 And Older, Frontline Workers — But Appointments Are Limited, City Warns
CPS will only start receiving doses of vaccine in mid-February, at which point it will begin "a multi-month effort to offer vaccinations to eligible staff," according to the district.
The district isn't sure yet how many doses it will get because the amount is "contingent upon federal vaccine allocations."
CPS will prioritize its supply of vaccines among its employees, dividing them into three groups with smaller categories within each group.
Under the plan, cluster program teachers, pre-K teachers, paraprofessionals and others would be among the first to be vaccinated. The district classified people in Group 1 as being at high risk of exposure.
Those teachers have already had to return to class, as CPS resumed in-person instruction for cluster program and preschool students earlier this month.
A person will also be given higher priority for a vaccine dose if they are 65 or older or have a high-risk medical condition, according to the district.
The next group would prioritize elementary school teachers and high school teachers, among others, who the district classified as being at medium risk of exposure.
The third and final group would prioritize central and network office staff, who are classified as being at low risk of exposure.
Many employees who have been allowed to work from home due to a medical condition will be expected to return to in-person learning after being vaccinated, according to CPS.
CPS' prioritization plan: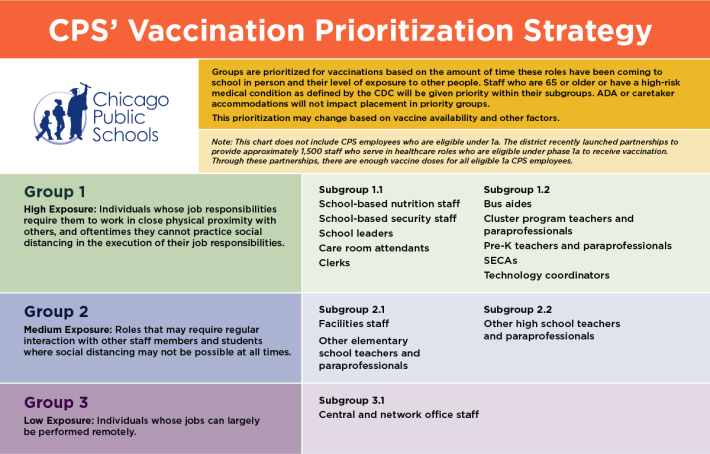 To actually vaccinate CPS employees, the district will set up vaccination sites across the city that will be open only to its workers.
The district did not say yet where the sites will be or when they will be open, but it said the hours would be "accommodating to the work schedules of employees to minimize learning and work disruptions."
Jackson said CPS is also establishing a "Vaccinator Corps" of CPS nurses who will be trained to administer the vaccine.
The district said its employees can also choose to independently be vaccinated through a health care provider.
Block Club Chicago's coronavirus coverage is free for all readers. Block Club is an independent, 501(c)(3), journalist-run newsroom.
Subscribe to Block Club Chicago. Every dime we make funds reporting from Chicago's neighborhoods.
Already subscribe? Click here to support Block Club with a tax-deductible donation.