ALBANY PARK —  Some Northwest Side teachers favor going on strike next week if Chicago Public Schools moves forward with its plan to require thousands of teachers to report to their school buildings Monday. 
"Our school is not ready. It's just not ready and it's frustrating," said one teacher, who asked not to be named and said she supports a strike. "We are not being provided with the basic necessities we need to teach our students." 
Teachers from at least seven schools participated in teach-outs Thursday to show their opposition the district's plan to resume in-person learning for kindergarten to eighth grade students starting Feb. 1. Those teachers are supposed to restart work at their schools Monday after more than 300 days of remote-only learning due to the coronavirus pandemic.
Teachers also worked outside Avondale shops Thursday as part of the broader protest.
Some preschool and special needs students and their teachers already have returned to classes this month. Teachers are being required to instruct from their classrooms, which district leaders and Mayor Lori Lightfoot say provides options for children to learn in-person or remotely.
But the Chicago Teachers Union has pushed back, saying current conditions with the pandemic make any in-person learning dangerous for students, teachers, staff and their families.
On Wednesday, CTU's 600-member House of Delegates supported a proposal in which all of its members would refuse to teach in person Monday and instead work remotely. Should the district respond by locking those teachers out of the systems and preventing them from working remotely — as they have for dozens of teachers who have refused to teach in-person — they could strike as soon as Tuesday.
Rank-and-file teachers are voting on the collective action Thursday, Friday and Saturday. District leaders have blasted the move saying the union is trying to "close schools that are already safely open to students." In a district-wide letter Thursday, CPS Chief Talent Officer Matt Lyons said not showing up for in-person learning Monday would constitute "an illegal strike."
"Our collective bargaining agreement includes a no-strike clause, and the Illinois Educational Labor Relations Board has ruled a strike of this nature would be illegal," Lyons wrote. "The decision by the union to remain out of schools and deny families access to in-person school is a decision to strike." 
CTU Vice President Stacy Davis Gates said the district's message was "basically a form letter."
"They've said that about every single collective action we've ever done," Gates said of the characterization a work-from-home effort would be illegal. "The only person that can cause a stoppage is the mayor and her team at CPS if they lock our members out of Google meets. That's it. Because we will be doing what we have been doing since March of 2020."
In total, 77,000 of the district's 355,000 students are expected to return to in-person learning this year. CPS has not provided figures showing how many students actually have showed up for in-person learning this month.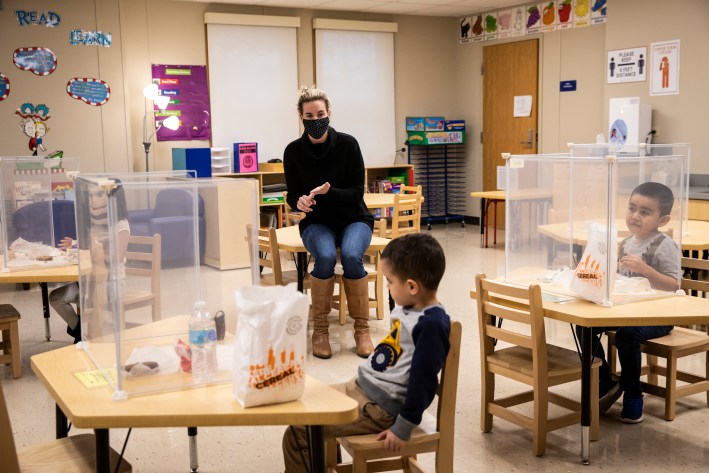 At one school, teachers camped out in front with folding chairs, tables and a fire pit to keep warm. The smell of wood smoke was in the air while they continued to teach remotely.
The teacher who is supporting a strike said her classroom was converted into a dedicated COVID-19 "sick room" to quarantine ill children and she isn't sure where in the building she'll be able to teach her classes if in-person teaching resumes next week. 
"Everything was taken out of my classroom and I don't know where my supplies are," she said. 
The teacher said she also has health conditions that make her especially vulnerable to viral infections. She's worried there won't be areas to practice social distancing if she's teaching in a hallway or sharing a classroom with another teacher. 
"We absolutely need to continue remote teaching Monday. We're not ready. We're just not ready and many teachers are in my position," she said. 
Sue Davidson, a teacher at Hibbard Elementary, 3244 W. Ainslie St., was bundled up in a warm coat, beanie and fleece pants with the "Batman" symbol on them as she taught outside the school Thursday. 
She and at least 15 other teachers set up their laptops around 7:30 a.m. in the 30-degree weather, supporting the teachers who already have had to return to classrooms.
"We want a reopening plan that is safe and equitable for all of our students and all of our teachers, teacher assistants and our staff," Davidson said. 
"CPS reopening plan does not address a lot of our safety and health conditions, especially with the positivity rates being what they are in the neighborhoods, especially in Chicago's lower income areas," she said. "We just don't we don't have confidence that CPS is taking all of these issues seriously right now."
Ald. Rossana Rodriguez (33rd) stopped Hibbard to drop off coffee and tamales to the teachers. Her child attends the school and called the district's reopening plan "disgraceful."
"I am really concerned that we're putting teachers and families in harms way," Rodriguez said. "It's cruel."
Rodriguez said remote learning has its own issues but she argues the district should instead invest in refining that model, particularly in the city's schools that serve Black and Latino students.
"We need to make remote learning stronger and make it as equitable as it can possibly be instead of forcing people into buildings that we know are not safe during a global pandemic," Rodriguez said.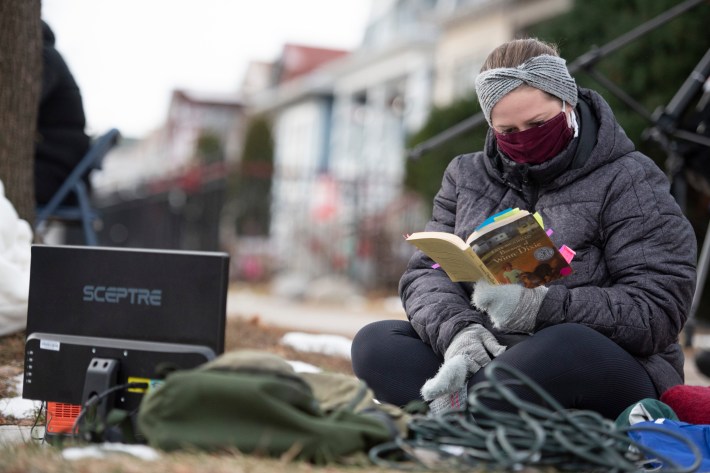 At least 18,520 people have died from COVID-19 in Illinois, and another 1,903 deaths are probably related to the virus, according to the state.
Union leaders say complaints about safety have been pouring in. At McCutcheon Elementary in Uptown, two staffers tested positive and eight were in quarantine just days after in-person classes relaunched.
On Thursday, CTU medical consultant Dr. Vin Gupta said he didn't think Chicago or other major cities should be requiring teachers to return to in-person instruction during what is an "evolving situation" regarding the reality of the new more contagious strain of the virus. 
"Why are we doing things that are going to drive increased case transmission?" he said at a press conference. "It just doesn't make sense. This is not correct public policy and we need to do everything we can do to keep people at home until people can get the vaccine."
Chicago Department of Public Health leaders have affirmed the district's stance schools are safe to reopen, citing a published study showing low level of virus transmission among local Catholic school students. Commissioner Allison Arwady defended the district's reopening plan Thursday.
"We've not seen cases in CPS out of range of what we've seen in the community, broadly," Arwady said at a briefing on vaccines. "I remain very confident in the protocols that are in place."
 Subscribe to Block Club Chicago. Every dime we make funds reporting from Chicago's neighborhoods.
Already subscribe? Click here to support Block Club with a tax-deductible donation.