LOGAN SQUARE — There's a new outdoor dining spot in Logan Square, but the only food and booze is a box of donated cookies and beer found atop a trash can in a nearby alley.
There's no privacy, either — the old chairs face busy Logan Boulevard.
About eight weeks ago, a Logan Square artist and restaurant worker created an "absurdist" outdoor dining experience on Logan Boulevard between Mozart Street and Francisco Avenue. Somewhat amazingly, the art installation has remained intact.
Even more shocking, the artist said, is the installation has been drawing curious neighbors almost every day, some of whom are plunking down in the chairs and using it as if it were an actual restaurant patio.
"Every day I see people take pictures of it, I see people sitting out there … . It's taken on a life of its own," the artist said. "It's been really cool."
The artist, who asked not to be named, created the installation to shine a light on the disconnect between restaurant workers and restaurant patrons during the pandemic. People have been so desperate to get back to real life and dine at restaurants, unconcerned that they're putting restaurant workers at risk in doing so, the artist said.
"Throughout all of COVID, I've been just going about my daily life and seeing this push and pull between people wanting to go about their normal lives and not really giving a s— about the people who have been working this whole time," he said.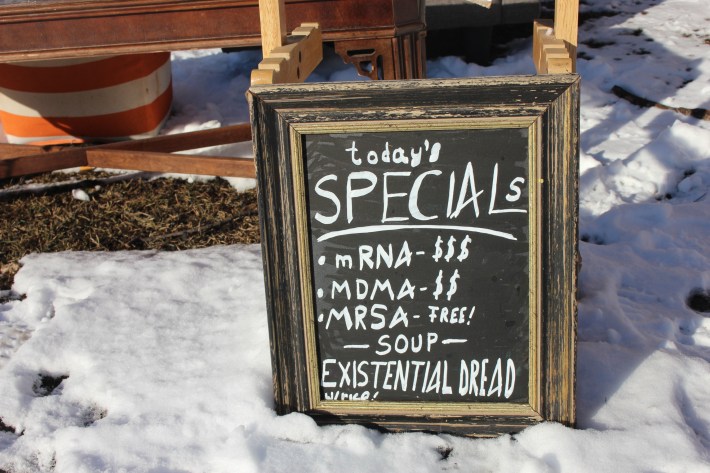 People say, "I just want to live a normal life and go out to eat again," he said. "But actually, I want to go to work and have an income and not die or get really sick."
The outdoor dining setup, which is really just a collection of old chairs, tables and goofy signs, is a way for people to get their outdoor dining fix — without putting any workers in harm's way.
"If you want to eat outside, here. Here's a place. Here's some outdoor dining for you," he said.
The whole thing started several weeks ago, on the last nice day of the year, the artist said. He said he came up with the idea for a makeshift restaurant patio while he was going through his unwanted furniture.
At first, he wanted to set it up in the middle of the street, but he quickly changed course, realizing, "That's dumb as hell. That's going to ruin somebody's day."
He dragged the old chairs and tables to Logan Boulevard and eventually made signs and put up cheap decorations.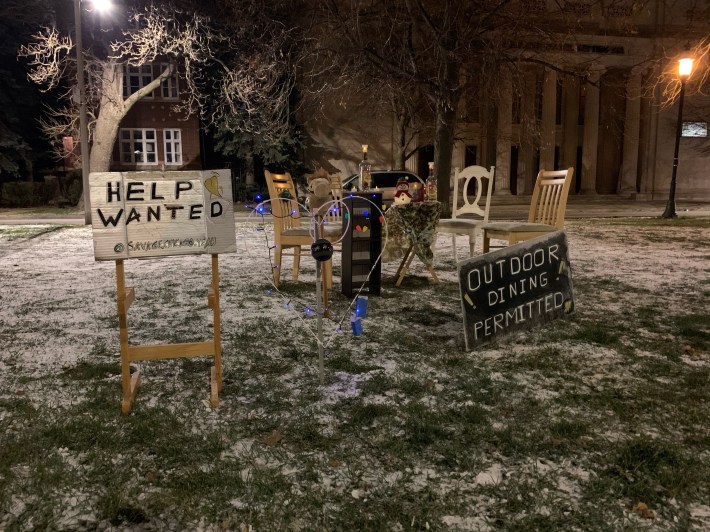 One sign reads, "OUTDOOR DINING PERMITTED" and another is a list of "Today's specials," which include mRNA (used to make the coronavirus vaccine), MDMA (a drug more commonly referred to as ecstasy) and MRSA (a bacteria that causes serious infection). The soup is "EXISTENTIAL DREAD — w/ rice!"
"It's supposed to be absurd. That's kinda always been my MO," the artist said. "When you look at this, you're like, 'Why does this exist? Why do I think this is kind of ridiculous and cool? I don't know why I like this thing.'"
The artist has watched people from his apartment window as they stop to take photos of the setup or sit in the chairs. At one point, two people who appeared to be on a first date sat in the ratty chairs, chatting while clutching their Starbucks coffee, he said.
A package of cookies sat on one of the tables Wednesday afternoon. The artist said it was donated by a neighbor. A few weeks ago, he found unopened beer on top of a trash can in a nearby alley and brought it to the installation for people to enjoy.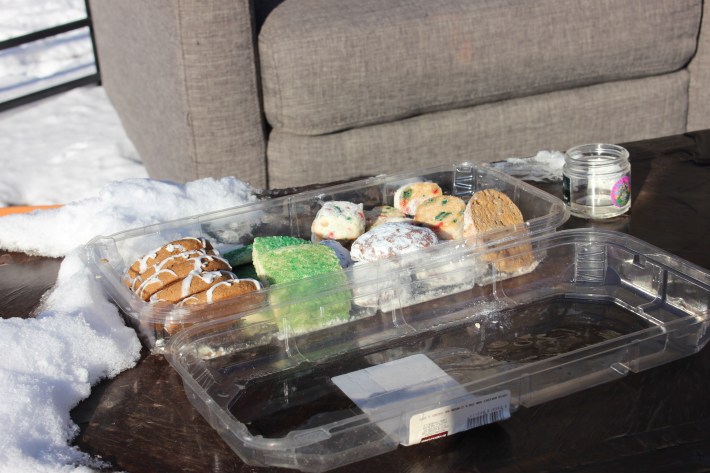 In the coming weeks, he plans to continue to add found objects to the installation and keep an eye on it "so it doesn't turn into a nuisance." He's also hoping to connect with someone who can donate airport-sized bottles of Malört to the project.
"I will do my best to keep the outdoor dining alive for those people should they be willing to commute to their favorite restaurant in the middle of the boulevard," he said.
"If you want restaurants to survive, keep patronizing them and maybe they'll be around to eat inside them one day. For now, have some patience and, for the love of God, some empathy for those people who you want to be around to feed you."
Subscribe to Block Club Chicago. Every dime we make funds reporting from Chicago's neighborhoods.
Already subscribe? Click here to support Block Club with a tax-deductible donation.