AVONDALE — When Lorca Elementary preschool teacher Diane Castro was ordered to return to the classroom earlier this month, she showed up — but only for a day.
Castro said she went back to teaching remotely after seeing the school lacked basic supplies like proper-fitting face shields and disinfectant. Parents shared their concerns with her too, she said.
"I saw what I needed to see," she said. "I just did not feel safe. I did not feel that it was the best situation and I can't do that to children. This is not the experience they deserve."
Castro was among a group of Northwest Side teachers who worked outside of Avondale shops along Milwaukee Avenue Thursday to protest the school's reopening plan, the latest such protest in recent days.
The Avondale protest was organized by teachers and several shop owners in the 2800 and 2900 blocks of North Milwaukee Avenue. The shop owners lent the teachers folding tables and chairs and shared their wifi in a show of support.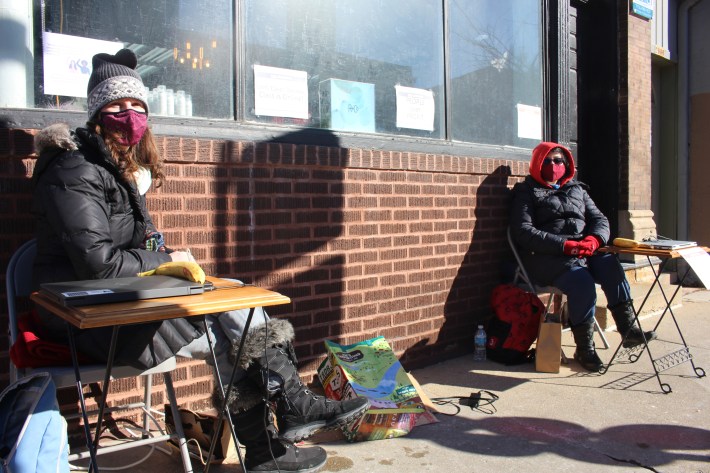 Thursday's action came just hours after Chicago Teachers Union delegates voted to plan for collective action where teachers will refuse to work at schools but continue to teach online starting Monday. A majority of rank-and-file teachers will have to vote to approve the plan for it to go into effect. Teachers will vote Thursday, Friday and Saturday.
The work-from-home action would come on the first day kindergarten through eighth-grade teachers are scheduled to go back to classrooms in advance of their students' return Feb. 1.
Union leaders have long maintained reopening schools is not safe with the city continuing to battle the coronavirus pandemic, while district leaders and Mayor Lori Lightfoot have defended reopening, saying it will help disadvantaged families and students who are falling behind due to remote learning.
Teachers who worked on the sidewalk in Avondale Thursday echoed the concerns raised by other teachers in the last several days. They said it's not safe to return to the classroom as the city continues to battle the pandemic and slammed the district for failing to provide teachers and administrators with the supplies they need to protect themselves, students and their families from the virus.
But they also said they were heartened by the local shop owners who helped them set up desks outside of their businesses and the neighbors who dropped off things like hand warmers and breakfast sandwiches as they worked.
Rebecca Reddicliffe, who teaches second graders at Brentano Elementary, worked outside of Ald. Carlos Ramirez-Rosa's 35th Ward office at 2934 N. Milwaukee Ave. Thursday.
Standing in front of her temporary desk and clutching a stuffed animal for warmth, Reddicliffe said it felt "really great" to see the community step up and show support for an effort that impacts so many Chicago families.
"I think a lot of people in our community can see it's not time to go back," she said. "In order to keep our community safe, we have to keep our schools safe. We're all connected."
Down the block, more educators donning teachers union red worked outside of other storefronts.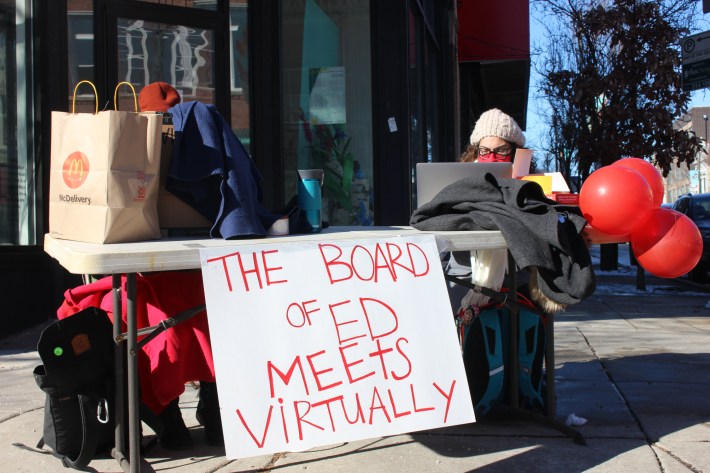 One special education teacher who asked not be named called the shop owners' support "amazing."
"To have [their] support … it makes us feel like we're doing the right thing," she said.
The teacher said remote learning "can feel really lonely and this has been a way for us to connect back to the community."
"We want the community to know this is for them, [it's] not just about us," she said.
Castro, the Lorca Elementary teacher, said it's meaningful small business owners are choosing to support teachers given how hard small businesses have been hit during the pandemic. Shop owners have said sharing their wifi and lending tables is the least they can do to support teachers who are so integral to the neighborhoods they serve.
"The fact that they've stood with us and supported us, it's incredibly empowering, invigorating and it furthers my resolve," Castro said.
Subscribe to Block Club Chicago. Every dime we make funds reporting from Chicago's neighborhoods.
Already subscribe? Click here to support Block Club with a tax-deductible donation.