BELMONT CRAGIN — After weeks of publicly sparring with the Chicago Teachers Union about school reopening plans, Chicago Public Schools leaders hosted a roundtable Tuesday with six parents who support bringing 70,000 students back to classrooms Feb. 1.
For months, the union has argued the district's plan doesn't do enough to protect teachers, students and their families from potential spread of coronavirus. But parents who want their kids back in the classroom have been "drowned out" and should be heard, CPS CEO Janice Jackson said. District leaders recruited six parents for a livestreamed discussion with Jackson at Belmont-Cragin Elementary, 5252 W. Palmer St.
Last week, the district reopened schools to students for the first time since the coronavirus pandemic forced schools to convert to remote learning last spring. The district expected about 6,000 students in pre-kindergarten and special education cluster groups to return, but has not shared how many kids actually showed up.
Reella Garcia, whose 2nd and 7th graders attend Belmont-Cragin, told Jackson her children would likely continue to learn at home because she is able to monitor them. But Garcia supports the reopening plans because it provided an option for working parents, she said.
Parent Zully Erazo said her preschool-aged daughter was having trouble connecting through her iPad, wasn't able to stay still at home and was disengaged with remote learning.
"Now that she comes to school, she's really, really happy and excited," she said.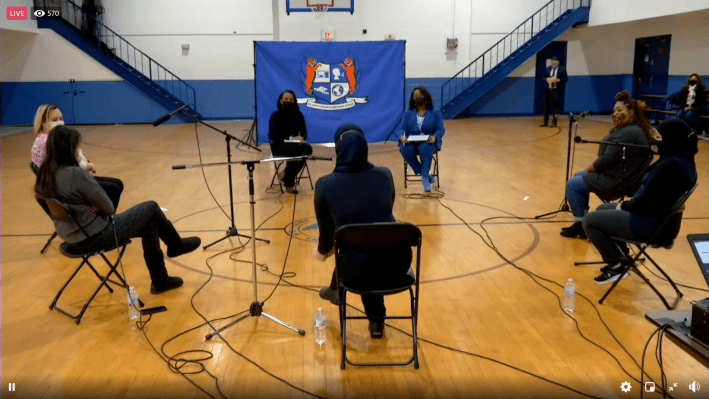 Miriam Abdellatif said she was initially skeptical about sending her first grader back to the classroom, but has been reassured by the district's plans.
"I felt that he needs to go because it's his first year. I'm not a teacher, I could try my best but I'm very sure that I cannot do the job the teacher is doing to make him love what he's doing and make him do it right" she said.
While the parents in Tuesday's conversation supported a return to in-person learning, other parents have slammed the district's decision to punish teachers who don't feel comfortable heading back to the classroom before vaccines are more widely available. Several parents said educators were locked out of virtual classrooms, leaving kids with substitute teachers who are teaching remotely anyway.
Jackson said 19 percent of teachers who were required to return to schools last week did not show up on Friday. These teachers are considered "absent without leave" and have been docked pay and locked out of their Google classroom accounts used for remote learning, Jackson said.
Teachers who request a medical leave of absence due to COVID-19 can receive an "accommodation" from the district to allow them to continue teaching remotely. Others can request an accommodation because of a lack of child care.
However, several teachers told Block Club their applications were rejected despite having an immunocompromised parent at home or having child care issues.
Jackson said the district will not consider a union proposal to limit in-person instruction to teachers who volunteer to return to buildings.
"We just can't have that because the parents choice comes first. If parents elect for in-person, it's our job, we are paid by taxpayer dollars to educate their children. If we thought we couldn't do it safely, we wouldn't be doing this," she said.
Teachers are required to provide simultaneous instruction to both their students in the classroom and those at home. Jackson said Tuesday it will largely be up to individual teachers to decide what that instruction looks like for children.
While students learning in-person will still use computers, she said in-person instruction allows teachers to pick up on body language and engage with students who may be struggling.
"You can go up and talk to a kid to see what the concerns are," she said. "… But kids learn from each other too, and so they're missing out on a lot of that socialization and people have to have all of those things, not one or the other, in order to learn."
Following reports of new coronavirus cases within the district last week, including a cluster of cases at McCutcheon Elementary, Jackson said the district has been "fully transparent" on providing information to parents as cases emerge at their schools.
Jackson said she "cannot promise a COVID-free environment," but after last week she feels "even more confident in the planning that we put in place."
"When COVID cases have happened in those schools, the principals, the staff, have followed protocols the way they've been outlined and if we can do that as we bring more teachers and students back in, I feel confident that we will be able to make sure our schools are safe," she said.
The reopening website created by the district tracks new cases and now includes school-specific data, Jackson said.
Talks between the district and union remain ongoing, but the union has not ruled out a mass action, including a strike, this month ahead of the district's larger reopening plans in February and beyond.
Tuesday's event continued the public battle between the district and union to frame their positions to parents and other Chicagoans.
Last Friday, teachers, students and union supporters held a rally outside CPS headquarters. Teachers have also protested outside the home of Board of Education Chairman Miguel Del Valle.
On Thursday, businesses along Milwaukee Avenue in Avondale plan to show their support for teachers by allowing them to set up their virtual classrooms on the sidewalks outside their buildings.
Jackson said as negotiations continue, the conversation has to be "about how to reopen schools safely, not a debate around whether or not schools should reopen."
Subscribe to Block Club Chicago. Every dime we make funds reporting from Chicago's neighborhoods.
Already subscribe? Click here to support Block Club with a tax-deductible donation.