NORTH LAWNDALE — Amid a "divided" America, the historic Stone Temple Missionary Baptist Church hosted its annual service honoring Martin Luther King Jr., urging Chicagoans to remember him as a "radical" who fought for the downtrodden instead of the "sanitized" version of his legacy often presented today.
About 150 people attended the virtual ceremony organized by the church, the Jewish United Fund and the North Lawndale Historical and Cultural Society Monday, listening to speakers reflect on King's life and asking Chicagoans to unite through action rather than words.
Stone Temple's annual celebration began six years ago as a way of commemorating King's legacy in North Lawndale.
King lived in a rundown apartment building at 16th Street and Hamlin Avenue when he came to Chicago to support the fight to end redlining and substandard housing. King preached at Stone Temple and helped organize Lawndale's Black community to fight for racial equity.
Pastor Otis Moss III of Trinity United Church of Christ encouraged people to reject the "sanitized" version of King's legacy and focus instead on the "radical King, the revolutionary King, the King that the majority of America hated because he was making demands around poverty, militarism and racism."
"It's easy to love someone when there are no demands of you. Politicians who would never support him will show up to events like this, and will make claims that they love Dr. King," Moss said. "They will say he was for everybody, but it was [former FBI Director] J. Edgar Hoover who … put the resources of the federal government to disrupt the movement in the South, because it was threatening what we would call white supremacy."
In August 1963, two days after King delivered his famous "I Have A Dream" speech at the March on Washington, the head of the FBI's domestic intelligence wrote that he was "the most dangerous Negro in the future of this Nation."
On Monday, Moss and other speakers painted a dark picture of the country in 2021, including the violent storming of the U.S. Capitol two weeks ago, but said King's vision for the country and his time in North Lawndale offered a path forward.
Reflecting on King's final book, "Where Do We Go From Here: Chaos or Community," Rabbi Seth Limmer of the Chicago Sinai Congregation said "chaos" has gripped the nation in recent weeks and spurred "armed, violent, angry … supremacists" to "threaten the takeover of our nation."
"We have seen what chaos looks like, and it is afraid," he said.
Pastor Derrick Fitzpatrick of Stone Temple said America is "broken and divided" and still dealing with the "pandemics" of racism, nationalism, sexism, white supremacy, anti-semitism, racial injustice and racial inequality.
But, "…in a free society, some are guilty, but all are responsible," he said. "We can't just point our fingers at the guilty, but we must point our finger at ourselves and say we're responsible for uniting America.
"Dr. King said, 'we [may have] all came on different ships, but we're all in the same boat now.' We're all in the same boat, and so we're going to row together to make sure that we repair America."
Moss used the phrase "midnight in America" to describe both the darkness of the nation and the hope that comes with a new day.
"Midnight has come to America in the form of confederate ghosts masquerading as political pundits, who shout peculiar lies wrapped in the cloth of conservative mantras, like 'Make America Great Again,'" he said. 
He criticized the current state of the county, saying the United States has failed to feed those who lost jobs to coronavirus and spends more on incarceration than education. But the "good news is it's midnight. Even though it's dark, morning is coming," he said.
"Let us reground ourselves in spiritual values and work toward a day, not to make America great again, but let us make America," he said. "Let us make America where all are welcome, where everybody is included, where children are cared for and elders are cared for, where we create a vision for generations yet to be born."
Rep. Sean Casten, who recently voted to impeach President Donald Trump, said he doesn't know how to bridge America's divide. But, Casten said, any answer starts from acknowledging that, just as King was "unpopular" during his lifetime, creating change will not be easy.
"He remained fearless despite the fact that by his own metrics he was unsuccessful. He didn't convince society in his own lifetime to bridge those gaps," he said. "We all have an obligation to lead — not with the silence of our friends, but with a dangerous unselfishness."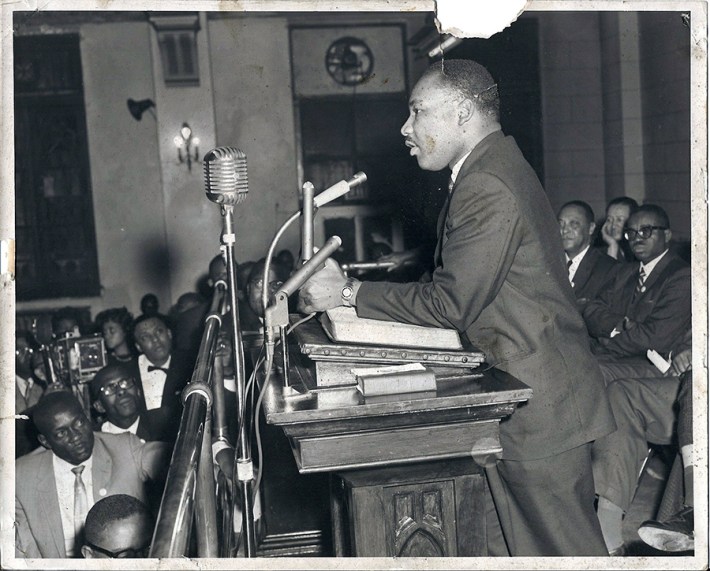 Speaking as photos of King touring the neighborhood were shared on screen, Blanche Suggs Killingsworth of the North Lawndale Historical and Cultural Society said King's legacy was "alive and well" in the neighborhood, a "community of power that embraces all races."
She encouraged those listening to be active in the neighborhood and to build bridges between communities.
"Live his dream today, use his actions tomorrow," Killingsworth said. "Conversation is good…but can you stand on the line like Dr. King did and say, 'I'm for all people, not just my people?'"
Subscribe to Block Club Chicago. Every dime we make funds reporting from Chicago's neighborhoods.
Already subscribe? Click here to support Block Club with a tax-deductible donation.