LINCOLN SQUARE — If Lincoln Square neighbors want a dog park in Winnemac Park, they should be ready for a long road ahead.
That's what Ald. Andre Vasquez (40th) explained to residents at a virtual meeting about the proposed park at 5100 N. Leavitt St. Wednesday, where some raised concerns about the cost and safety of the plan.
Every year, each Chicago ward receives $1.3 million in "menu money" for ward infrastructure improvements. The 40th Ward uses participatory budgeting to let neighbors vote on how some of that money will be spent, and the dog park was a big winner in the last budget survey. Of 679 participants, 426 people were in favor of funding the dog park, said Jessica Peters, Vasquez's chief of staff.
"It was one of our top vote-getters," she said.
Winnemac Park is about 40 acres and includes a nature area, playgrounds and tennis courts. The ward is prepared to spend about $100,000 in menu money on a dog park, and the alderman's office shared potential locations with neighbors Wednesday.
Lindsay Tillman, Vasquez's community outreach and communications coordinator, said the Chicago Park District identified three potential locations for the dog park within Winnemac:
Center of the park, east of Winnemac Stadium and west of baseball diamond No. 4.
The southeast corner of the park near the intersection of West Argyle Street and North Seeley Avenue.
The northwest corner of the park between Winnemac Stadium and Elizabeth Chappell School.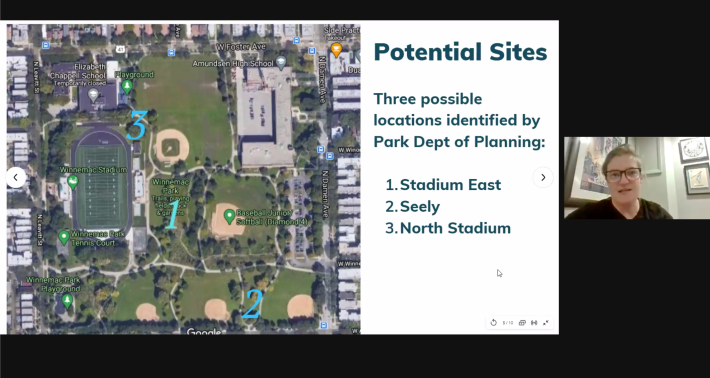 Park district rules for dog parks say they cannot be smaller than 4,356 square feet or larger than 15,000 square feet. It could cost $200,000-$450,000 to build this dog park, depending on its size and amenities, Tillman said.
The Department of Water Management would also require a subfloor be installed so the park doesn't become a flood zone, Peters said.
It will be a time-consuming and expensive process to make the park a reality, Vasquez said.
For example, the dog park at Horner Park has been in the works since 2013, and it only began its second phase of construction at the beginning of November. That phase is expected to cost about $200,000.
Vasquez stressed the dog park isn't a done deal and its future hinges on community support. Residents will need to create a committee to navigate the city's application process for a dog park and to maintain the park and help enforce its rules if it ends up getting built. 
That process will include getting petitions from neighbors in support of the park, letters of support from the police district and other community groups, conducting land survey studies and getting final approval from the Chicago Park District, among other things.
Not everyone is on board. Of the about 90 people in the virtual meeting, some worried about losing green space and the park's proximity to small children.
Others asked why Winnemac Park was chosen instead of other areas in the ward. 
"You're limited when looking at public spaces that can be converted into a dog-friendly area that's independent of a park," Vasquez said. 
Dog park supporters considered the old police building near the intersection of North Winchester and West Foster avenues, but the cost of tearing down the building would have been prohibitively expensive, officials said. Another option would have been the lot across the street from Mather High School, 5835 N. Lincoln Ave., but that has already been developed into a community garden. 
"Looking at all the parks in the 40th Ward, the layout of many of them would not allow for it," Vasquez said.
Some neighbors also expressed confusion on how the ward's participatory budgeting process works and wanted to know why Vasquez's office ended up setting aside that money for a dog park.
Vasquez said not every idea submitted to the budget committee was approved, joking he was disappointed when a proposal for a workout area at Emerson Park was not selected to be added to the ballot.
"That park is right by my place and would have loved for that to have made the list. It didn't though," Vasquez said. "But what really rose to the top was the idea of a dog park, which is what we heard from neighbors."
Neighbors interested in joining the committee to create Winnemac Dog Park can attend another online meeting being organized by Vasquez's office at 6 p.m. Jan. 26 or sign up to get involved here.
"I've got the ultimate faith in our neighbors," Vasquez said. "We want to hear your concerns if this ends up moving forward."
RELATED
Learn More About Plans For A Dog Park At Winnemac Park During Wednesday Meeting
Horner Park Dog Park Under Construction, But Funds Still Needed
 Subscribe to Block Club Chicago. Every dime we make funds reporting from Chicago's neighborhoods.
Already subscribe? Click here to support Block Club with a tax-deductible donation.