CHICAGO — It was a turbulent first week back to classrooms for some CPS students, but despite days of teacher protests and a cluster of coronavirus cases at one North Side elementary school, CPS chief Janice Jackson said Friday her confidence in reopening has "only increased."
Jackson said in an interview Friday she was encouraged no schools were forced to close down again due to new outbreaks of the virus, and that she considered the district's response to its new cases "a success."
"Our schools have—we haven't had a need to close down an entire school, which to me says the protocols are working," Jackson said. "But we also have planned for that. If that becomes something that needs to happen, we're totally prepared to do it."
Whether a school needs to close due to an outbreak will be decided on a school-by-school basis with the Chicago Department of Public Health, but no schools had reached that point in the first week, she said.
"I have no doubt that it may happen at some point in Chicago Public Schools, but right now, people are doing the right thing, they're following the strategies, and when we identify a case, we are acting quickly so we don't need to close an entire school," Jackson said.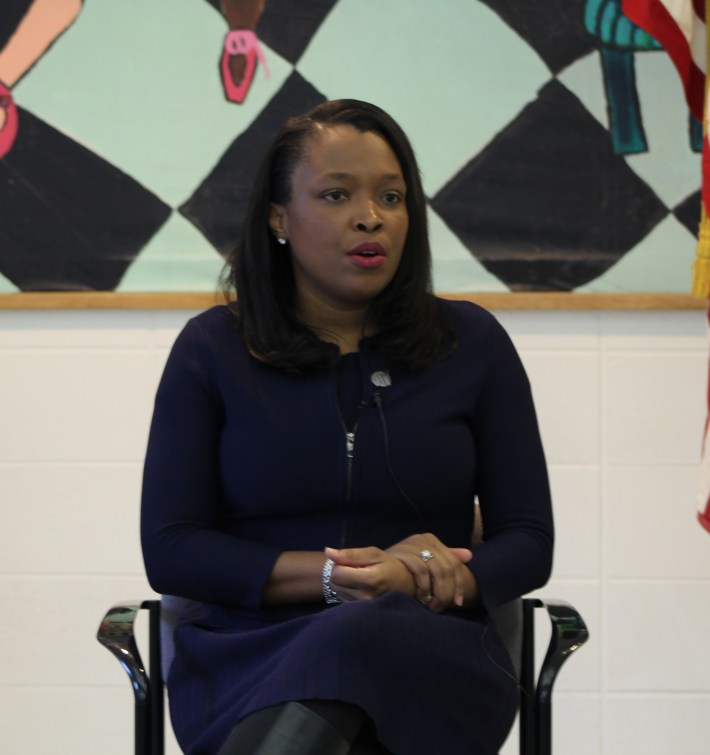 Jackson and Mayor Lori Lightfoot have publicly battled with the Chicago Teachers Union about when to reopen schools and under what conditions.
Lightfoot, Jackson and health department officials have said schools are safe to resume in-person learning and it is critical to make sure families have that option. But teachers say the current rate of coronavirus infections in many neighborhoods makes any in-person learning too risky for students, staff and their families.
"What I've heard this week across the board is that people are happy that children have an opportunity to come back to school," Jackson said. "That doesn't negate that there are things to work on and agreements we need to reach with the union, but the overwhelming response, spirit and tone in our schools has been positive."
Related: As Chicago Kids Head Back To School After 300 Days At Home, Some Parents Are Relieved — But Teachers Worry
Not everyone is happy.
Union members, students and community supporters spent much of Friday continuing to protest reopening and the district's decision to sideline teachers who have refused to return to classrooms. As of Thursday, 87 teachers who have not reported to classrooms as required are being considered "absent without leave," are not being paid and are locked out of their district email and Google Classroom accounts.
On Tuesday, the first day teachers were locked out, 143 teachers were on AWOL status.
Though no schools have had to close, according to Jackson, coronavirus cases have been reported throughout the district. Two school employees have tested positive for COVID-19 and eight workers have been quarantined at Uptown's McCutcheon Elementary, 4865 N. Sheridan Road. Among those in quarantine are the principal and assistant principal, two school sources told Block Club.
That has left the school with just one in-person teacher for its 20 in-person students, CTU leaders have said. CTU leaders said the school is in "chaos" and among six schools to have reported COVID-19 cases, staff in quarantine or staff out sick.
Asked about McCutcheon, Jackson said Friday the district had "done an extraordinary job planning for every scenario" and was able to quickly intervene in such situations through contact tracing, notifying people of presumptive cases or confirmed cases in our schools.
"When we did have situations arise, we implemented with fidelity the protocols that we promised the public we would implement," Jackson said.
But among the problems at McCutcheon, teachers say, has been the lack of communication.
Jenny Delessio-Parson, a McCutcheon teacher and CTU school representative, said the first teacher who became ill learned about their positive COVID-19 test last Friday. That teacher told coworkers about the situation, but an official bulletin was not sent out until Sunday night, Delessio-Parson said.
A notification about the confirmed COVID-19 case went out to parents Monday afternoon, after students returned to the classroom, Delessio-Parson said.
"There's not been enough communication, by far," Delessio-Parson said. "CPS has left so much in the hands of schools. Some schools are equipped to handle that. At our school, there is an issue with that" communication.
Jackson lauded the school district's reopening plan during a visit to Jordan Community School, 7414 N. Wolcott. Ave., which saw 100 percent attendance from its in-person students and staff on Friday.
About a dozen pre-kindergarten and special-education students in face masks were separated into three classrooms at Jordan. Teachers sanitized students' desks and instructed them to wash their hands between activities while an air purifier ran in the classrooms.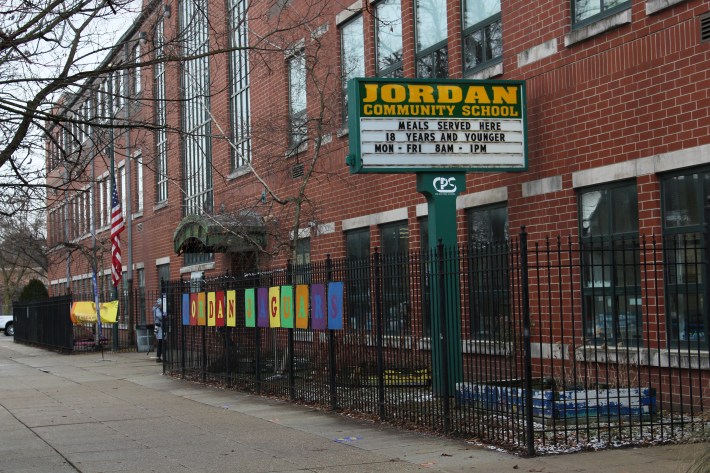 About 6,000 pre-kindergarten and special-education children were expected back in schools this week. Jackson said she did not know how many of those students actually attended school, but those numbers would be shared "shortly."
Jackson said she did not know how many teachers called in sick on Friday. District figures show about 76 percent of school employees reporting to work at their buildings.
"Every day, more and more individuals are swiping in and coming into work or providing an explanation and documentation as to why they can't return," Jackson said.
Asked if she anticipated another teacher's strike, Jackson called for a compromise with the union.
"What has to be a part of any negotiation process is an acknowledgement that students should be in school [and] that we have to start a pathway back to in-person instruction," Jackson said. "The goal is now to start doing that in our schools, testing out our protocols and making sure we can implement that with fidelity."
Joe Ward contributed.
Jake Wittich is a Report for America corps member covering Lakeview, Lincoln Park and LGBTQ communities across the city for Block Club Chicago.
Subscribe to Block Club Chicago. Every dime we make funds reporting from Chicago's neighborhoods.
Already subscribe? Click here to support Block Club with a tax-deductible donation.