CHICAGO — A University of Chicago doctoral student, a security guard and a 20-year-old man at a convenience store were killed Saturday when a gunman went on an hours-long shooting rampage on the South Side and in Evanston.
Yiran Fan, 30; Aisha Nevell, 46; and Anthony Faukner, 20, were fatally shot in separate incidents Saturday in a chaotic series of attacks that critically wounded four other people, including a 15-year-old girl. The victims were identified Sunday by the Cook County Medical Examiner's Office and University of Chicago leaders.
Chicago police and the Medical Examiner's Office identified the shooter as Jason Nightengale, 32. Authorities said he is responsible for five separate attacks, during which he also accosted someone he knew, stole that man's car and shot at a Chicago police car.
Nightengale was killed in a shootout with Evanston police, not far from where he shot his final victim inside an IHOP.
In the week leading up to his killing spree, Nightengale posted a series of videos on social media, including talking about killing random people and saying "I'm going to blow up the whole community."
In one video, he took video of himself walking through a parking lot. "I'm looking for somebody by theyself. Walking to they car. It could be this guy," he said while turning his phone's camera on a parked car. "It might be this guy. I might jack his ass. No, he looks like a problem."
Nightengale's first victim on Saturday was Fan, police said.
At about 1:50 p.m., Fan was sitting inside his car in a parking garage at 5035 S. East End Ave. when Nightengale shot him in his head, police said. He was pronounced dead at the scene.
University President Robert Zimmer and Provost Ka Yee Lee wrote in a campus message Sunday that Fan, who was from China, was a fourth-year doctoral candidate. Fan had previously received a master's degree in financial math from the university and was planning to present his dissertation later this year. A memorial is being planned for Fan.
Campus police are increasing patrols around the area where Fan was killed, though officials and police said they do not think there is an ongoing threat.
"We know that this shocking incident brings grief to our entire community and concern for the wellbeing and safety of others," Zimmer and Lee wrote. "This sudden and senseless loss of life causes us indescribable sorrow. In the days ahead we will come together as a community to mourn, and to lift up fellow members of our community in this difficult and very sad time. Please join us in wishing consolation and healing for our student's loved ones."
In another note, university Dean Madhav Rajan said Fan would be remembered as a "smart and incredibly talented student, highly respected by his peers and beloved by all who knew him."
Nevell, who worked as a security guard at an apartment building at 4940 S. East End Ave., was killed about 10 minutes later.
Nightengale walked into the building and fired several shots, striking Nevell in her chest and hitting a 77-year-old resident who was getting her mail, Chicago Police Supt. David Brown said. Both women were taken to University of Chicago Medical Center. Nevell was pronounced dead and the 77-year-old was in critical condition.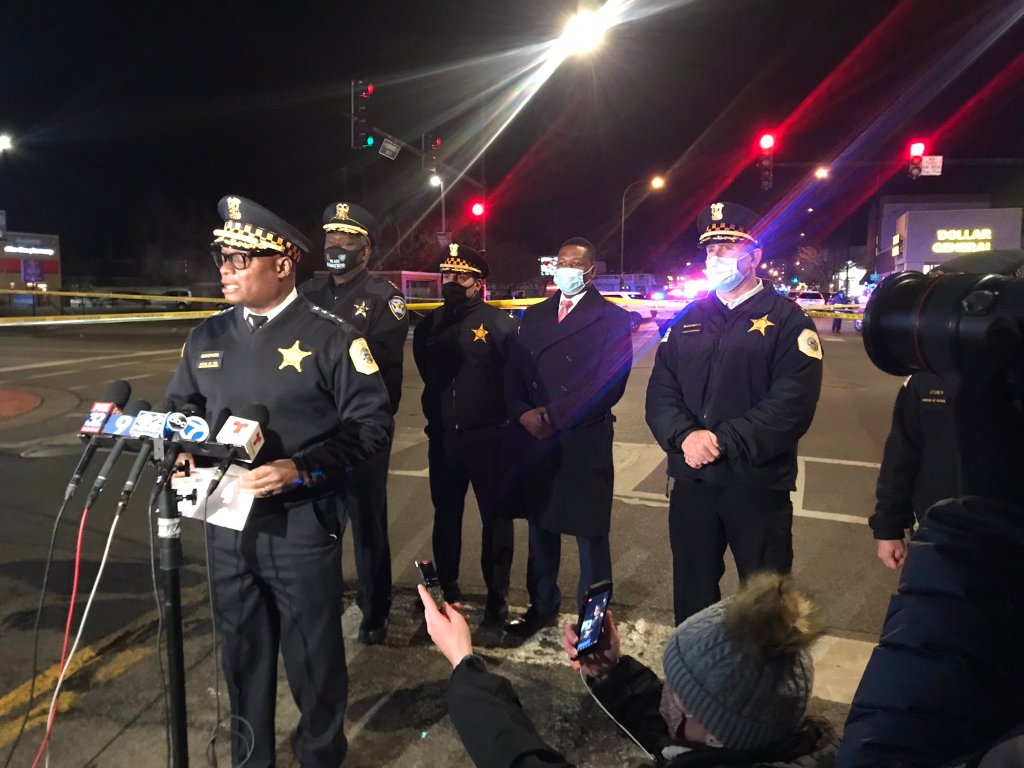 About 2:45 p.m., Nightengale went to another residential building in the 5000 block of South East End Avenue. He took the elevator to the 19th floor and confronted a man he knew, Brown said.
Nightengale pushed the man into his apartment at gunpoint and demanded his car keys. Nightengale stole the man's red Toyota and drove away, police said.
At 3:45 p.m., Nightengale went into a convenience store in the 9300 block of South Halsted Street in Brainerd and tried to rob it, police said.
Nightengale fired several shots, hitting Faukner in his head and an 81-year-old woman in her back and neck. Faukner was pronounced dead at Advocate Christ Medical Center in Oak Lawn, police said. The woman was in critical condition. Nightengale drove away from the scene.
After that, at about 5 p.m., Nightengale shot a 15-year-old girl who was riding in the back of a car in the 10300 block of South Halsted Street in Washington Heights. Police said it was not immediately where Nightengale was shooting from, but the shots shattered the car's back window and hit the teenager in her head.
The girl was taken to Comer Children's Hospital in critical condition, police said.
Minutes later, at 5:04 p.m., Nightengale drove to the 9200 block of South Halsted Street, a block from the convenience store where he'd killed Faukner and wounded the 81-year-old woman. Nightengale fired shots again, hitting a police car. No one was wounded, police say.
About 5:30 p.m., Evanston Police respond to a call of shots fired at the CVS at Howard and Asbury, Chief Demitrous Cook said. It doesn't appear anyone was wounded inside the drugstore.
Nightengale ran across the street to an IHOP, took a woman hostage and shot her in her head, Cook said. She was taken to St. Francis Hospital in Evanston in critical condition.
Nightengale ran off again, going east on Howard. He went to the parking lot of the Dollar General, where he was confronted by police. He and officers shot at each other, and police shot Nightengale, Cook said.
The Medical Examiner's Office said Nightengale died from multiple gunshot wounds.
No police officers were wounded, Cook said. It remains unclear what motivated the attacks, which Brown repeatedly described as random.
"While we are still learning more about the offender, his motive and the totality of yesterday's tragic events, one thing is clear: If not for the brave actions of Evanston and Chicago police, many more innocent lives would have been lost," Evanston Mayor Stephen Hagerty said in a statement.
"My heart goes out to the victims of this senseless violence and their families. No words can repair the lasting damage done by this individual." 
Subscribe to Block Club Chicago. Every dime we make funds reporting from Chicago's neighborhoods.
Already subscribe? Click here to support Block Club with a tax-deductible donation.