ROGERS PARK — Hardships caused by the coronavirus pandemic have led to the closure of the Rogers Park Art Gallery, a staple of the Glenwood Avenue Arts District.
It also means an uncertain future for the Glenwood Sculpture Garden.
Rogers Park Art Gallery was opened in 2015 by artist Eileen Burns, whose gallery at 6902 N. Glenwood Ave. highlighted and fostered community among neighborhood artists.
The business got by on hosting events and renting its space out to local artists. But when the pandemic swept in, Burns' model was upended.
The gallery lost three of its six studio renters in March. Six months of gallery rentals and shows could not be rescheduled, Burns said.
Then the Glenwood district was stymied in its efforts to get an expanded outdoor dining permit. The local farmers market was moved away from Glenwood Avenue, and the yearly Glenwood Avenue Arts Festival was made mobile so as not to attract crowds.
All those factors kept away foot traffic while business restrictions limited the use of the gallery, Burns said. An online fundraiser was started, but without the ability to host shows and rent studios, continuing wasn't in the cards, Burns said.
"No one seemed to be keeping the small businesses in mind," she said.
As part of her lease, Burns managed the Glenwood Sculpture Garden, which neighbors the gallery building.
The sculpture garden was started by local artist Andy DeLaRosa, who had a gallery in the building that housed Rogers Park Art Gallery. DeLaRosa was asked by the landlord to bring art to the vacant lot to the north, he told the Chicago Reader in 2013.
DeLaRosa populated the lot with ornate sculptures made of found and recycled objects. The sculptures allow for gawking, with passersby taking time to inspect the pieces that make up larger work, DeLaRosa told the Reader.
"Art needs to be interactive," he told the Reader. "I encourage that."
DeLaRosa, a Coast Guard veteran, died in 2016. A plaque honoring the local artist now stands in the sculpture garden.
Burns was asked to take over the sculpture garden's care. She was able to rescue other DeLaRosa works and bring them to the garden lot.
Care of the sculpture garden was a stipulation of her lease agreement, Burns said. Now that she is out of her lease, Burns said she has not heard of plans for the garden's upkeep.
"I really hope it's not left to decay," Burns said. "The community loves it and I believe it's an asset, but it needs to be supported."
The Rogers Park Business Alliance is discussing ways to preserve the sculpture garden, Executive Director Sandi Price said.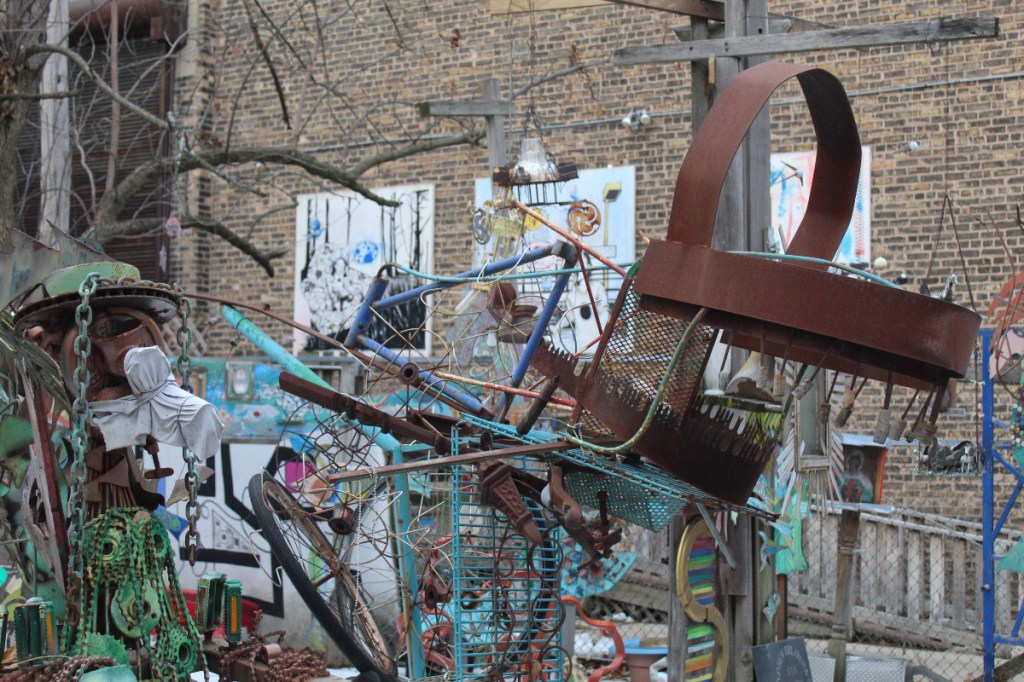 In renting out gallery space to multiple artists at a time, Rogers Park Art Gallery created community and collaboration among artists, painter and muralist Amy Couey said.
"It's something you don't see often," Couey said. "I'm sad for the gallery. Artists won't have that anymore."
The Rogers Park-based artist was talking with Burns about taking space in her gallery, but the pandemic sidelined those plans.
Instead, Burns asked Couey to paint a mural that hangs in the back of the sculpture garden.
Couey painted the wall in August, during the Glenwood Avenue Arts Fest's mobile edition. Getting the job meant a lot of Couey, who is new to mural work after specializing in theater stage design.
Part of Rogers Parks' charm and identity is wrapped up in its artistic culture and prevalence of public art, Couey said. The Glenwood Sculpture Garden plays a role in that identity, she said.
"It's just such a unique thing," she said. "What I'm afraid of is, if that little park is gone, it's going to make it look like Everywhere Else, USA."
Subscribe to Block Club Chicago. Every dime we make funds reporting from Chicago's neighborhoods.
Already subscribe? Click here to support Block Club with a tax-deductible donation.