LITTLE VILLAGE — A faith-based nonprofit is opening a food pantry to help families struggling with food insecurity in Little Village.
New Life Centers will open a food pantry at a former corner store at 2701 S. Lawndale Ave. in 2021, Executive Director Matt DeMateo said.
The full-time food pantry is opening in direct response to the exploding need for food assistance as many Little Village residents remain unemployed or are struggling financially during the coronavirus pandemic, DeMateo said.
With the help of partners and donors, New Life Centers bought the building on the corner of Lawndale and 27th Street to make way for the food pantry, which will be named El Mercado, DeMateo said.
"The need is massive," DeMateo said. "We've seen it rise even more." 
RELATED: Chicago Is Experiencing The Biggest Hunger Crisis In Decades Because Of Coronavirus — And The Recovery Could Take Years
The first floor of El Mercado, or The Market, will be set up like a grocery store where neighbors can select their food for free.
"It will be client choice," DeMateo said.
On the second floor, staff and volunteers will help connect families with longer-term resources, including the Supplemental Nutrition Assistance Program.
The nonprofit is completing the rehabilitation of the building and hopes to open in three months, DeMateo said.
"It's all community-designed, community-built, so we are excited for that," he said.
The group is planning a large mural focused on unity for the outside of the building. The idea comes from the work of New Life Centers street outreach workers, who helped quell violence between Latino and Black communities during unrest this summer.
"It'll be talking about one Lawndale" connecting North and South Lawndale, DeMateo said.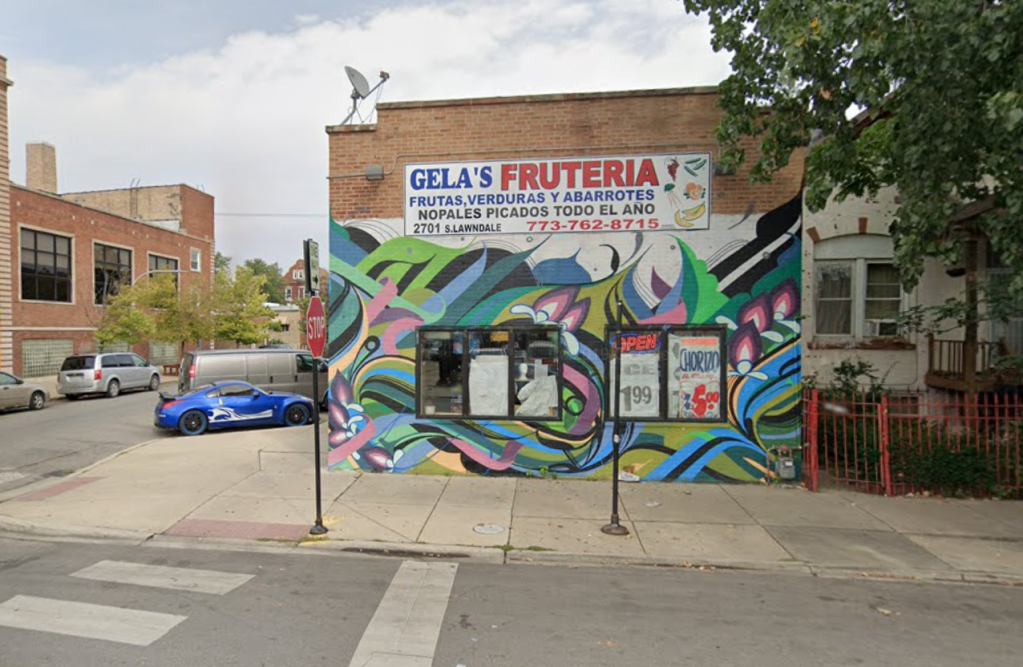 When the pandemic hit Chicago, Little Village residents who were laid off from their jobs turned to groups like New Life Centers for support.
Before the pandemic, the faith-based organization served about 100 families per week out of the church basement at 2657 S. Lawndale Ave., DeMateo said. But the group saw a surge of neighbors lining up at food distribution days, and the organization began feeding 6,000 families per week, DeMateo said.
New Life also connected with the Greater Chicago Food Depository in May to greatly expand its food distribution efforts at seven sites on the South and West sides. DeMateo estimates they have given out 7.8 million pounds of food to more than 700,000 people over the past six months through that partnership.
National nonprofit Feeding America estimates 785,890 people in Cook County are food insecure. There's been a 51 percent increase in people struggling with food insecurity since 2018, according to a Greater Chicago Food Depository analysis.
The Food Depository's network of food pantries and partners have recorded up to 150 percent increases in people needing food assistance during the pandemic, according to its year-end report. It's the biggest hunger crisis the organization has seen in its 41-year history.
Systemic inequities over generations have led to disproportionate rates of poverty and food insecurity among Black and Latino families. Black and Hispanic households face food insecurity at more than double the rates of white households, according to the U.S. Department of Agriculture.
The coronavirus crisis has widened those gaps, leaving people of color more likely to become sick with COVID-19 and suffer from the economic fallout, leading to struggles meeting basic needs. A recent Northwestern University study showed four in 10 Black and Latino households with children report they are food insecure.
Groups across the city have worked to address food insecurity through weekly food distribution in Gage Park, the expansion of a food pantry in Pilsen, a free soul food restaurant in West Garfield Park, and a volunteer effort to bring a network of refrigerators to the South and West sides.
Ahead of Christmas, New Life Centers and the Greater Chicago Food Depository gave away more than 2,500 turkeys, hams and other fixings outside of the planned food pantry. Residents lined Lawndale with pushcarts, while cars lined several blocks to pick up food.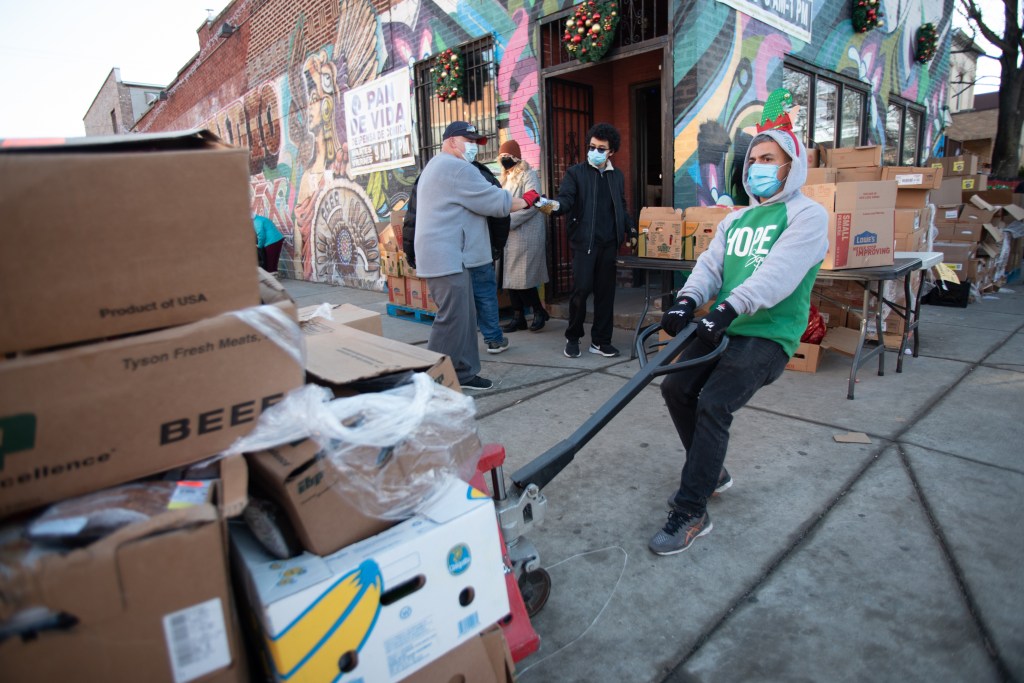 While volunteers and staff work on setting up the pantry, DeMateo said the priority is making sure families are getting food now.
"Right now we are in COVID mode," DeMateo said. "We are mass pushing a ton of food through. We have lines like this every Tuesday, Thursday and Friday."
DeMateo envisions life after coronavirus where "families can drop off their kids at school, mom can come do aerobics [at New Life Centers]. They can come get groceries, any mentoring they need," he said.
"We want to wrap around the whole family and try to walk with them," DeMateo said.
Block Club Chicago's coronavirus coverage is free for all readers. Block Club is an independent, 501(c)(3), journalist-run newsroom.
Subscribe to Block Club Chicago. Every dime we make funds reporting from Chicago's neighborhoods.
Already subscribe? Click here to support Block Club with a tax-deductible donation.