AUSTIN — A neighborhood grocery store is set to be built in a West Side food desert that recently lost one of its only supermarkets.
Forty Acres Fresh Market recently secured the property at 5713 W. Chicago Ave., the site of a former Salvation Army, for its first brick-and-mortar location.
Forty Acres has hosted grocery pop-ups and sold at West Side farmers markets since 2018 to provide much-needed fresh food to Austin residents. The startup also offers a produce box service that delivers groceries to customers citywide.
But organizers have long wanted a permanent site. They were able to buy the Chicago Avenue property in partnership with Westside Health Authority, with funding from the Christopher Family Foundation, the Lumpkin Family Foundation and a state minority-owned business grant.
It will be about a year before the store will be ready to open since the space will need to be rehabbed. Once complete, the full-service market will fill the shortage of mid-size grocery options, or neighborhood markets where residents can pick up essentials between trips to large supermarkets, founder Liz Abunaw said.
"It's the store you run into on your way home from work … and you pick up a grab-and-go meal or the ingredients for tonight's dinner," Abunaw said.
A mile north of the Forty Acres site, one of Austin's only grocery stores, Save A Lot, shut down in December after giving little notice to neighbors.
That closure widened the gap in food access for many West Siders, compelling residents to leave their neighborhoods or even head out of the city to Oak Park to find food. The lack of access to food is a struggle that falls especially hard on seniors and people who don't have a car, Abunaw said.
For most grocery stores, a majority of their business comes from people who live within a half-mile of the store, Abunaw said. But in the area surrounding the forthcoming Forty Acres location, there are no supermarkets that close. The nearest full-service grocery is the Pete's Fresh Market at 259 W. Lake St., about a mile away in Oak Park.
"Neighborhoods with fewer grocery stores … have worse health outcomes: higher rates of diet-related illness, obesity, high blood pressure, diabetes, kidney disease. These are all far more prevalent where food is less available," Abunaw said.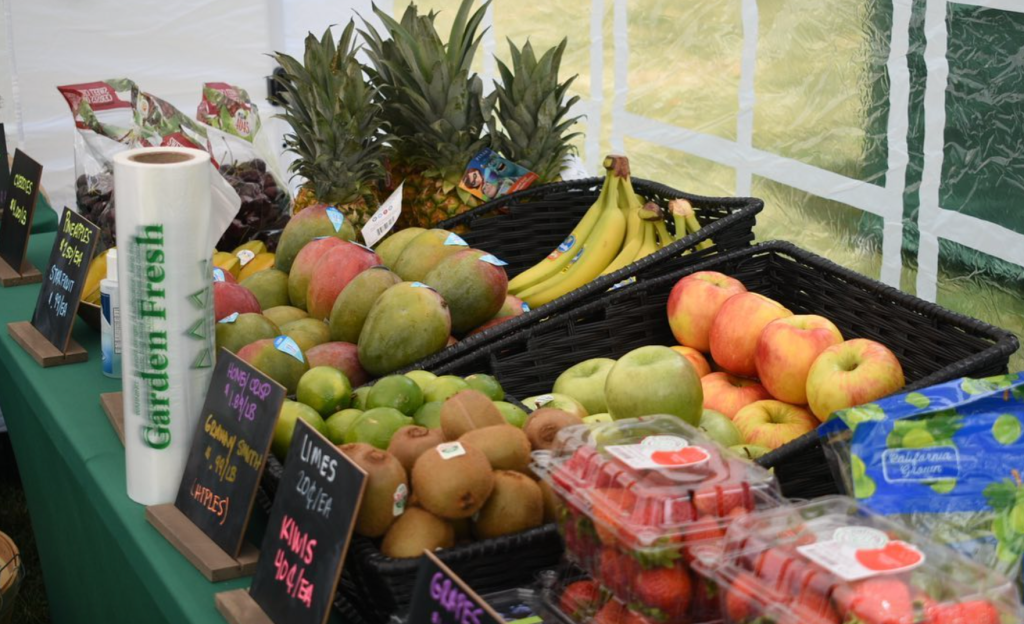 When the Save A Lot closed, many neighbors felt neglected by the national chain. City officials said company leaders never sought their support to stay open. State Rep. La Shawn Ford said the sudden and unexplained closure spoke to the "lack of commitment" many corporations have toward low-income, Black communities.
"We need to bring in small business owners to do grocery stores … people that care about the neighborhood," Ford said.
RELATED: Supermarket Chain Save A Lot Criticized For Closing Grocery Store In West Side Food Desert: 'It's Going To Be Rough'
Unlike big-box chain stores, neighborhood markets tend to be more committed to the community, Abunaw said. Small grocers are more likely to hire locally, build positive relationships with residents and support other local businesses so money gets "recycled within the community," she said.
"When a neighborhood has grown you … you're more likely to feel appreciation for that place," Abunaw said. "They were with you when you had nothing, when it was just an idea you were trying out. So of course you feel more committed."
Westside Health Authority was an ideal community partner in the venture, organizers said. Much of Westside's work promotes healthy lifestyles, including culturally relevant food demonstrations and programs like VeggieRx.
Those efforts will amplify the benefits of having a local grocery store and the partnership will help Forty Acres succeed, Executive Director Morris Reed said.
"It is very important to have a locally based retailer, but also a retailer that has a partnership with the community organization to design the store, and to have products and to have services that reflect the needs of the community," Reed said.
The store could help revitalize the Chicago Avenue commercial area, known as Soul City Corridor, by bringing in more foot traffic that will benefit nearby shops, Reed said. The grocery store "will be a model for more local investment and attract even outside investment as well," he said.
"These are local dollars … that will circulate right there in the neighborhood," he said.
While the grocery store is in development, Forty Acres will continue to serve the West Side through pop-up markets and affordable produce deliveries.
"From a social infrastructure standpoint, a grocery store is part of the community," Abunaw said. "That's community cohesiveness and social cohesion that makes the neighborhood better to live in. It makes them safer."
Pascal Sabino is a Report for America corps member covering Austin, North Lawndale and Garfield Park for Block Club Chicago.
Subscribe to Block Club Chicago. Every dime we make funds reporting from Chicago's neighborhoods.
Already subscribe? Click here to support Block Club with a tax-deductible donation.