SOUTH LOOP — A longtime neighborhood staple, the South Loop Club, has a new look thanks to local artists who want to remind locals to support the bar and restaurant during the pandemic. 
Ten artists painted the enclosed walkway and patio of the South Loop Club, 701 S. State St., with colorful designs, positive messages and depictions of the bar's signature offerings. They hope their work will encourage locals to use the bar's newly winterized patio so it can make it through the pandemic.
"This brings the community together," said owner Nick Vranas. "If you look around, it would be hard to stay open without the outdoor winterized patio. I cannot just survive with carryout; it's not all that." 
Vranas said the artistic project, which was completed and unveiled over the weekend, was an idea that came to him with help from AA Restoration, the company that built the club's patio and pedestrian walkway.
With help from local planning boards and social media, Vranas and his daughter enlisted local artists to contribute their time and talent to the beautification project.
"This is the best media as far as screaming out and telling people, 'Hey, check us out, we have good food, we are here,'" he said. 
The artwork includes the club's logo and depictions of its popular dishes. Vranas said he was able to pay some artists, while the others were paid in beer, wings and burgers. 
The South Loop Club, which has been in the neighborhood since 1988, is known for its sports bar vibe, burgers, wings and beer.
Usually full of tourists, college students, hotel workers, sports fans and concertgoers, the restaurant's clientele has shrunk during the coronavirus pandemic, Vranas said. Like many restauranteurs, he's trying to bring in more customers through creative means.
Artist and designer Josh Epstein, who creates under the name TotesFerosh, has been a South Loop Club regular for five years and lives nearby. He painted patrons enjoying the bar's food. 
Epstein said it was important for him to support one of his favorite businesses, which has also supported him artistically, as well as to remind the community to visit the South Loop Club.
"Places close and you say, 'Oh, I wish I would have known, I would have supported them,' but a lot of places are struggling right now so you can't wait until it's too late," Epstein said.
Jenn Whitehead, an artist based in Ukranian Village who contributed to the South Loop Club project, said she was happy to meet artists from the community all working to help the bar. The support from Vranas and the clear pride he had in his business made the experience memorable, she said.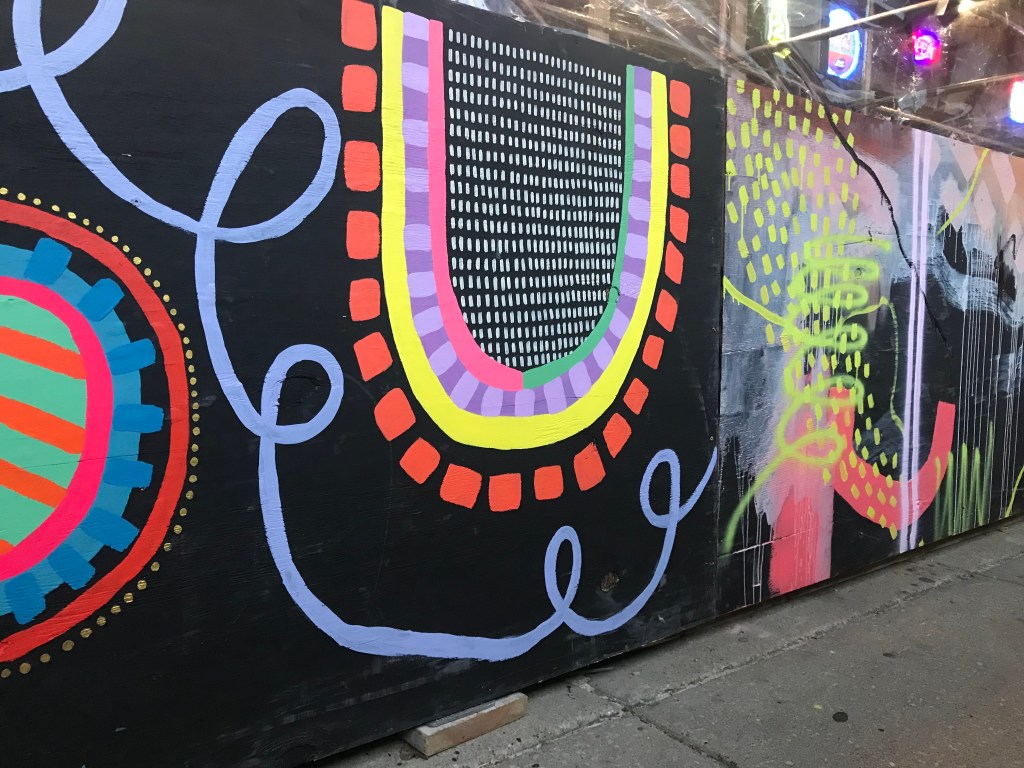 "It was nice to see someone enjoy what you are doing as an artist," Whitehead said. "Painting is my life, so it's always something I'm going to enjoy. But when you get to hear the feedback and watch him be impressed with your work … it was full circle."
Although Vranas has had to drastically cut his staff and now mans the bar himself, he said he's confident his business will survive the pandemic. He's thanksful to his family, the artists and a strong core of employees who have made this year "a wonderful, a positive ride" despite the hardships of 2020.
He said he welcomes more artists to contribute work to the bar's exterior panels. He wants to keep the artwork positive, colorful, inviting and not political.
Artists who would like to contribute can email Vranas at southloopclub@gmail.com or visit him in person. 
A Block Club subscription is an excellent gift. Get a subscription now and you'll get a free tote bag — and you'll help us reach our goal of 15,000 subscribers by the beginning of 2021. We're almost there! Subscribe or buy a subscription as a gift here.



Already subscribe? Click here to support Block Club with a tax-deductible donation.