LITTLE VILLAGE — Since losing her job earlier this year, Little Village resident Camila has frequented New Life Centers' Pan de Vida food pantry a few times a month to pick up vegetables, meat and milk. 
The coronavirus pandemic has had a "big impact" on Camila's family of five. And as she's lined up for food, she noticed the line at the pantry at 27th Street and South Lawndale Avenue grow week after week.  
In the face of uncertainty, the pantry has been a lifeline for her family, she said.
"It's a big help," Camila said in Spanish.
Hoping to meet some of the unprecedented need for food assistance, New Life Centers and the Greater Chicago Food Depository partnered to give away turkey, ham and holiday fixings ahead of Christmas to more than 2,500 families Tuesday morning.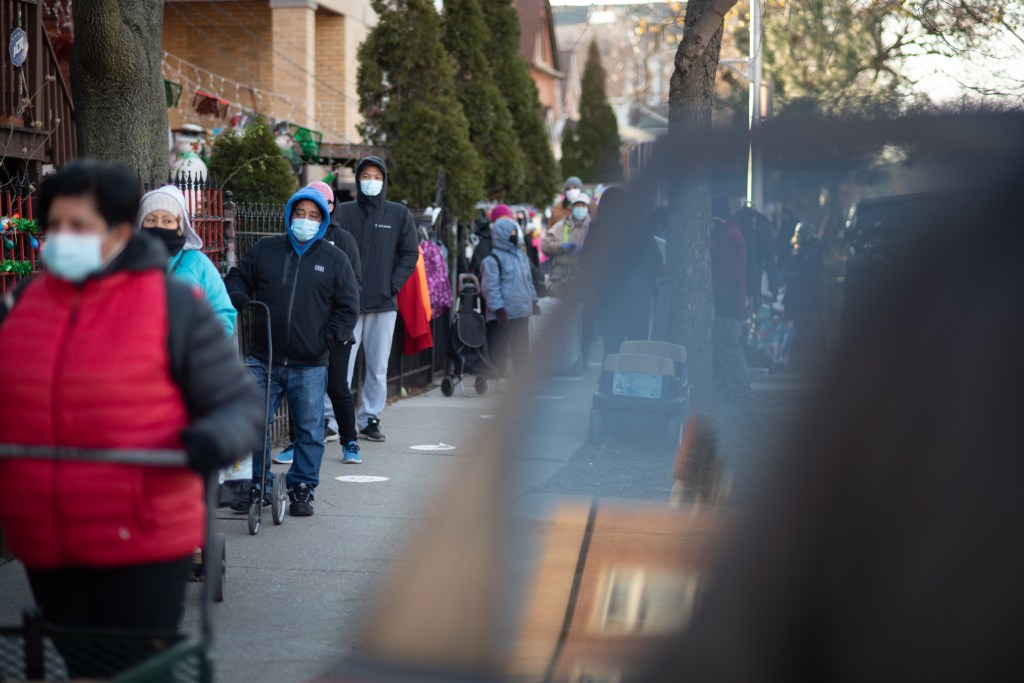 National nonprofit Feeding America estimates 785,890 people in Cook County are food-insecure. There's been a 51 percent increase since 2018, according to a Greater Chicago Food Depository analysis.
That makes Cook County the third-largest population of food-insecure people in the United States.
The Greater Chicago Food Depository's network of food pantries and partners have recorded up to 150 percent increases in people needing food assistance during the pandemic, according to its year-end report.
It's the biggest hunger crisis the Greater Chicago Food Depository has seen in its 41-year history. And even with a vaccine on the horizon, the nonprofit's leaders expect the economic recovery from the pandemic — and as a result, food insecurity — to take months or even years to level off, according to the report.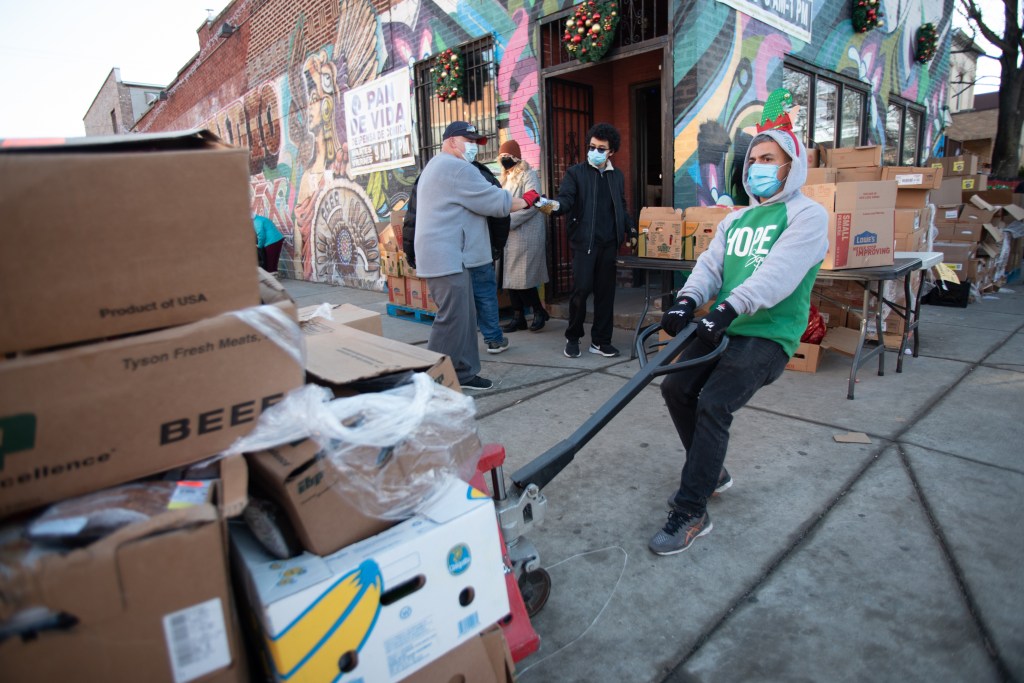 Greater Chicago Food Depository spokesman Greg Trotter said they are working to get grants and fundraise so food pantry partners can continue to meet the need on the ground.
"People are really hurting — hundreds of thousands of people in Cook County," Trotter said. "One of the few silver linings has been partnerships with groups like New Life Centers."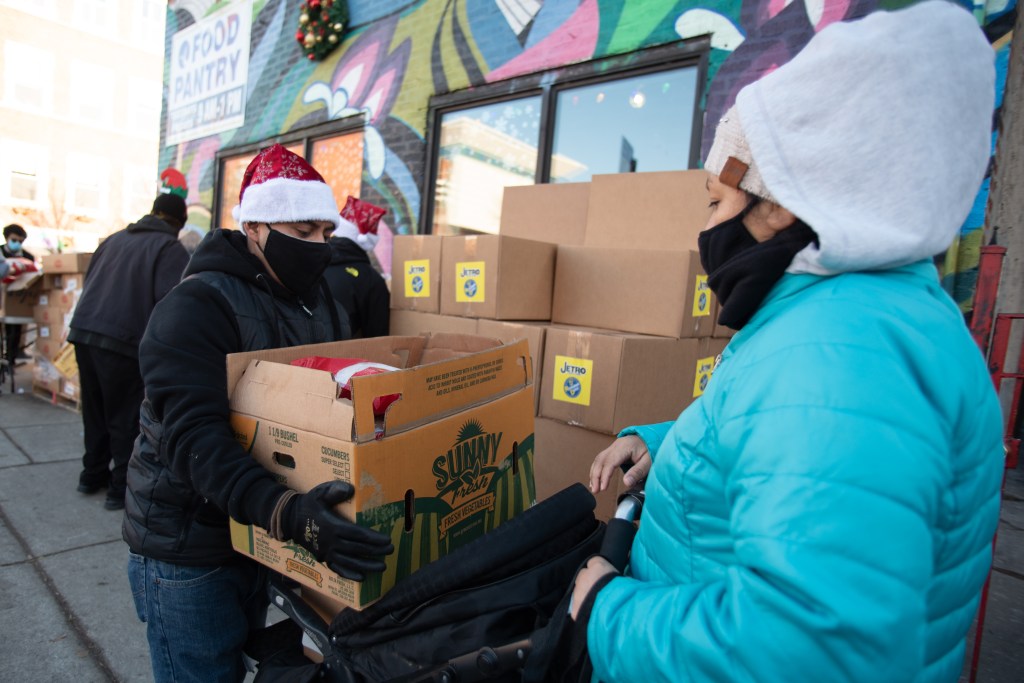 Before the pandemic, New Life Centers distribute food out of the church's basement, helping about 100 families per week thanks to donations from Trader Joe's.
"When COVID hit, we saw the need spike like crazy," New Lift Centers Executive Director Matt DeMateo said.
After teaming up with the Greater Chicago Food Depository in April, New Life Centers has been able to scale up distribution at seven sites across the South and West sides, DeMateo said, feeding more than 700,000 people in six months.
New Life Centers is working to open a permanent food pantry in the coming months, DeMateo said.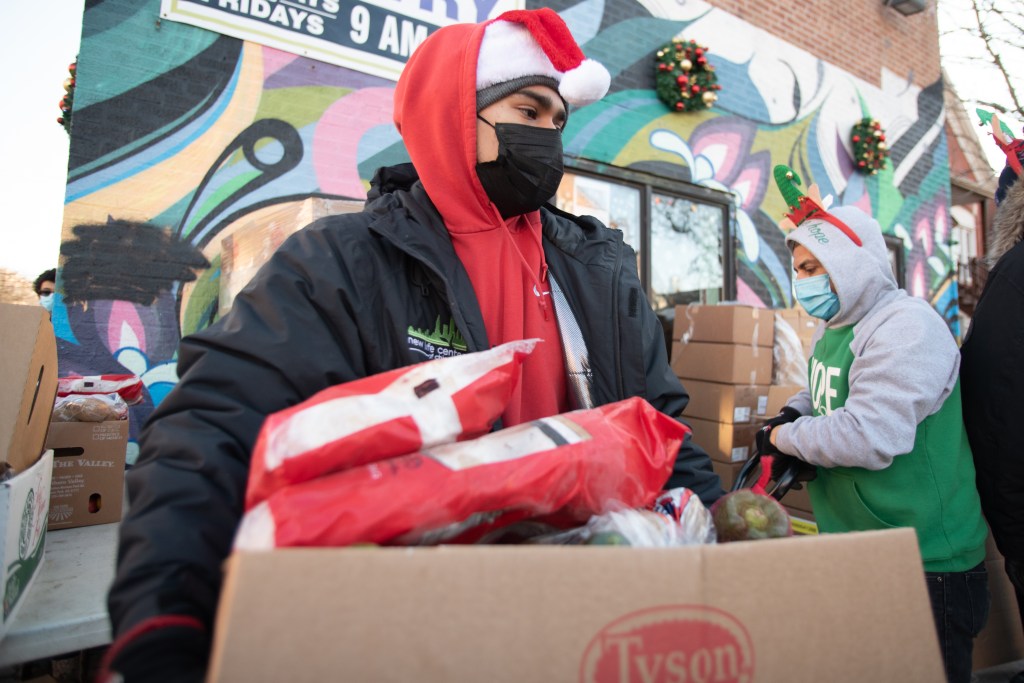 Black And Latino Families Most At Risk For Food Insecurity
Systemic inequities over generations have led to disproportionate rates of poverty and food insecure among Black and Latino families. Black and Hispanic households face food insecurity at rates more than double those of white households, according to the U.S. Department of Agriculture.
The coronavirus crisis has worsened disparities, leaving people of color more like to contract coronavirus and suffer from the economic fallout. A recent Northwestern University study showed that four in 10 Black and Latino households with children report they are food insecure.
In Little Village, a working-class, majority Latino neighborhood on the South Side, youth volunteers and staff have stepped up in extraordinary ways to help families through this difficult time, DeMateo said.
Diana Franco, 20, who formerly attended youth programs there, started volunteering after the pandemic and then joined the Pan de Vida staff.
"I wanted to help and I saw the need," Franco said. "COVID has impacted the community a lot … and having the pantry has helped a lot. 
"We see people from far away because they are in need."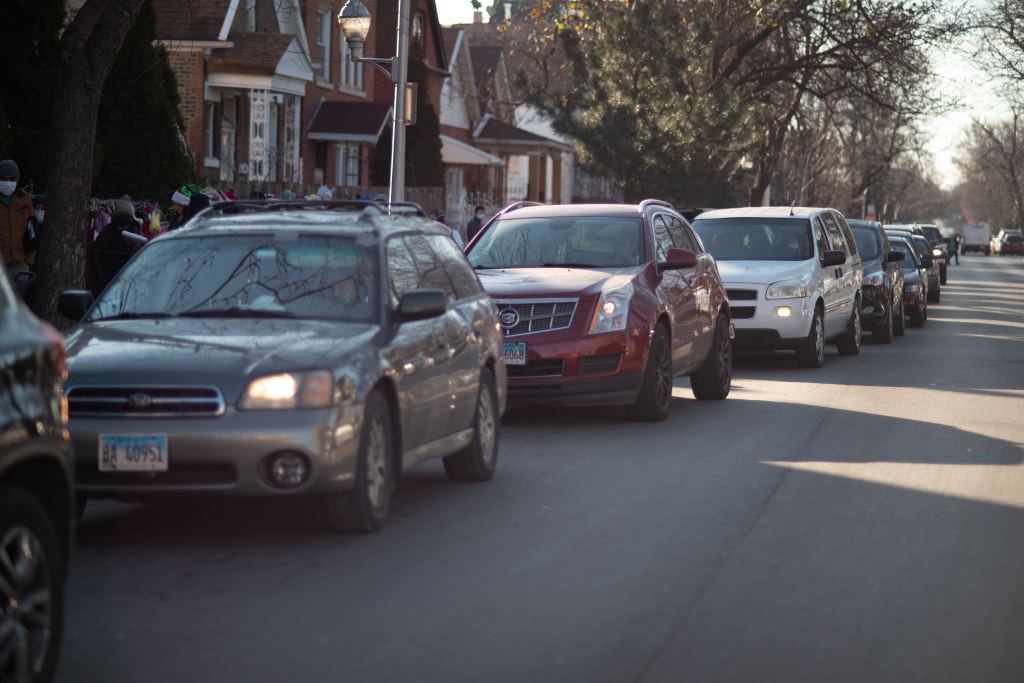 Brighton Park resident Mari Ybarra takes two buses to get to Little Village twice a month because the food distribution helps her get by, she said. She also goes out so her pregnant daughter doesn't have to leave home and risk contracting the virus, Ybarra said.
"This helps a lot," Ybarra said. "It goes a long way."
Adding to the ambiance at the food pantry Tuesday, a youth mariachi band played for neighbors. DeMateo said organizers wanted to provide neighbors with a celebration after a "heavy year."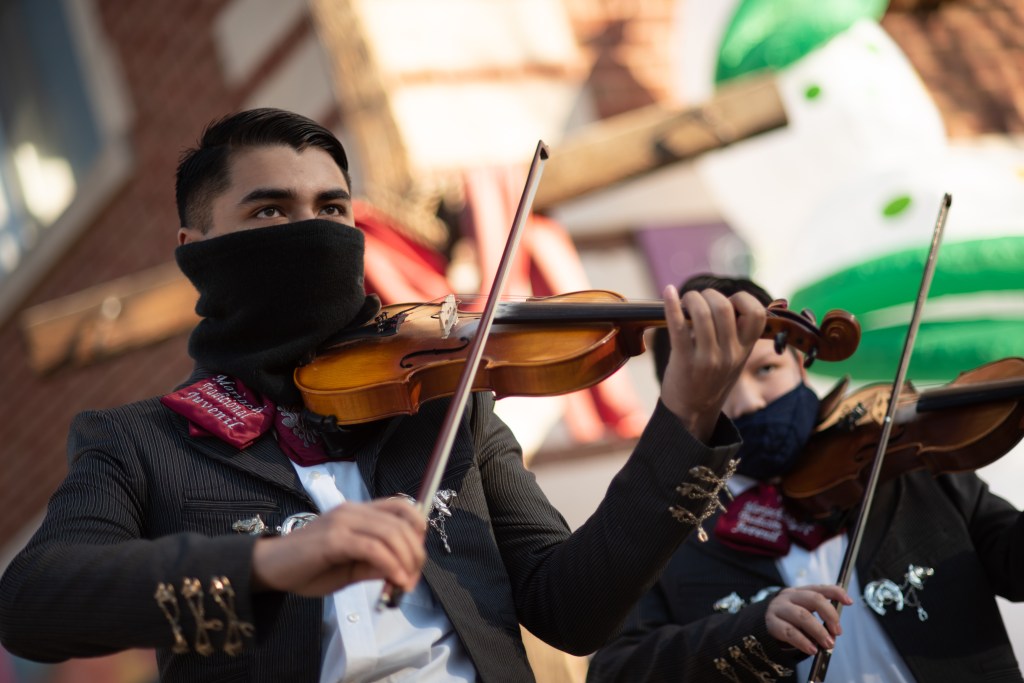 "Christmas is going to be a difficult season for a lot of families. A lot of our families are still unemployed, struggling and we've lost close to 200 people in the 60623 [ZIP code] alone to COVID," DeMateo said.
"We are here to provide hope, healing and community as best as we can."
A Block Club subscription is an excellent gift. Get a subscription now and you'll get a free tote bag — and you'll help us reach our goal of 15,000 subscribers by the beginning of 2021. We're almost there! Subscribe or buy a subscription as a gift here.



Block Club Chicago's coronavirus coverage is free for all readers. Block Club is an independent, 501(c)(3), journalist-run newsroom.
Already subscribe? Click here to support Block Club with a tax-deductible donation.