AVONDALE — In the decade Enrique "Ricky" Sanchez lived at the homeless encampment at Belmont Avenue and the Kennedy Expressway, he became a leader of the tight-knit community.
Sanchez had invited longtime friend Carlos Rivera to live there after Rivera lost his job — just as Sanchez had years earlier. The two worked together to build a wooden shack under the viaduct for Sanchez.
So when Sanchez secured an apartment a few weeks ago, he took his time leaving the home and network that had become so integral to his life.
"He had already moved out 99.9 percent of his things, but he was in no hurry to leave," Rivera said. "Being here so long, you get used to it."
Rivera and many others in the Avondale community are mourning Sanchez, who was fatally shot earlier this month.
Sanchez was killed just after 1 p.m. Dec. 5. The 53-year-old was in a car in the 3100 block of North Sawyer Avenue when someone in a black car fired shots, hitting Sanchez "multiple times," police said.
Sanchez was taken to Illinois Masonic Medical Center, where he was pronounced dead. His death has been another tragedy for the community, which was targeted twice this year in arson fires, causing residents to lose clothing, mattresses and other valuables.
Ald. Carlos Ramirez-Rosa (35th), whose ward includes the encampment, said police told him the shooting stemmed from a "personal conflict" and had "nothing to do" with the encampment.
Rivera said he was "heartbroken" to find out Sanchez, his friend of nearly 30 years, had been shot and killed. He said he doesn't believe Sanchez was the intended target.
"Nobody deserves to die, and especially in a violent death like that. My heart dropped," Rivera said. "He was a compassionate, good-hearted person, and he would give you his last dollar if you needed it."
Police hadn't made any arrests in the case as of Monday afternoon.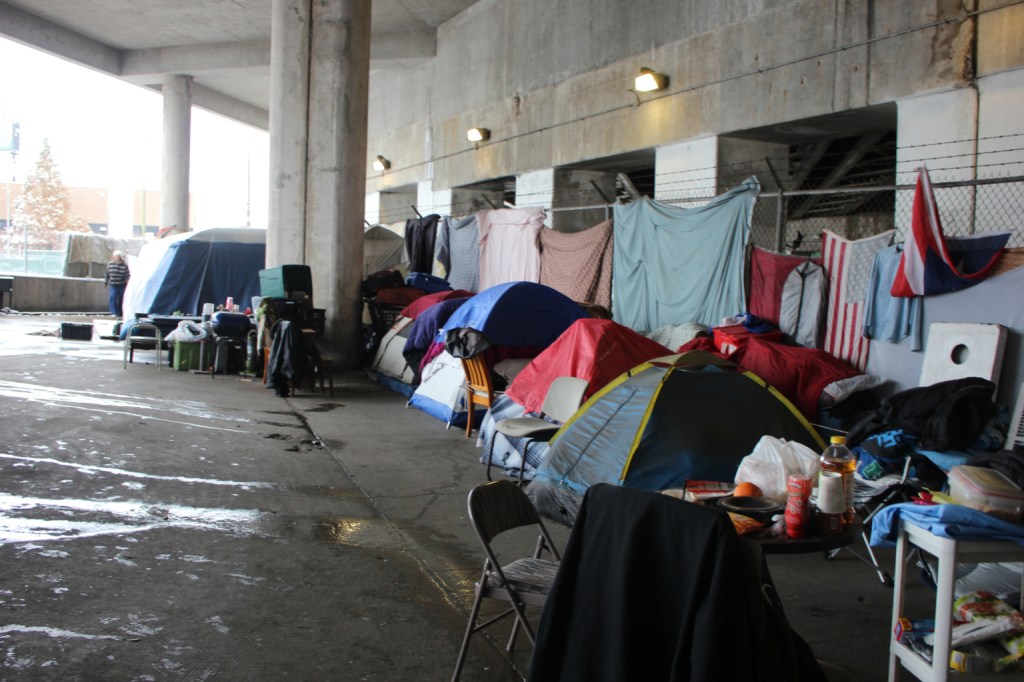 Sanchez told Block Club last winter he began living in the encampment about a decade ago. He lost his construction job and had nowhere to go, Rivera said.
Sanchez first lived in a tent on the sidewalk, but later he moved into the encampment with his son, and they stayed for several years, Rivera said. Attempts to reach Sanchez's family were unsuccessful.
"He was a good friend, a good person to be around, never had any confrontations, never had any altercations as many years as I knew him," Rivera said.
Rivera said Sanchez was well-liked in the encampment community, a sentiment echoed by Adam Gottlieb with the Chicago Union for the Homeless.
Speaking at a Downtown event to memorialize people who died this year while experiencing homelessness, Gottlieb on Monday described Sanchez as a "leader."
"He took care of everyone and some of his friends who have survived him have known him for years," Gottlieb said.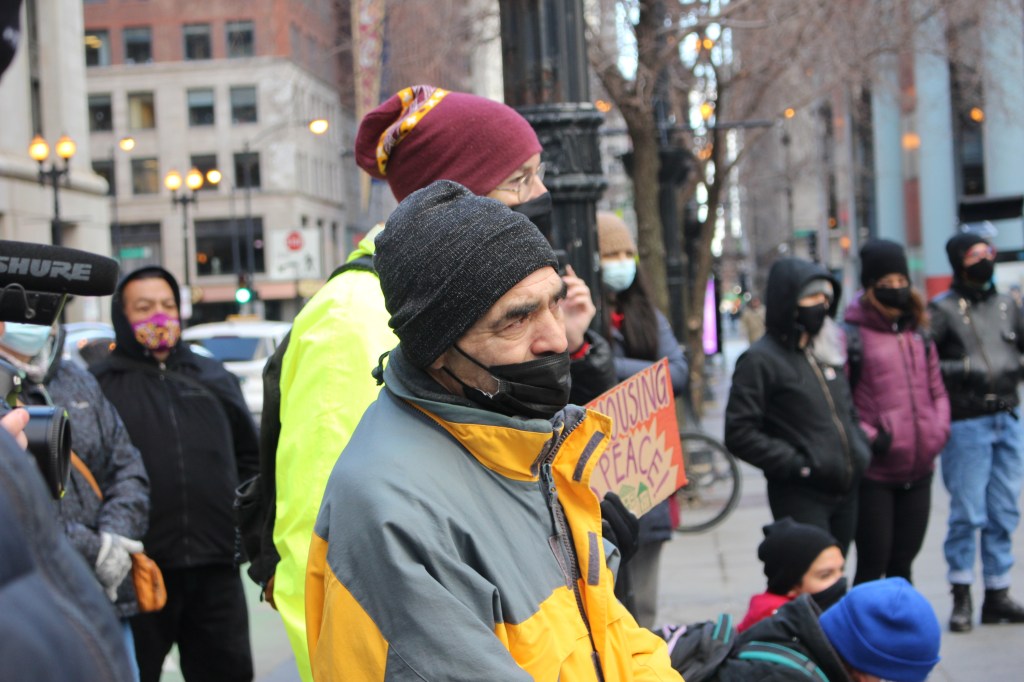 Rivera met Sanchez at the McDonald's on Milwaukee Avenue at Sawyer Avenue in the early '90s. They were on their way to work and struck up a conversation while grabbing coffee, Rivera said.
Over the years, they developed a close friendship. They drank together and sometimes Rivera, the more mechanically inclined of the two, helped Sanchez fix up his car.
When Rivera lost his job and couldn't afford to stay in his apartment a few months ago, Sanchez invited him to live in the encampment, saying, "There's always room for you here," Rivera said.
That gave the two friends an opportunity to reconnect and share one last bonding experience.
Sanchez recruited Rivera to help him build a wooden shack in the encampment. Sanchez wanted more secure shelter than the tents he'd been living out of for years; Rivera, a cabinet maker, was handy enough to assist.
The plan was for Sanchez to live there. After he was killed, Rivera moved in. He cares for Sanchez's cats and lights candles in memory of his longtime friend. He said Sanchez's son asked him to move in after his father died.
"He said, 'If anybody would be the person to carry it on, it'd be you because you helped my father build the place,'" Rivera said.
Rivera said his friend's sudden passing has made him question his own safety.
"Chicago is Chicago," he said. "Nothing's guaranteed. I come out in the mornings and face the world and I say, 'Who knows what it's going to be this day.' It could be my day. There's no way of knowing.
"If you live in an environment like this, the risk is higher of something going wrong."
A Block Club subscription is an excellent gift. Get a subscription now and you'll get a free tote bag — and you'll help us reach our goal of 15,000 subscribers by the beginning of 2021. We're almost there! Subscribe or buy a subscription as a gift here.



Already subscribe? Click here to support Block Club with a tax-deductible donation.