DOWNTOWN — A coalition of activists are demanding elected officials maintain pressure on Mercy's ownership to keep the hospital open or sell to someone who will.
The activists held a vigil Monday, a week after a state board unanimously rejected Mercy Hospital's request to close. Board members agreed closing the Near South Side institution would negatively impact South Siders, especially in the middle of the coronavirus pandemic.
Mercy Hospital leadership announced in July the city's first chartered hospital would shut down, citing monthly operating losses of $4 million and shifting trends in the field of health care away from inpatient services. The news came two months after a billion-dollar plan to consolidate the hospital with three others on the South Side fell apart.
Officials previously aimed to shut Mercy down by May 31 and establish an urgent care facility in Oakland to replace the hospital and its six satellite clinics.
Despite the Illinois Health Facilities and Services Review Board's rejection of Mercy's request, the hospital still has options for shutting down — and intends to take advantage of them.
Mercy Hospital spokesperson Sophie McCarthy said last week's vote was an intent to deny the application to close, not a final decision. The hospital plans to return to the board in 2021 with more information to make their case for closure.
To prevent any move to close Mercy, the Chicago Health Equity Coalition is demanding a moratorium on hospital closures during the pandemic, organizers said at a Downtown candlelight vigil Monday outside the Thompson Center.
The coalition also called for more support from Gov. JB Pritzker and Mayor Lori Lightfoot. The governor sent a letter to the review board objecting to Mercy's closure, as reported by WBEZ.
City and state officials must bring Mercy leadership and community stakeholders together to discuss a path to keeping the hospital open, said Shannon Bennett, executive director of the Kenwood-Oakland Community Organization.
If local leaders don't take action, organizations within the coalition will mobilize against them in their next elections, Bennett said.
Coalition members include local representatives of the Kenwood-Oakland Community Organization, SEIU Healthcare Illinois, National Nurses United, Physicians for a National Health Program, White Coats for Black Lives, and several other groups.
"Come election time, come time to knock on these seniors' doors, come time to talk to people who have died and who are dying due to this pandemic, and you haven't stepped up for them — we don't have a short memory on that," Bennett said.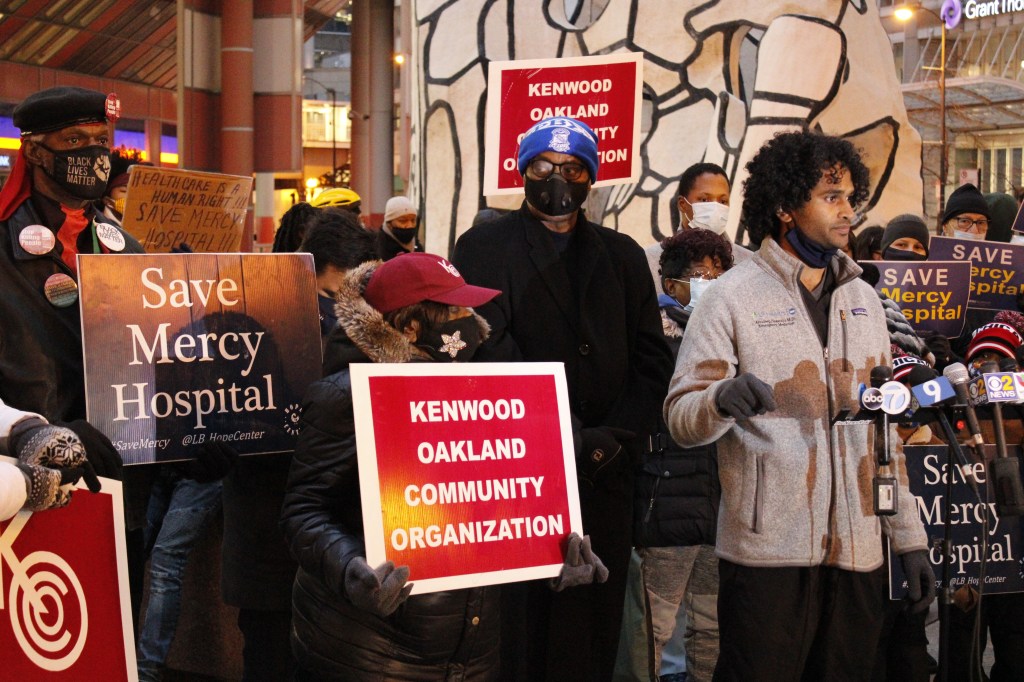 While keeping Mercy open is the coalition's focus for now, its battle for health equity reaches further.
Members are also organizing to address the dependence of safety net hospitals on Medicare and Medicaid reimbursements, "a racist system that in its structure is guaranteeing hospitals don't have what they need," said Jitu Brown, board president of the Kenwood-Oakland Community Organization.
Hospitals lost 13 cents on every dollar spent caring for Medicare and Medicaid patients in 2017, according to the American Hospital Association. Three out of every four Mercy Hospital patients pay through Medicare or Medicaid, according to a 2019 report.
Members are keeping an eye on other hospitals facing budget cuts, too.
"There are crises all over the city — South and West sides," Brown said. "One: We want to save Mercy. Two: We want to save Provident Hospital because they're starving Provident. Then three: We want to reform how safety net hospitals are funded in the city of Chicago."
Health care workers, Mercy Hospital patients, community organizers and Ald. Byron Sigcho Lopez (25th) also spoke at Monday's rally.
"We are showing up to work; we are using our precious time off to come here and fight for health care equity," said Dr. Anudeep Dasaraju, a resident physician in Mercy Hospital's emergency room. "We're doing our jobs; we're asking our elected officials to do their jobs. We are asking Gov. Pritzker [and Lightfoot] to step up and have a heavy hand in this matter."
Sigcho Lopez floated an idea to downzone the property at 2525 S. Michigan Ave. or doing whatever else it may take "so [the hospital's owners] don't make money off of this hospital while people are dying."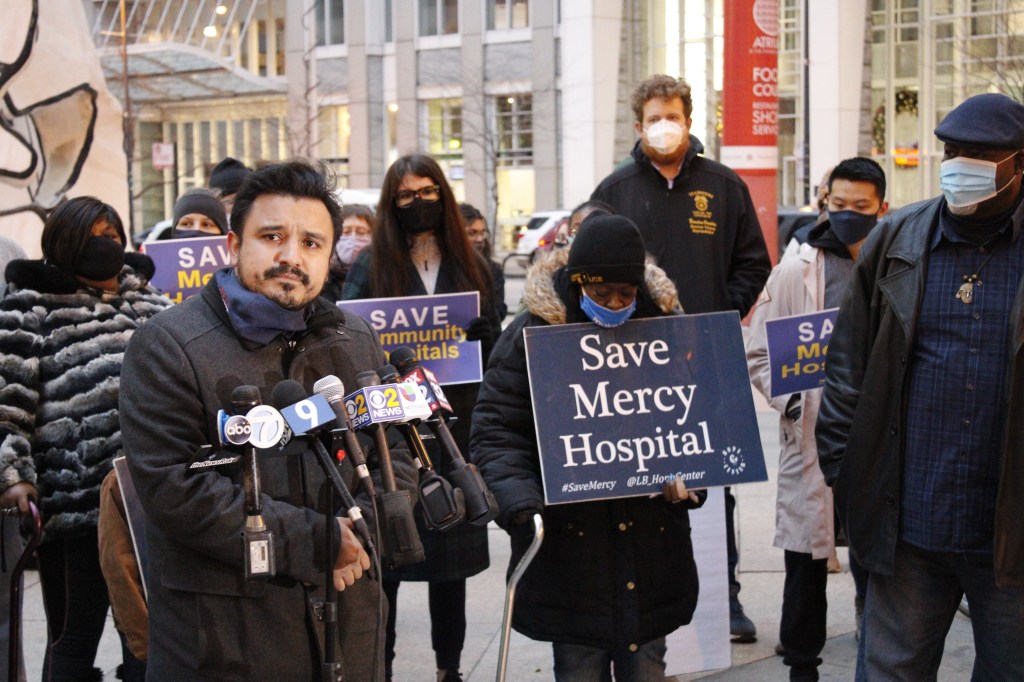 The battle the keep Mercy open is part of a decades-long struggle to maintain critical health services throughout the South Side.
Also citing operating losses, University of Chicago Medical Center shut down its trauma center in Hyde Park in 1988. Michael Reese Hospital in Bronzeville shut down its trauma division in 1991, in part because UChicago's closure shifted an enormous burden of care and financial strain onto the facility.
That left Advocate Christ Medical Center in suburban Oak Lawn as the only trauma center serving the South Side for nearly three decades.
Michael Reese closed altogether in 2009, eliminating nearly 400 beds, according to the Illinois Hospital Association. Other South Side hospitals that have closed over the years include Woodlawn Hospital in 1986, Hospital of Englewood in 1988 and Doctors Hospital of Hyde Park in 2000.
Activists formed the Trauma Care Coalition in a mission to push UChicago to reinstate its trauma division. After years of work, the group succeeded and the Hyde Park trauma center reopened in 2018.
Early research shows it already is improving emergency care for South Side residents, particularly benefitting Black residents in in low-income ZIP codes.
But health care has continued to shrink, shift or disappear altogether in the South and West sides for years. Earlier this year, community leaders also pushed back on a Cook County Health plan to shutter the Woodlawn and Near South clinics this month. Needing more space to treat patients for COVID-19, St. Bernard Hospital in Englewood suspended their OB-GYN unit and transferred expectant moms to Mercy.
A Block Club subscription is an excellent gift. Get a subscription now and you'll get a free tote bag — and you'll help us reach our goal of 15,000 subscribers by the beginning of 2021. We're almost there! Subscribe or buy a subscription as a gift here.



Already subscribe? Click here to support Block Club with a tax-deductible donation.