WEST RIDGE — For the third time since October, a slew of cars parked on the same West Ridge block had their windows knocked out by someone in the early morning hours Monday.
Alberto Bahena and his son Jessie were on the 6000 block of North Oakley Avenue by Monday afternoon, repairing the windows of 12 cars this time. Earlier this month, 18 cars were smashed. In October, 16 cars were smashed.
For the Bahenas, who run Bahena Auto Glass Mobile Service, the repairs have been lucrative. But for residents like Cleber Santos, whose Kia Rio was among those that suffered a broken window Monday — the second time his car was targeted this month — it's costly.
"I had to take off work today. I'm a food delivery driver so I need my car," Santos said.
When Santos' car was hit Dec. 2, his wife's car was damaged, too, costing him $110 per window.
"They need to put cameras on this street," Santos said.
The car windows appeared to be broken between midnight and 8:45 a.m. Monday. Nothing appeared to be stolen from inside the vehicles, said Chicago Police spokesperson Karie James. 
The 12 cars that were damaged, just as they were in the other incidents, were parked on Oakley Avenue just north of Peterson. The one-way street forms the eastern border of the Our Lady of Guadalupe Rosehill Cemetery, and the damage to the cars all happened on the cemetery side of the street, with passenger windows targeted.
There are no street lights or cameras on the block.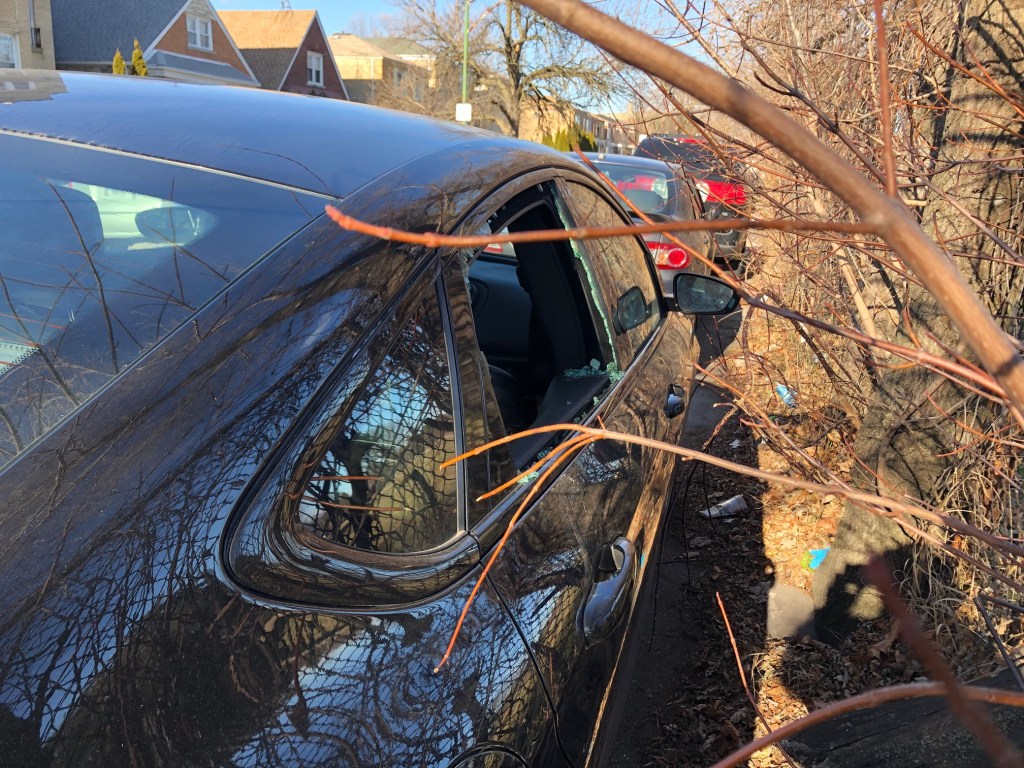 Ald. Andre Vasquez (40th) said he was not aware of Monday's incident but would be talking to the area's police commander about increasing patrols. He also conceded lighting may be a problem.
"I'm assuming it's not as well lit as it could be," Vasquez said.
Bahena said the cost to replace the windows depends on the type of car and whether or not the owner opts for a new or used window. Generally a replacement costs $90 to $200 per window, he said.
North Carolina resident Olivia Balboa was visiting relatives three blocks from the scene and unaware of the recent incidents on Oakley when she parked there Sunday night. She discovered her Jeep Renegade had a broken window when she was attempting to go Christmas shopping on Monday.
Like Cleber Santos, Dimas Santos (no relation) had the front passenger window of his Chevy Sonic busted out.
The passenger front window of Norberto Brito's Hyundai Veracruz was also broken. He said he discovered it about 10:30 a.m. as he was leaving to go buy groceries.
Brito said he believes it's likely the same offender that struck before on his block.
"I think it's the same person. It happens way too often and is always the same method," Brito said.
On Monday, a few victims each said they didn't hear anything and weren't sure how the vandal was breaking the windows. On Monday, a few large portions of windows were seen on the street next to cars, indicating that the vandal may be using a tool to pry the windows open.
Alberto Bahena, who was repairing a car window, said from what he can tell, that seems likely.
"He is using a crowbar or a long screwdriver, see the damage to the car," Bahena said, pointing out a dented window frame.
Area Three detectives are investigating.
A Block Club subscription is an excellent gift. Get a subscription now and you'll get a free tote bag — and you'll help us reach our goal of 15,000 subscribers by the beginning of 2021. We're almost there! Subscribe or buy a subscription as a gift here.



Already subscribe? Click here to support Block Club with a tax-deductible donation.