ENGLEWOOD — This year has been a rough one for business owners who have been forced to either permanently close their shops or pivot their focus to remain open.
Things have been particularly precarious for South Side-based entrepreneurs, with some, like Good Thoughts Tea Company Creator Eboné McCloud, struggling to find resources to carry them through a global pandemic. But, thanks to the Small Business Development Center Network's "Virtual Holiday Marketplace" — a program created by the Illinois Department of Commerce and Economic Opportunity — McCloud's e-commerce site has been inundated with orders.
"It's been really wonderful, especially with the shift of going from in-store to online. It's very helpful to have a central place for people to come and visit to learn more about the brand," said McCloud, who lives in Greater Grand Crossing.
Lauren Amos and Tamora Hughes, the two SBDC directors behind the Virtual Holiday Marketplace, said they wanted to create a space where Black and Brown vendors could thrive. Both women have been helping business owners through a series of trainings via Build Bronzeville and Greater Englewood SBDCs, providing them with the tools necessary to stay afloat.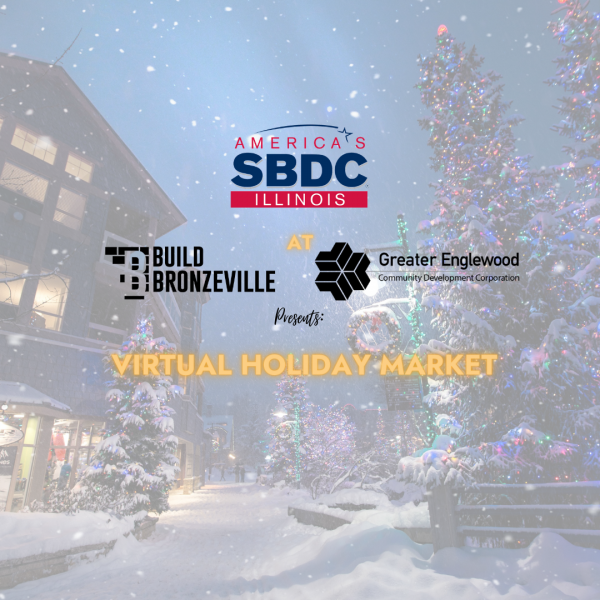 So far the marketplace has 55 vendors from all over the South Side, a number Amos and Hughes hope to expand in the months to come.
"Some are participants in the training series, some are clients that the Boxville team works with on an ongoing basis. We just cast a wide net, and through the client management system we use at SBDC we were able to contact people," said Amos.
Through funding from the CARES Act, DCEO provided Build Bronzeville and Greater Englewood with $28,000 and $50,000 respectively to make the marketplace happen. Amos and Hughes reached out to people in their network to help with marketing, event activations, and website construction, the latter of which took only four weeks.
Workshops were also offered to prepare entrepreneurs for the online marketplace.
All of these things are provided at no cost to the vendors, who receive 100 percent of all revenue made from their e-commerce sites. And the site will remain active once the holidays are over, said Amos.
The assistance has also helped vendors with putting on virtual events. Last Lap Cornerstore, another Boxville tenant, has a Virtual Holiday 5K, while other vendors, Soilful Pots and Grow Sumthin are hosting a Holiday Plant Party. There will also be a Virtual Holiday Cooking Class with Chef Lucy from A.O. Bistro.
"In the two weeks leading up to the website launch, our marketing consultant walked vendors through building their e-commerce sites, or if they already had one, how to better position it. They also learned how to make their Instagram shoppable. We tried to make it as easy and straightforward as possible," Amos added.
That help was vital for McCloud, a Boxville tenant who was forced to close shop once the pandemic hit.
"My scope of what being an entrepreneur has really solidified itself during the pandemic because I'm now totally focused on building my brand. That whole idea of needing to know all of these things didn't kick in until this year, even though I had the brand for seven years," McCloud said. "To have the privilege and opportunity to grow, and stay in business during this — especially with Lauren's help, has been tremendous."
A Block Club subscription is an excellent gift. Get a subscription now and you'll get a free tote bag — and you'll help us reach our goal of 15,000 subscribers by the beginning of 2021. We're almost there! Subscribe or buy a subscription as a gift here.