WEST WOODLAWN — Students from the Dulles School of Excellence received a surprise visit from Chicago Bears mascot Staley Da Bear and the Urban Growers Collective's Fresh Moves Mobile Market ahead of the Christmas holiday this week.
Families were given free food vouchers Wednesday to use for the mobile market, which will continue to visit the school, 6311 S. Calumet Ave., for the next several weeks to deliver fresh fruits and vegetables.
The football team had partnered with several area schools as part of its "Fit Youth Challenge" to promote physical activity and healthy eating. But the latter can be challenging for Dulles students, who live in areas where fresh food options are lacking.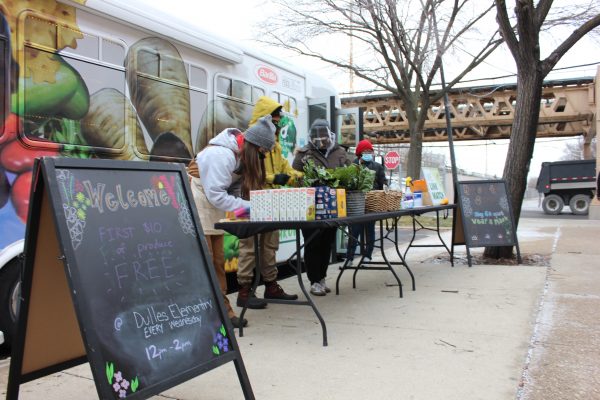 The school contacted Bears Youth Football and Community Programs Manager Gustavo Silva about the lack of resources, they began brainstorming ideas, which led to them reaching out to Urban Growers Collective to coordinate outreach for Dulles students and families.
Through its charitable arm, Bears Care, the team provided a grant to help provide the fresh produce.
"A lot of families live close to here, but are really limited to how far they can walk, and the only store nearby sells a lot of canned, processed food," Silva said. "We're grateful to be able to make a donation and to facilitate a relationship with Urban Growers and Dulles that we hope will be sustainable."
The partnership is a lifeline for Dulles students and their families, the majority of whom fall under the poverty line, said Chastity Wilson, who serves as Dulles' Health teacher and athletic director.
"Our school is like a safe haven for Parkway Gardens. It's the school that everyone knows that's under the tracks, and we have an amazing staff who shows up every day, and kids who show up every day. And our kids are so dedicated," Wilson said.
Providing basic resources like fresh food and clean clothes — students unable to wash their clothes at home regularly use the school's laundry room — makes all the difference in the world when it comes to student performance, added Wilson.
Having the opportunity to bring fresh produce to students and families struggling to make ends meet was a full circle moment for Malcolm Evans, a farm manager who joined Urban Growers Collective through its youth program at age 10.
"It changed my life. By me coming here [to Urban Growers] and identifying my skills, I was able to find my passion," said Evans, now 22 with a family of his own.
Urban Growers Collective currently operates eight urban farms that grow everything from kale to collards to berries on 11 acres of land located primarily on the South Side.
A Block Club subscription is an excellent gift. Get a subscription now and you'll get a free tote bag — and you'll help us reach our goal of 15,000 subscribers by the beginning of 2021. We're almost there! Subscribe or buy a subscription as a gift here.


Already subscribe? Click here to support Block Club with a tax-deductible donation.