LAKEVIEW — Several tiny home frames line the patio of Lakeview's Houndstooth Saloon, creating heated pods for people to dine outdoors while keeping space from other customers.
Houndstooth owner Stephanie Cook says the makeshift homes, located on the bar's patio underneath the CTA Red Line tracks at 3369 N. Clark St., are the country sports bar's latest attempt to keep serving customers while indoor dining is restricted by the coronavirus pandemic.
But Houndstooth soon will lose access to its patio altogether once the construction for the CTA's Red-Purple Modernization Project reaches its stretch of Clark Street in the spring, cutting off a key part of the bar's operation, Cook said.
"In a few years, this will be great because there will be soundproofing from the train and things will be more accessible," Cook said of the CTA upgrades. "But in the meantime, we're losing our entire patio."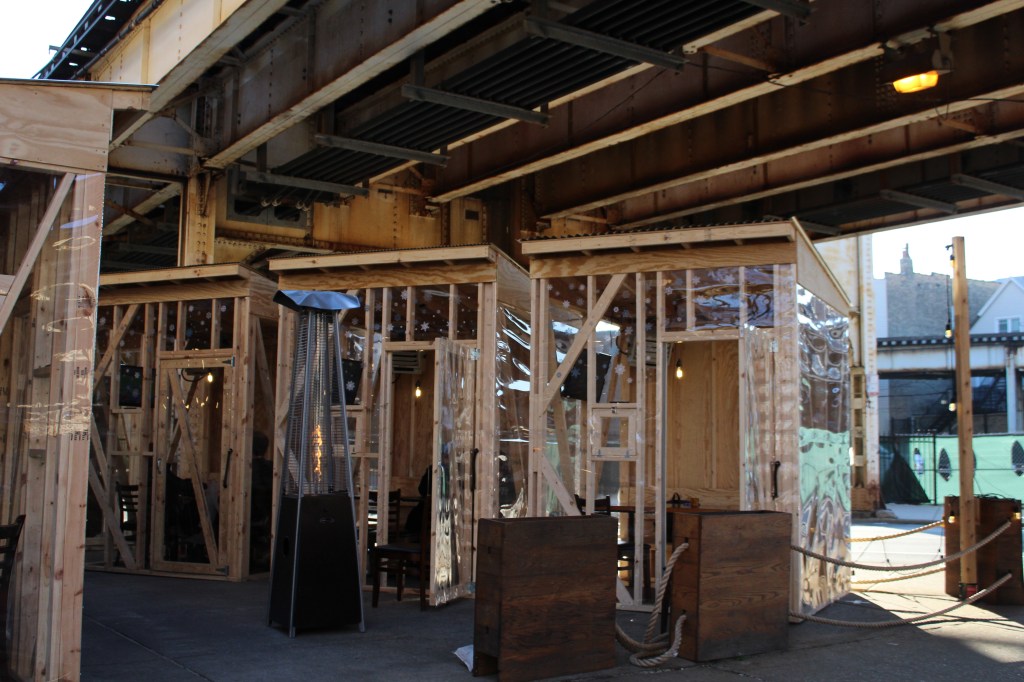 Cook is among a handful of local business owners concerned about how the CTA's $2 billion project will impact their sales after what's already been a difficult year for small businesses because of the coronavirus pandemic. Other businesses along Clark Street already have seen the months of work affect their operations — or left the area before the brunt of the construction began.
A.J. Haj, owner of the Al's Beef at 3420 N. Clark St., said he expects his business to get through the slog, as long as there are no further coronavirus restrictions.
"We're doing good now, but it does suck to be dealing with this on top of the pandemic," Haj said.
The entire Red and Purple Modernization project aims to rebuild a 9.6-mile stretch of CTA tracks first constructed nearly a century ago, according to the agency.
The first phase includes creating a flyover bypass for Brown Line trains to skirt the Red and Purple line tracks in Lakeview, as well as rebuilding the train tracks and stations from Lawrence to Bryn Mawr in Uptown and Edgewater.
Crews will then start rebuilding the Red and Purple line tracks from Belmont to Cornelia avenues by summer 2021, which is what will force Houndstooth's patio to close.
Patio seating has been crucial for Houndstooth and other businesses to survive the coronavirus pandemic, which has restricted indoor dining capacity, Cook said. Without it, she's not sure the business can survive through next summer.
"It's already been hard enough with the roller coaster of the pandemic, and now we're going straight from one [crisis] into another," Cook said.
Haj said his business has been affected by the CTA work since it began in September 2019. At the time, crews were blocking off streets while determining which utility lines needed to be relocated for the project to begin.
It caused periodic electric or gas outages, which residents and businesses were alerted to in advance, according to the CTA.
"In the beginning it was a huge effect while they were doing the utility work," Haj said. "It's gotten better because we're doing mostly delivery now, but we expect it to get worse once they're rebuilding the tracks around here."
That's when Al's will lose its nearby parking space for customers who are stopping in for pickup, Haj said, adding that it could make a dent in customers coming in.
"We're losing that spot for about nine months," Haj said.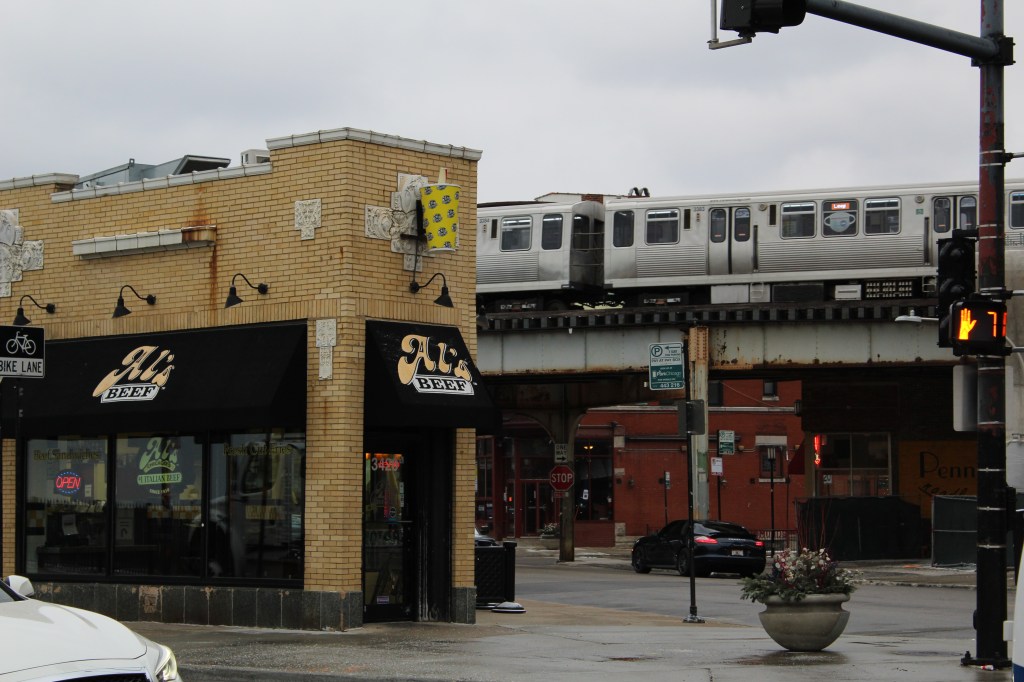 Pick Me Up Cafe, once a neighbor of Al's Beef, already has relocated from the area partly because of the modernization project. Owners Joe and Lavinia Mann moved their business from 3408 N. Clark St. to 4882 N. Clark St. in Uptown in March.
Joe Mann said they "didn't feel that the neighborhood was weird enough" for the vegan cafe anymore.
"We feel like the neighborhood aspect of Wrigleyville had kind of turned into a shopping mall or Rickettsville-type of place," Mann said, referring to the Ricketts family which owns the Chicago Cubs.
But frustrations with the CTA work compounded their motivation to move. When pre-work on the RPM project began, the owners got a sense for what patio season would look like during construction, and doubted people would be dining outdoors.
"They were tearing up Sheffield or Roscoe every other day and we said, 'I'm not sure we want to do this,'" Mann said. "It was clear the RPM project would have some sort of impact on our ability to thrive comfortably."
Ald. Tom Tunney (44th) said in an emailed statement both the pandemic and CTA work have "placed enormous hurdles" on small businesses, "particularly at the intersection of Clark and Roscoe."
He said his office is working with Houndstooth, the Lakeview Chamber of Commerce and neighbors to allow the bar to open a sidewalk cafe along Roscoe.
"We are also working with the chamber to promote local businesses that have and will continue to be affected by the CTA improvements," Tunney said.
To support businesses struggling during the CTA work, the agency introduced a marketing campaign in October aiming to drive foot and digital traffic to their stores, according to Tammy Chase, a CTA spokeswoman.
The Open For Business Initiative will highlight Lakeview, Uptown and Edgewater businesses near the modernization project through signage, email advertising, social media campaigns and a website sharing news and information about businesses that register.
"The goal of the program is to increase visibility of these businesses, especially during construction, and remind people they're open," Chase said.
Businesses can sign up online to participate in the initiative.
Houndstooth has signed up for the program but Cook says the extra marketing help won't be enough if she can't serve customers on her patio, which can fit eight tables with social distancing.
To make up for the seating that will be lost, Cook said she's applied for a sidewalk permit to set up a patio on the north end of Houndstooth, which sits along Roscoe Street and won't be disrupted by the CTA's work.
However, the sidewalk is in disrepair and would need to be fixed and Cook said her permit request hasn't yet been approved by the city.
She's also offered to adjust her business hours so the patio closes earlier because Roscoe Street is more residential, and said she would foot the bill to repair the sidewalk.
"We're all in and willing to do whatever we need to do to get this patio," Cook said. "Otherwise, I'm not sure that we'll make it through the summer with no outdoor seating."
Maureen Martino, executive director of the Lakeview Chamber, said all businesses in the Wrigleyville area are struggling right now after nearly a year of the coronavirus pandemic and an abridged Cubs season with no fans in attendance.
Martino said she hopes Cook's permitting request can be expedited so they don't have to lose any revenue or wait until spring to set up Houndstooth's new patio.
"It's disappointing that this could be on the back-burner," Martino said. "Our small business owners need to compensate somehow for the loss of revenue just from being in a construction zone, especially coming off such a difficult year with no indoor dining."
Jake Wittich is a Report for America corps member covering Lakeview, Lincoln Park and LGBTQ communities across the city for Block Club Chicago.
A Block Club subscription is an excellent gift. Get a subscription now and you'll get a free tote bag — and you'll help us reach our goal of 15,000 subscribers by the beginning of 2021. We're almost there! Subscribe or buy a subscription as a gift here.


Already subscribe? Click here to support Block Club with a tax-deductible donation.