NEAR NORTH SIDE — A trio of residential buildings is one step closer to coming to Old Town, bringing with it a rare form of housing stock: affordable condos.
The city's Plan Commission on Thursday approved Structured Development's plans for the $250 million Shops at Big Deahl project which would include three residential buildings, a fitness center and a public park at 1450 N. Dayton St. near the North and Clybourn corridor.
The three buildings will include a 27-story tower with 327 units; a five-story building with 36 units and a 10-story group living facility with 126 units.
The project will bring more than 450 apartments to an area of town that has exploded with development in recent years.
But it will also bring affordable condos, a more rare form of housing, to the area that housed Cabrini Green.
Thirty-four units within the development's five-story building will be affordable condos, according to plans.
To meet the city's affordable housing requirements, the developer also plans to build 33 affordable townhomes at an off-site development at Harrison Street and Francisco Avenue.
For the West Side project, the developer plans to employ people from the area to help in the construction project. Some in the program will be offered the chance to buy the units they helped build, Ald. Walter Burnett Jr. (27th) said.
"African Americans from the West Side are going to build and own some of those," Burnett said. "It wasn't always like this. [The developer] is essentially mentoring these neighborhood men. I'm excited about this."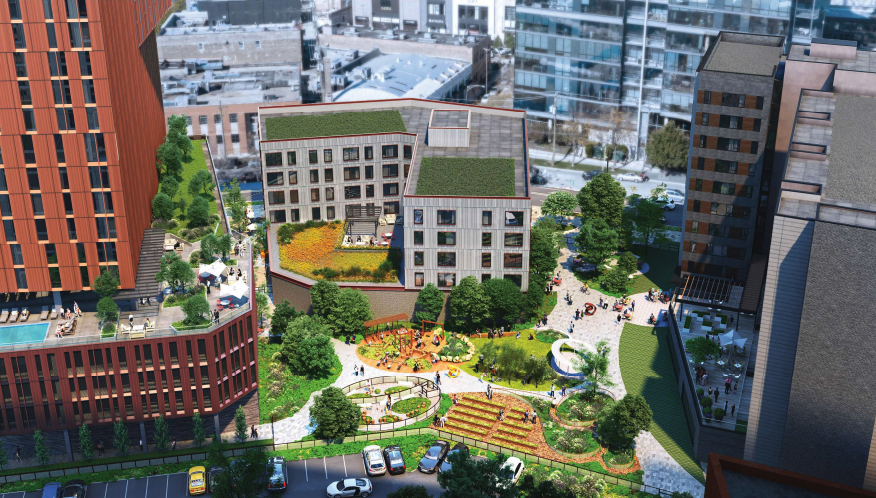 The three new residential buildings will wrap around the public park area, which is planned to include an entry plaza, gardens, sculptures and movable tables with chairs, according to the developers' presentation. The fitness studio will sit adjacent to the east.
Chicago Department of Planning and Development Commissioner Maurice Cox said the project blends in well to the surrounding area.
"It's really like a family of buildings," he said. "It's a mixed market of residential, which is really wonderful to see."
Some neighbors aren't so sold on the plan, however. The project is coming to a small parcel just west of Halsted Street and south of North Avenue, which has seen a number of developments in recent years.
Neighbor Brian Axelrod said at the meeting that congestion on Halsted is already a problem and will only be exacerbated by the new 27-story tower.
After receiving support of the Plan Commission, the development will now be considered by the city's Committee on Zoning.
A Block Club subscription is an excellent gift. Get a subscription now and you'll get a free tote bag — and you'll help us reach our goal of 15,000 subscribers by the beginning of 2021. We're almost there! Subscribe or buy a subscription as a gift here.


Already subscribe? Click here to support Block Club with a tax-deductible donation.