WICKER PARK — From a new Foxtrot Market to a potential renovation of St. Paul's Church, Wicker Park leaders reviewed an array of zoning proposals Tuesday during a virtual meeting.
The following proposals were reviewed:
An expansion from Foxtrot Market at 1576 N. Milwaukee Ave. to replace Café Cancale.
A four-story, 38-unit condo project at 1317-1335 N. Western Ave.
A four-unit condo project at 2140 W. Evergreen Ave.
An early look at a plan to retrofit St. Paul's church, 2215 W. North Ave.
The Wicker Park Committee's Planning & Development Committee reviewed each application Tuesday via Zoom and took preliminary votes.
Before Ald. Daniel La Spata (1st) takes into consideration neighbors' opinions on the proposals, the Wicker Park Committee as a whole will vote on the items.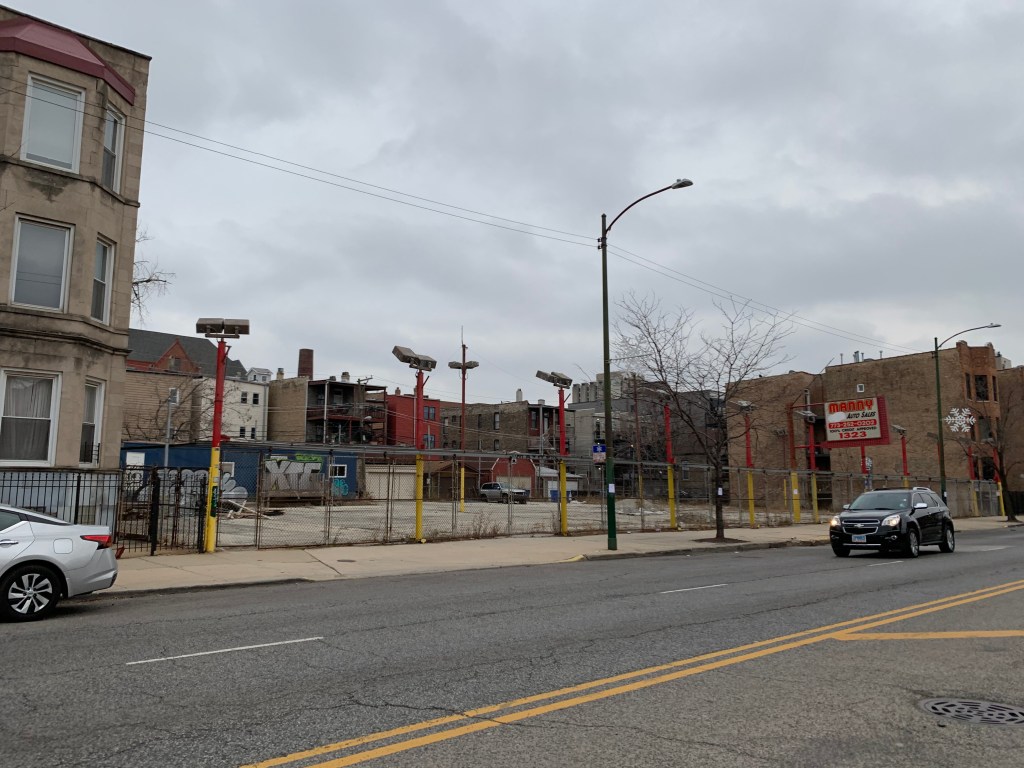 Western Avenue Condos: Approved
After neighbors initially rejected a five-story, 40-unit condo project at 1317-1335 N. Western Ave., architect Jonathan Splitt returned to the group Tuesday with a four-story, 38-unit project. A commercial tenant could rent the ground floor. All units are two- and three-bedrooms.
"We lopped off the building on each end, front to back," he said. "We've got some five-stories near us, but our adjacent neighbors are four stories. By making this move at each end and making it front-to-back open … we're hoping it's a better fit on the street."
Per the city's 10 percent affordable unit rule, this project would include four "heavily discounted" condo units.
The project would replace a car dealer lot.
Max Collopy lives across the street in Humboldt Park and joined Tuesday's call. His group, East Humboldt Park Neighborhood Association, reviewed the proposal and voted to support the development.
The Planning & Development Committee voted unanimously to approve the project as presented.
Foxtrot Market Expansion: In Limbo
A Foxtrot expansion would replace Café Cancale at the busy intersection of Milwaukee, North and Damen avenues. The company wants to put a walk-up window on Damen Avenue, and attorney Nick Ftikas said doing so requires a zoning change to C-2.
Foxtrot, a Chicago-based grocery chain, already has a Wicker Park location at 1722 W. Division St. Café Cancale, a restaurant from the One Off Hospitality Group, closed this year due to the pandemic.
Ed Tamminga, Planning & Development Committee chair, said most members of the committee didn't outright oppose a zoning change for a walk-up window, but neighborhood leaders had conditions.
Grant Drutchas said he would like to see Foxtrot put money into escrow before neighbors agree to the zoning change — and also agree to signing a memorandum of understanding. The Wicker Park Committee worked out a similar deal with Centrum Partners.
RELATED: Developer's Missed Deadline Results in $20K Windfall to 4 Wicker Schools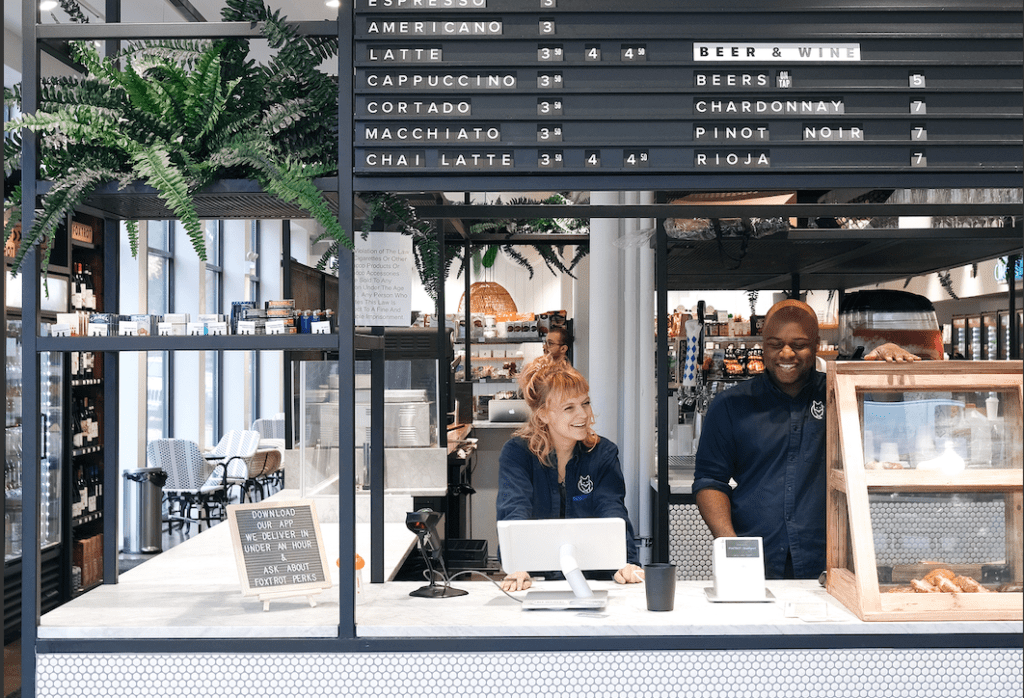 Ftikas said he would take these ideas to his client and come back to the group before a formal vote is taken.
Teddy Varndell said he opposes the zoning change as Wicker Park is "saturated" with coffee shops and convenience stores.
"I don't see any benefit to our community," he said. "I see a huge risk. … It seems to me this applicant is getting a lot of bites at the apple."
The Planning & Development Committee voted unanimously to preliminarily support a temporary zoning change with a $50,000 escrow and the agreement all other uses of the property will conform to B-level zoning.
St. Paul's Church: No Vote Taken
Architect John Hanna brought forth an early proposal to carve iconic St. Paul's Church in Wicker Park, 2215 W. North Ave., into 16 units with a six-car garage. Hanna represented Bill Senne of Property Consultants, which is under contact to buy the church.
Under Hanna's plan, the units would average about 1,000 square feet. The renovation would retrofit the 1890s limestone-and-brick Romanesque church.
The property's zoning allows eight units, so a zoning change would be required.
Two units would be considered affordable, Hanna said.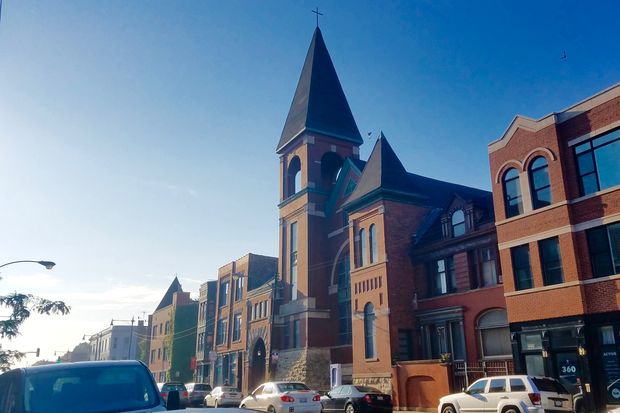 Neighbors most recently reviewed a plan to retrofit St. Paul's last year when JAB Real Estate and SPACE Architects attempted to convert the building into 19 units. A proposal before that included more than 20 units, Tamminga said. Neighborhood leaders felt both proposals were too dense.
"This thing has come to us twice before," Tamminga said. "We had troubles with the number of units. They got smaller … got kind of impractical."
Varndell said he hoped the new property owners would work to preserve the stained glass windows.
The Planning & Development Committee did not take a vote.
Evergreen Avenue Condos: Approved
Hanna, the architect involved with the church, also proposed construction of a four-unit condo building on a vacant lot at 2140 W. Evergreen Ave. The property is within a Landmark District.
Designed to look like a typical three-flat, the building's four floors would include a garden basement unit, two middle units and a top-floor unit with rooftop access. The facade would include red brick. The project does not require a zoning change.
Tamminga asked Hanna to send the proposal to the Landmarks Commission, at which point neighbors would meet to vote on the project.
The Planning & Development Committee voted unanimously to approve the project.
A Block Club subscription is an excellent gift. Get a subscription now and you'll get a free tote bag — and you'll help us reach our goal of 15,000 subscribers by the beginning of 2021. We're almost there! Subscribe or buy a subscription as a gift here.



Already subscribe? Click here to support Block Club with a tax-deductible donation.