CITYWIDE — Fifty years ago, a Chicago resident began a beloved annual tradition of hosting holiday events dedicated to bringing joy to children, the elderly and people experiencing homelessness.
The festivities are canceled this year, but it hasn't stopped Santa Mike from helping those in need.
Mike Sturch earned the name Santa Mike after seeing children playing at a park in the cold without jackets and warm clothing. He reached out to Sister Andrea Vaughn at Marillac St. Vincent Family Services to ask what he could do to help children in need.
"I was about to become a father for the first time," he said. "I wanted to do something nice for those children."
Santa Mike worked with Marillac to organize a holiday party for kids who participate in the nonprofit's youth programs. With the help of volunteers, he filled more than 100 baskets with food and gifts to give out to the children.
Since then, the Christmas celebration has grown to include up to 500 kids each year who receive a gift and get to meet Santa. It has became known as the Santa Mike Fund.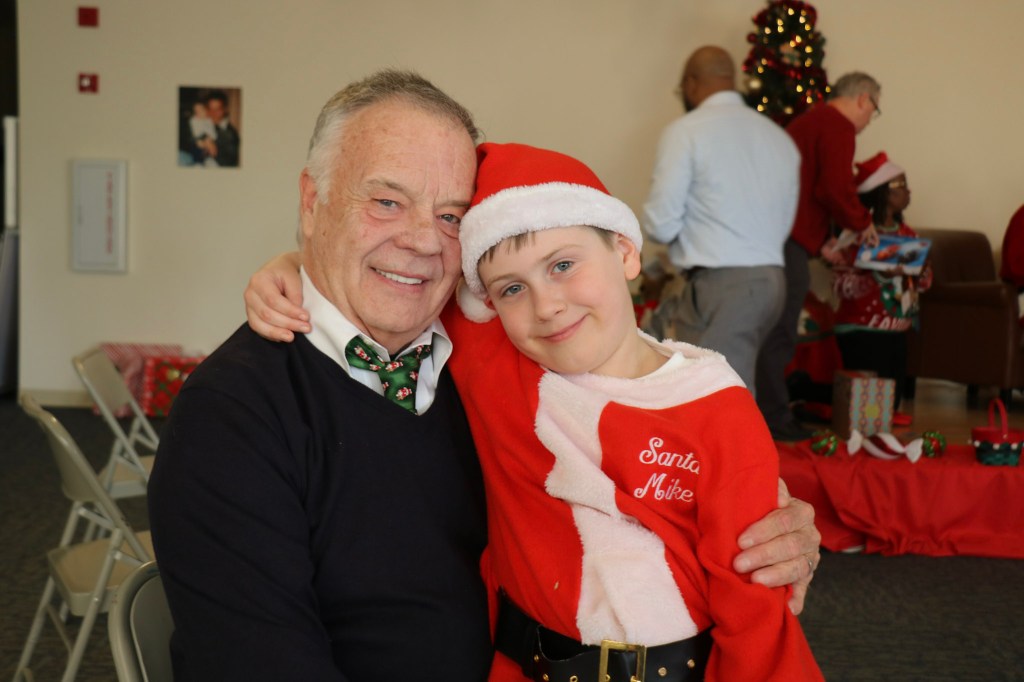 Soon after, Santa Mike started a tradition serving people who are homeless, beginning with a handful of men who Marillac staffers were familiar with.
"We had them come into the center and we gave them a real nice meal, which they appreciated," Sturch said. "We got some gifts for them, and warm hats and coats and scarves."
In recent years, the homeless outreach event organized by Santa Mike has grown to include as many as 700 people experiencing homelessness. The event is an opportunity for people to get food, warm clothes and winter supplies, as well as medical care, dental screenings, legal services and haircuts.
Sturch, a former trader, noticed the winter holidays can also be difficult for seniors in the area who struggle with isolation and cold weather.
"There a lot of lonely people and they're looking for company," he said. "So … usually we order from a real nice restaurant in Chicago every year, and they bring in the food and we serve it to them."
The holiday meal brings together seniors for a dance mixer where each person gets a gift to remind them they are loved and appreciated, Sturch said. At least 300 seniors join the meal each year.
The three annual gatherings have had to be canceled this year due to the coronavirus pandemic. But with many Chicagoans still facing challenges, Santa Mike has adapted the tradition to make sure people in need still feel supported during the holidays.
Instead of an in-person holiday meal, Santa Mike is providing gift cards to hundreds of Chicago seniors to help with groceries and other urgent needs.
Kids who participate in Marillac's programs will also still get a special gift from the Santa Mike fund, even though there won't be the typical celebration. Instead, parents will drop off their kids at the Marillac center and the kids will get the gifts from the nonprofit's staffers.
"They're going to get it from somebody at the center. But it's still Santa. … The kid will still get a present and that's the important thing: that they're not forgotten," he said.
Pascal Sabino is a Report for America corps member covering Austin, North Lawndale and Garfield Park for Block Club Chicago.
A Block Club subscription is an excellent gift. Get a subscription now and you'll get a free tote bag — and you'll help us reach our goal of 15,000 subscribers by the beginning of 2021. We're almost there! Subscribe or buy a subscription as a gift here.


Block Club Chicago's coronavirus coverage is free for all readers. Block Club is an independent, 501(c)(3), journalist-run newsroom.
Already subscribe? Click here to support Block Club with a tax-deductible donation.