UKRAINIAN VILLAGE — After a successful Thanksgiving meal giveaway, a group of independent restauranteurs from Ukrainian Village, Wicker Park and Bucktown are teaming up again to provide hundreds of Christmas meals to families in need. 
Meals will be given away 11 a.m.-5 p.m. Dec. 23 in Bucktown at Jack & Ginger's, 2048 W. Armitage Ave., and in Ukrainian Village at Cleos Bar and Grill, 1935 W. Chicago Ave.  
Meal packages will include turkey, smoked ham, gravy, stuffing, cranberry sauce, vegetable salad, creamy mashed potatoes, macaroni and cheese, dinner rolls and cookies.
Meals are funded by neighbors, cooked by neighborhood restaurants and will be packaged and distributed by neighborhood volunteers. 
To reserve a meal for pickup, email westtownfeeds@gmail.com. Put "CHRISTMAS MEAL" in the subject line. 
Include your full name, phone number and the number of people in your family. Specify which pickup location you prefer, or note a delivery address if you cannot pick up the meals. Meals will be delivered to senior homes and shelters.
Robert Magiet, owner of TaKorea Cocina at 1022 N. Western Ave., is spearheading the grassroots effort after leading a hugely successful benefit for Thanksgiving.  
Before the Thanksgiving giveaway, Magiet thought he could raise enough money to pay for 50 meals. But donations poured in and neighbors had funded 800 meals by the time Block Club reported on the giveaway.
After the article published, the group raised another $5,000 — allowing Magiet's team to provide 1,300 Thanksgiving meals, with leftover money set aside for the Christmas giveaway. 
RELATED: A West Town Team Set Out To Serve 50 Thanksgiving Meals. With 'Outpouring' Of Donations, They Will Serve 800
A mix of families in need, people experiencing homelessness and senior home residents received the Thanksgiving dinners, Magiet said. 
Several Chicago chefs, unemployed because of the pandemic, volunteered to cook the food. The owners of Milk and Honey in Wicker Park donated 1,200 cookies while Ukrainian Village spots Boeufhaus and Joey G's Mac N Cheese donated creamy mashed potatoes and macaroni and cheese, respectively. 
The owner of Jack & Ginger's — who also owns Fatso's Last Stand in Ukrainian Village — offered a kitchen and storefront for cooking, packaging and distribution. This time around, Cleo's in Ukrainian Village, Naveen's Cuisine in Humboldt Park, One Lake Brewing in Oak Park and Sysco U.S. Foods are stepping up to help, as well.
Volunteers from Wicker Park-Bucktown Mutual Aid drove meals to senior homes others in need. 
RELATED: Here's How You Can Help Wicker Park Bucktown Mutual Aid As Winter Approaches
"We already have almost as many requests for food as we did for Thanksgiving, and we still have 10 more days, so all donations would be greatly appreciated," Magiet said.
In addition to planning the meal giveaway, TaKorea has been giving away dozens of free burritos daily to neighbors experiencing homelessness.
Magiet told Block Club last month the initial meal giveaway was partially inspired by his partnership with the Love Fridge, a nonprofit giving away food through refrigerators placed around the city, as well stories of child hunger shared by his wife, who is a Chicago Public Schools teacher. 
"Whatever I can do, whatever help I can offer. It's just food. And people need to eat," he said. "When you are a positive part of the community, other people want to join in." 
Donations for the Christmas meal giveaway can be made via Venmo to @takoreacocina or via Zelle/Quickpay to 773-807-0057. Please note "CHRISTMAS MEAL." 
If you'd like to donate to the unemployed hospitality workers volunteering to make this meal giveaway possible, note that in your donation.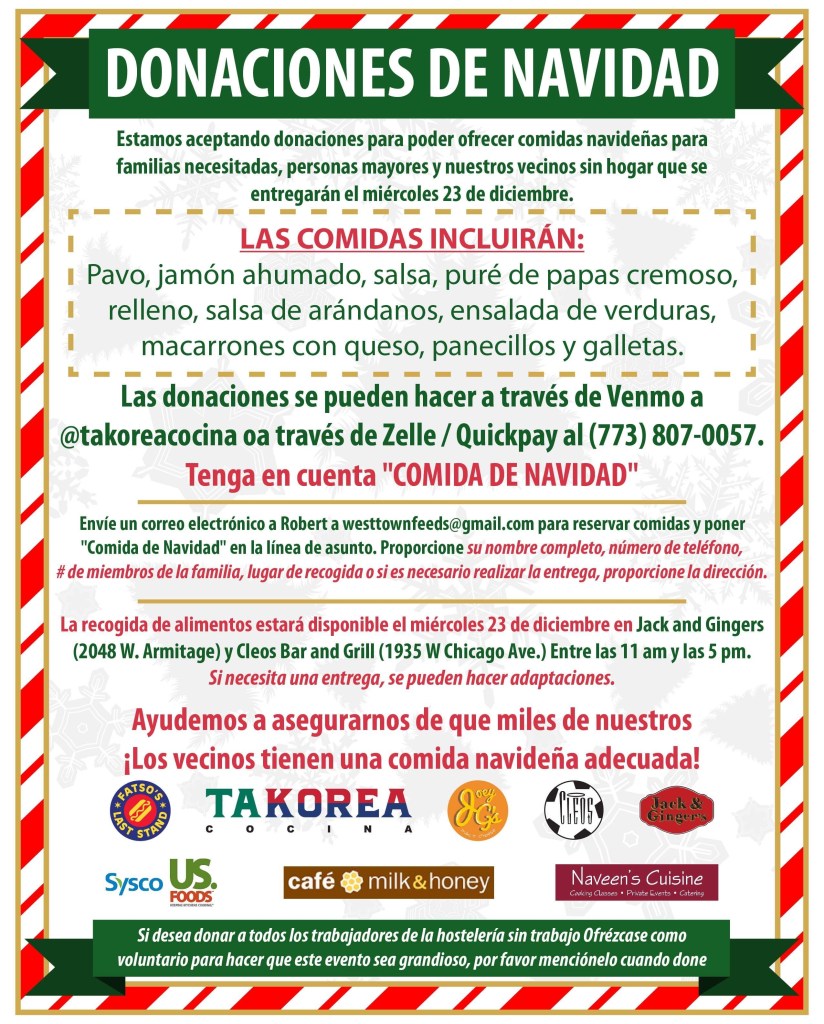 A Block Club subscription is an excellent gift. Get a subscription now and you'll get a free tote bag — and you'll help us reach our goal of 15,000 subscribers by the beginning of 2021. We're almost there! Subscribe or buy a subscription as a gift here.


Already subscribe? Click here to support Block Club with a tax-deductible donation.