NORTH LAWNDALE — Public art installations that celebrate West Side elders with portraits and oral histories are expanding beyond the mini-museum where the exhibit launched.
The exhibit, Lawndale: A Living History, is a project of the Lawndale Pop-Up Spot. The work recognizes the wisdom of older residents and gives them a chance to tell their stories and pass that wisdom down to younger generations.
The original exhibit at the shipping-box-turned-museum at 16th Street and Spaulding Avenue features portraits of six neighborhood elders. But the mini-museum's cofounders, Jonathan Kelley and Chelsea Ridley, broadened the project since there are so many more residents in the area who deserve to be honored.
They'll unveil the final portrait of the year noon Wednesday at Unity Park. With that, there will be installations of the exhibit at five places around North Lawndale.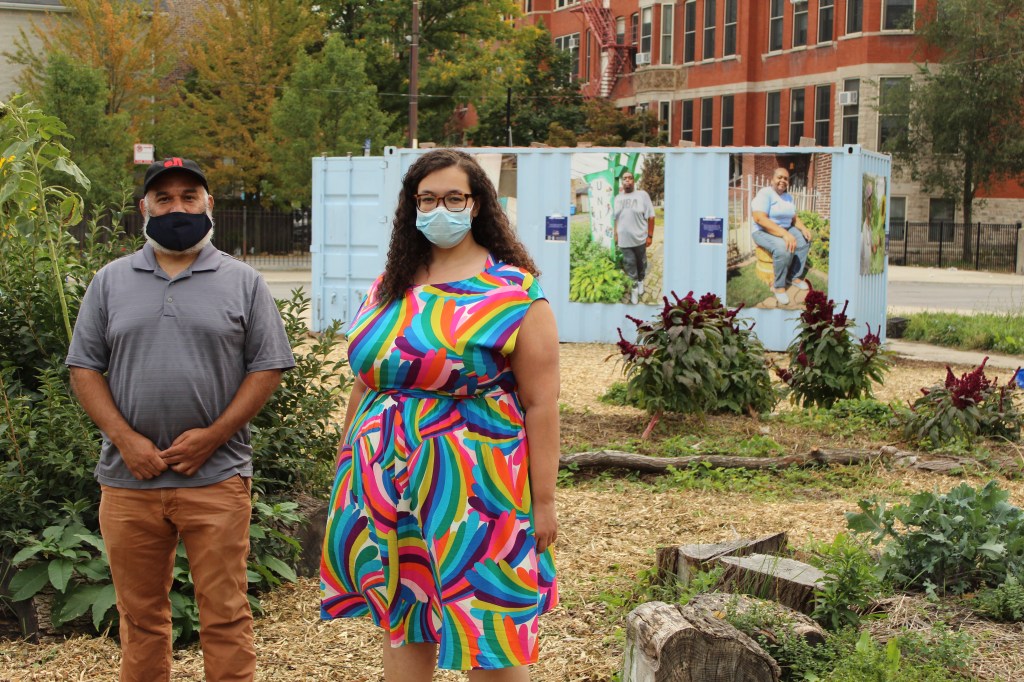 The photography series is a way to visually connect areas of North Lawndale in a way that draws attention to community parks and gardens. Organizers hope the installations will bring in visitors to see Lawndale and appreciate the rich history of the neighborhood, which is often ignored in favor of negative stereotypes, Kelley said.
And since "the narratives of Lawndale so often come from the outside," Kelley said the exhibit provides people a chance to learn the history of the area from the people who lived it.
"We want to highlight the various different destinations that Lawndale has to offer … really revolutionary ways in which neighbors are reclaiming places to turn them into powerful community spaces." Kelley said.
One of the latest portraits in the series, which is of longtime West Side resident Jimmie Lee, is at the African Heritage Garden, 1245 S. Central Park Ave. The wisdom shared by Lee's story is "about making a change in your life," said Jay Simon, the project's curator and photographer.
Lee came to Chicago from Mississippi at 6 during the Great Migration, when millions of Black families came to the North in search of better opportunities.
At a young age, Lee joined the Vice Lords, a Lawndale-based gang that once was incorporated as a nonprofit and had a reputation for helping West Side communities that had been forsaken by city policies, even as they remained heavily involved in drug dealing and street violence.
"I was motivated by the things they was doing at the time — protecting the community and looking out for elders — stuff like that," Lee said.
After rising through the ranks of the Vice Lords, Lee was eventually convicted on drug trafficking charges and given the maximum sentence of 30 years. By 1995, he'd appealed his case and was released early.
Lee decided to make a change after returning from prison by using his foothold in the community to guide young people toward a path of nonviolence. Many in the community eventually came to claim Lee as a surrogate father or grandfather, he said.
"I had to look out for lots of young guys. I held onto that. Especially the ones out on the street," Lee said.
Lee now does violence intervention and prevention work as a youth coach for UCAN. His work bring resources like food, jobs and legal help to young people who are at risk for violence.
"It's a story of redemption. A story of somebody really changing his life and giving it back to society by helping other young people not make similar mistakes and to learn from that lesson," Simon said.
The elders featured in the series also preserve the memory of what Lawndale was like in its heyday as a thriving economic and cultural center for Chicago's Black community, Simon said.
The portrait of Lee was taken on 16th Street, a site that was once one of the main commercial areas on the West Side. It was lined with taverns, corner stores and other businesses in Lee's youth.
"Now it's vacant lots. It's really powerful to see those visuals and hear those stories," Simon said.
The portraits in the series are accompanied by oral histories recorded by StoryCorps. They can be heard by scanning a QR code at the site of the installations, or on the Lawndale Pop-Up Spot website.
Lawndale: A Living History portraits can be found here:
Lawndale Pop-Up Spot at the Spaulding Memorial Garden, 16th Street and Spaulding Avenue. Portraits: Sterling Tate, Barbara Stewart, Dorris Calhoun, Larry Gallion, Barbara Simon and Charles Jenkins.

Unity Park, 1900 S. Kostner Ave. Portraits: Marion Perkins and Gladys Woodson.

African Heritage Garden, 1245 S. Central Park Ave. Portrait: Jimmie Lee.

CCA PermaPark, 1322 S. Pulaski Road. Portrait: Charlie Wilson.

Farm on Ogden, 3555 Ogden Ave. Portrait: Irvin Davis Sr.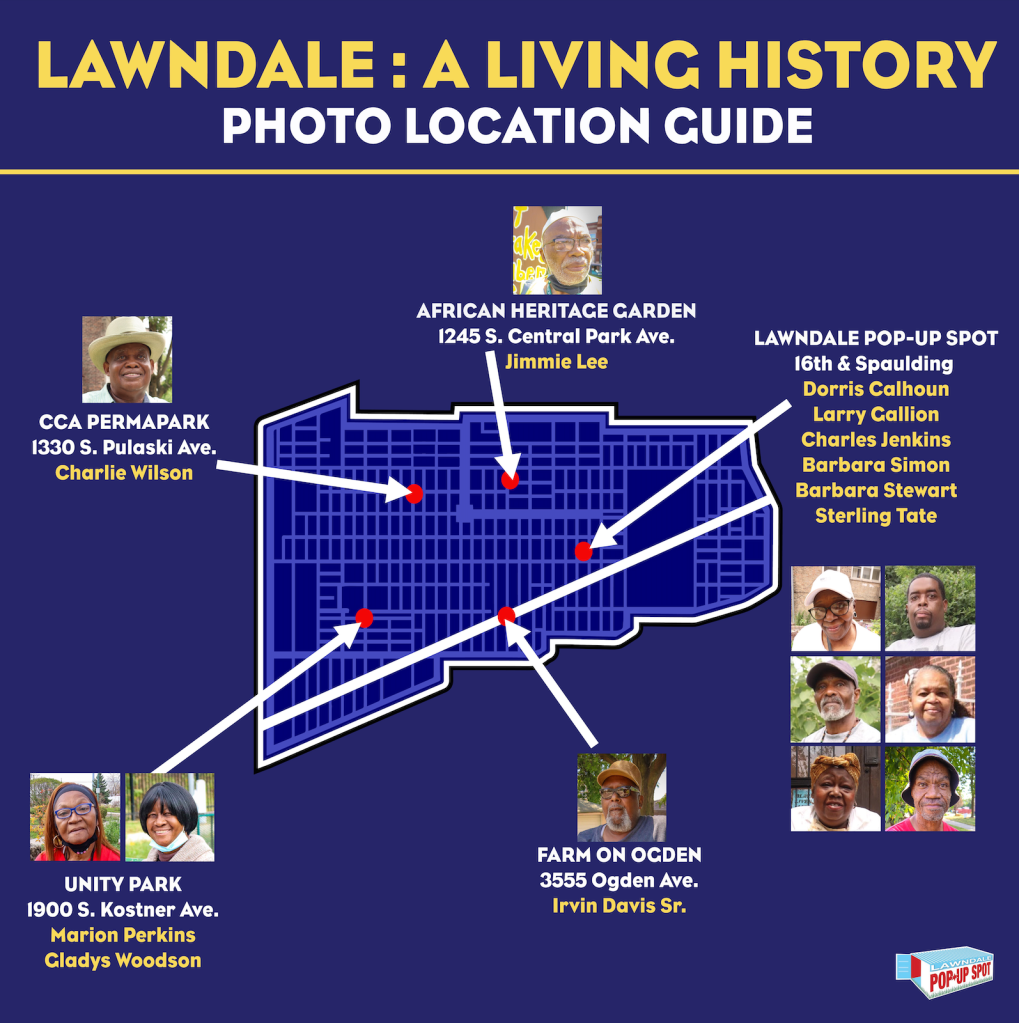 Pascal Sabino is a Report for America corps member covering Austin, North Lawndale and Garfield Park for Block Club Chicago.
A Block Club subscription is an excellent gift. Get a subscription now and you'll get a free tote bag — and you'll help us reach our goal of 15,000 subscribers by the beginning of 2021. We're almost there! Subscribe or buy a subscription as a gift here.



Already subscribe? Click here to support Block Club with a tax-deductible donation.