IRVING PARK — When Eduardo Mendez retired last month after nearly five decades as a mail carrier for the U.S. Postal Service, Irving Park neighbors wanted to make sure their favorite postal worker got a proper sendoff.
"He just had a great atmosphere about him," said Esteban Moreno, a neighbor on Whipple Street. "And the mail was always on point with him. Everything always got to the right house. You could always tell when someone filled in for Eddie. It was a rare occasion when he made a mistake."
Mendez, who neighbors know as Eddie, retired from his job in late November having first joined the postal service in 1975. As he delivered his last letters and packages, neighbors decorated a mailbox at the corner of Sacramento and Waveland avenues in tribute of the man who'd become a fixture of their community.
They covered the box in pink wrapping paper reading, "Happily Ever After" and left handwritten notes: 
"Thank you for being so careful with our mail and your warm greetings."
"You were the best mailman on Whipple."
"I heard about you. I wish you were my mailman. Very best wishes!"
Mendez, through a postal service spokesperson, declined to be interviewed. His former manager, Yvonne Langston, worked with Mendez for 12 years and said she'll miss his polite and upbeat demeanor. 
"Everyone loved him and especially the his customers he served. We will miss him but we're very happy for him," Langston said.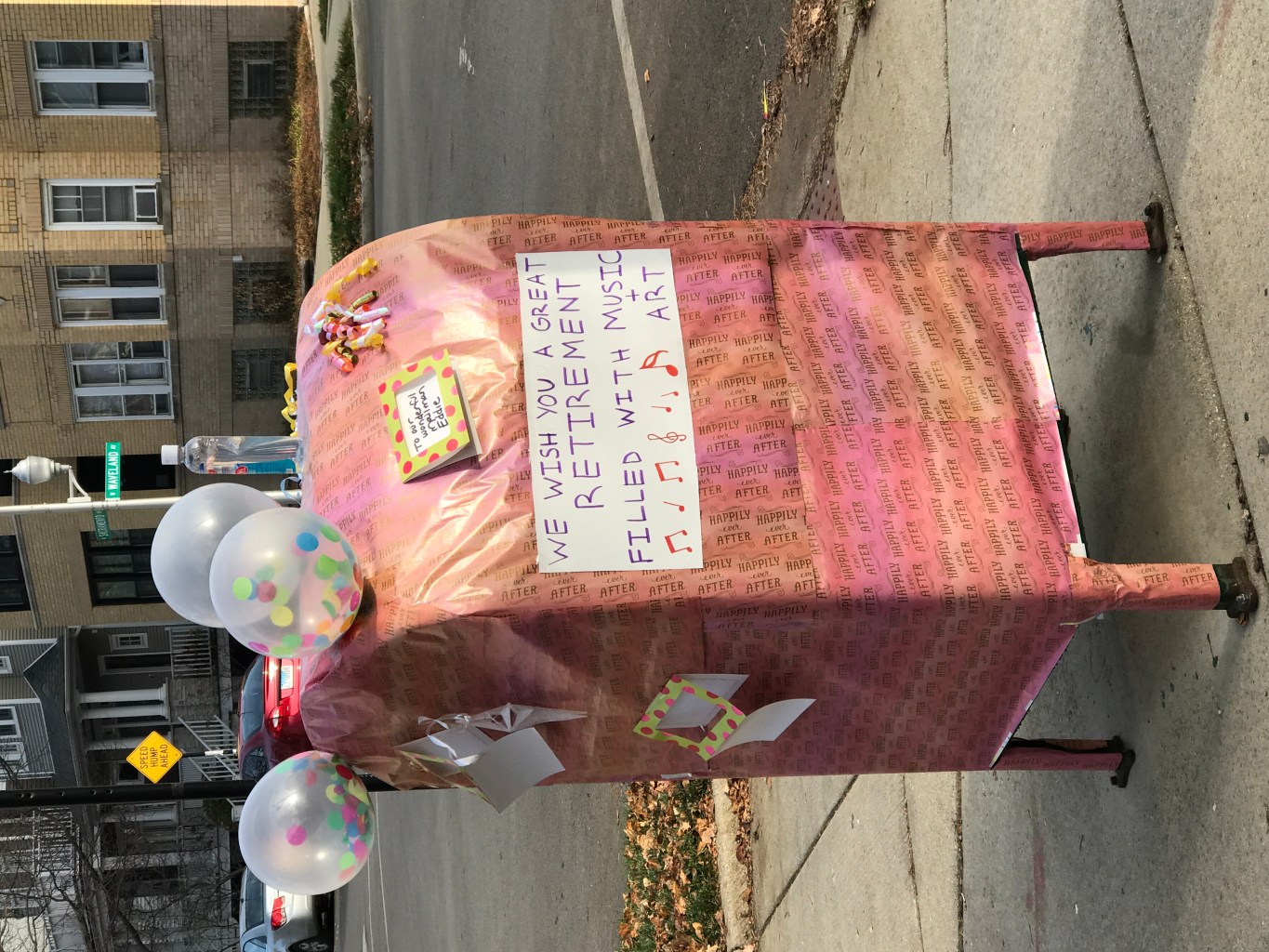 Victoria Staten and her family, who live in front of the decorated mailbox, spearheaded the effort.
Staten moved to the neighborhood four years ago and described Mendez as chatty and extremely knowledgeable about the neighborhood after so many years walking his route.
"A lot of people who were born and raised here now live in their parents' house have known him and they've watched him deliver the mail their entire lives," Staten said. "We've grown to really appreciate him because of his kindness and positive attitude. And most importantly, he never got the mail wrong."
That's the case for neighbors like Moreno, who grew up seeing Mendez walking around the blocks smiling and chatting with people. Before the pandemic neighbors would often say hi and chat with Mendez on the street as he made his rounds, he said. 
"I'd see him every time I walked to school as a kid. I'd always say hi and everyone respected him for what he did, and he loved what he did," Moreno said. 
Veronica Flores has seen Mendez deliver mail in the neighborhood for more than 20 years and got to know him even though her home wasn't on his route. 
"He is popular in our neighborhood," Flores said. 
Even in the worst weather, Mendez he always made the best of his job and truly enjoyed doing it, Flores said.
"There have been years where there is sub zero weather and everything shuts down but they are still expected to deliver mail," Flores said. "That is really hard to do. Eddie has earned his time off. Especially for doing it as long as he has. I hope he goes somewhere warm with little rain."
Whoever takes over Mendez' old route, neighbors say, will have big shoes to fill.
"We're sad to see him go," Moreno said. "It's going to be hard to find someone else like him for the next 10, 15, 20 years like Eddie."
A Block Club subscription is an excellent gift. Get a subscription now and you'll get a free tote bag — and you'll help us reach our goal of 15,000 subscribers by the beginning of 2021. We're almost there! Subscribe or buy a subscription as a gift here.



Subscribe to Block Club Chicago. Every dime we make funds reporting from Chicago's neighborhoods.
Already subscribe? Click here to support Block Club with a tax-deductible donation.