PILSEN — A Pilsen resident has converted her garden into a Christmas wonderland with thousands of lights and decorations.
For 34 years, Isabel Hernandez has transformed her yard for the holiday seasons — and this year is no different at her home on 19th Street between Loomis and Throop streets. She hung more than 2,000 lights on her two-story apartment building and throughout the adjacent garden.
Hernandez decorates to bring joy to her neighbors during the holidays, especially amid the devastating coronavirus pandemic. Like in previous years, her mission is to "uplift" her neighbors' spirits, she said.
"Most people, even myself, we've been depressed because we haven't been able to go out and enjoy Christmas activities," Hernandez said. "I decorated this year to make people happy."
Hernandez is known for her side yard: It's a vibrant garden with more than 100 plants in the spring and summer, and this fall, she turned it into an immaculate ofrenda for Día de Los Muertos.
An avid gardener and lover of holidays, Hernandez created an 11-foot altar for Día de Los Muertos to pay tribute to family, friends and pets who have died. She spent three weeks decorating for the holiday to inspire younger generations to keep up with their cultural traditions.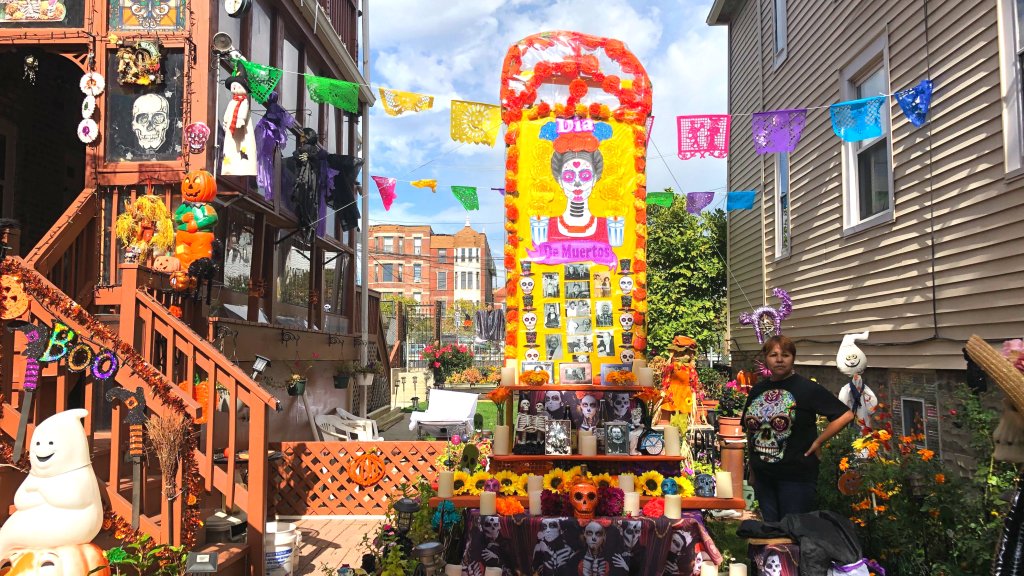 Now, Hernandez has replaced her Día de Los Muertos display with thousands of lights, a Christmas tree and nativity scene.
In other parts of the garden, Hernandez has an inflatable Santa Claus, a snowman and another Santa Claus on a sled. 
Hernandez staged smaller displays during her early days of decorating — but she's accumulated hundreds of lights, signs and figures over the years, and her Christmas decorations have grown more elaborate every December.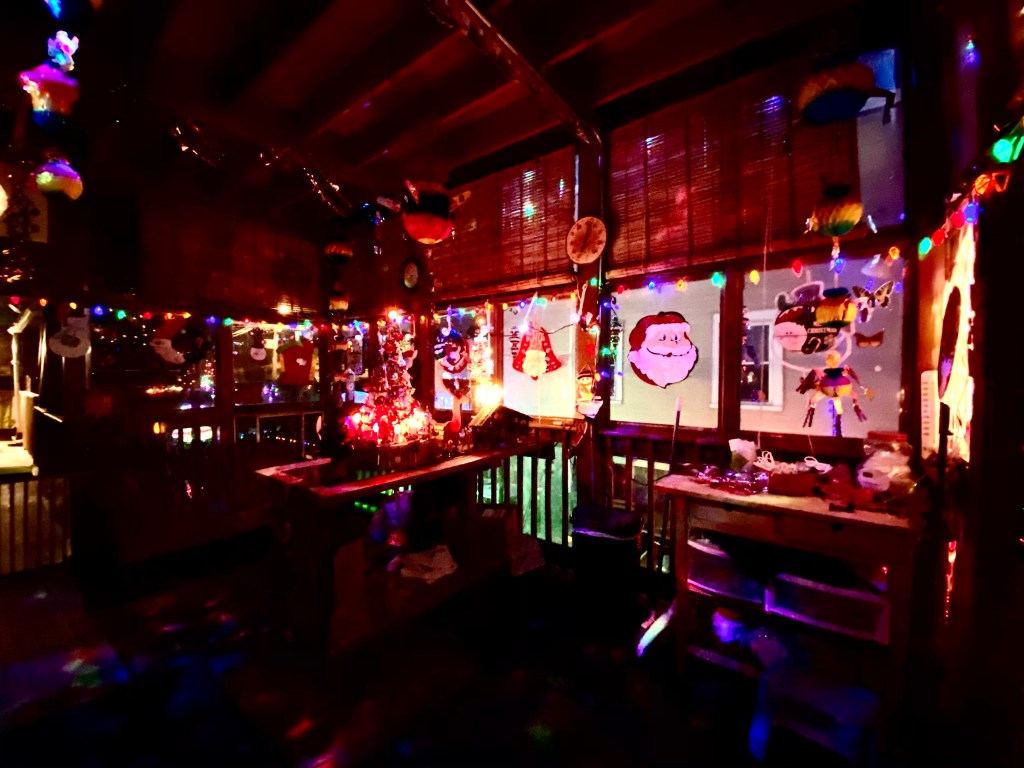 Since her childhood, Hernandez has loved Christmas and the holiday season.
"It takes you back to your childhood. I love it … . It doesn't matter how old you are," Hernandez said. "… I just love how it looks and it's my therapy."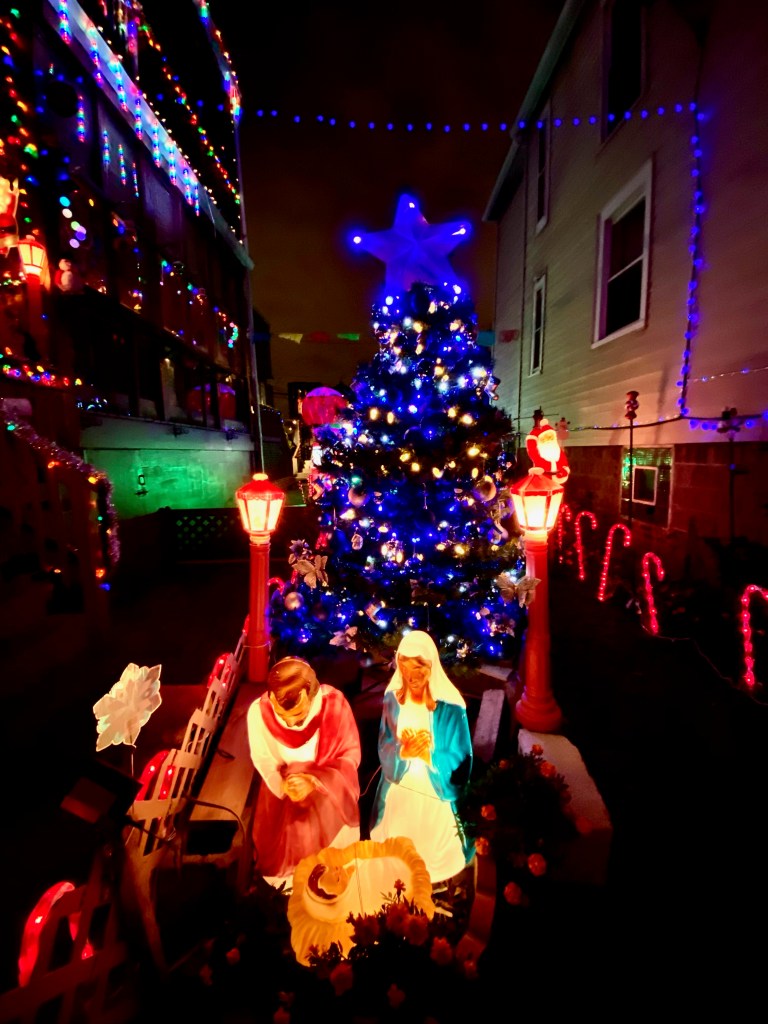 Bringing the garden to life each spring with her mother, Maria Guerrero, and decorating it for Día de los Muertos and Christmas are ways Hernandez copes with chronic pain. 
In recent years, Hernandez said she's seen fewer holiday decorations around the neighborhood. While she's saddened by fewer people getting in the spirit, she is determined to spread cheer on her block.
"Every year, I try to do more and more. I try to do something different for my neighbors," she said.
Check out more photos of Isabel Hernandez's winter wonderland below: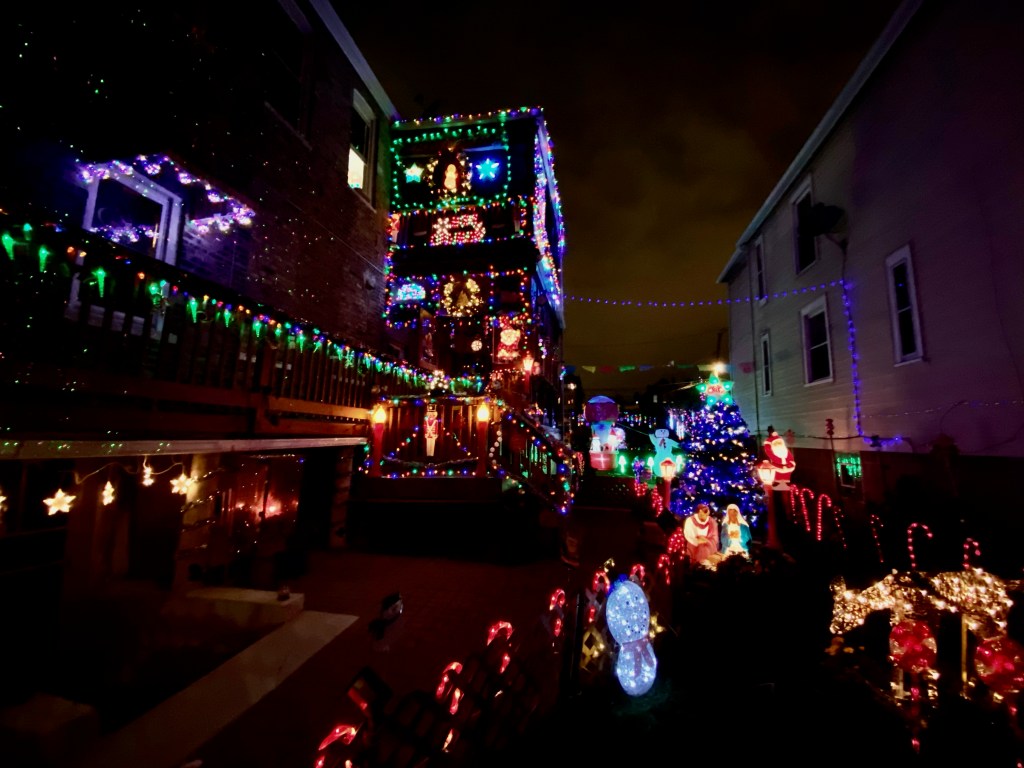 A Block Club subscription is an excellent gift. Get a subscription now and you'll get a free tote bag — and you'll help us reach our goal of 15,000 subscribers by the beginning of 2021. We're almost there! Subscribe or buy a subscription as a gift here.


Subscribe to Block Club Chicago. Every dime we make funds reporting from Chicago's neighborhoods.
Already subscribe? Click here to support Block Club with a tax-deductible donation.