WICKER PARK — Asrai Garden celebrated its 21st anniversary in Wicker Park last week — but that's not all store founder and florist Elizabeth Cronin is toasting.
Thursday marked the season finale of "Full Bloom," a new show on HBO Max. Cronin co-judged the televised competition, which pitted 10 professional florists from across the country against each other.
While filming during the coronavirus pandemic presented challenges, Cronin said the show was well worth it.
Full of colorful and innovative bouquets, tearjerker eliminations and floral arranging tips for the audience, "Full Bloom" is the perfect show for anyone who needs a mental break from cold weather and quarantine life, Cronin said.
"We wanted to get the show out there because we thought, 'What a gift to folks, while they continue to stay at home.' … People want and need that right now," she said. "It's a lovely show. Filled with a lot of love. … Get ready not only to cry, but jump off your couch and cheer."
Recently named one of the top TV shows to watch by The New York Times, "Full Bloom" is already casting for a second season.
Cronin co-judged the competition alongside Maurice Harris, the owner of Los Angeles-based Bloom and Plume, and Simon Lycett, a celebrity florist.
"For me, the show was one of the best experiences of my life," Cronin said. "I made lifelong friends and florist comrades and companions. It was really very interesting as someone who doesn't even like to have their photo taken … seeing movie magic behind the scenes."
Filming During COVID
The show began filming in March, but it was disrupted due to the coronavirus pandemic. HBO called judges, contestants and crews back to Los Angeles to complete filming during July and August.
Coronavirus safety rules applied to "Full Bloom," Cronin said.
On set, only contestants and judges could be maskless. The show's crew of 150 workers wore masks the entire work day, Cronin said. Everyone was tested every 48 hours. Temperature checks were taken before coming onto set and once every two hours while on set.
Off set, everyone was instructed to quarantine. The three judges actually lived together, Cronin said.
"We filmed for five weeks. We were totally fine," Cronin said. "They really did the thing. It worked. We were able to film the show."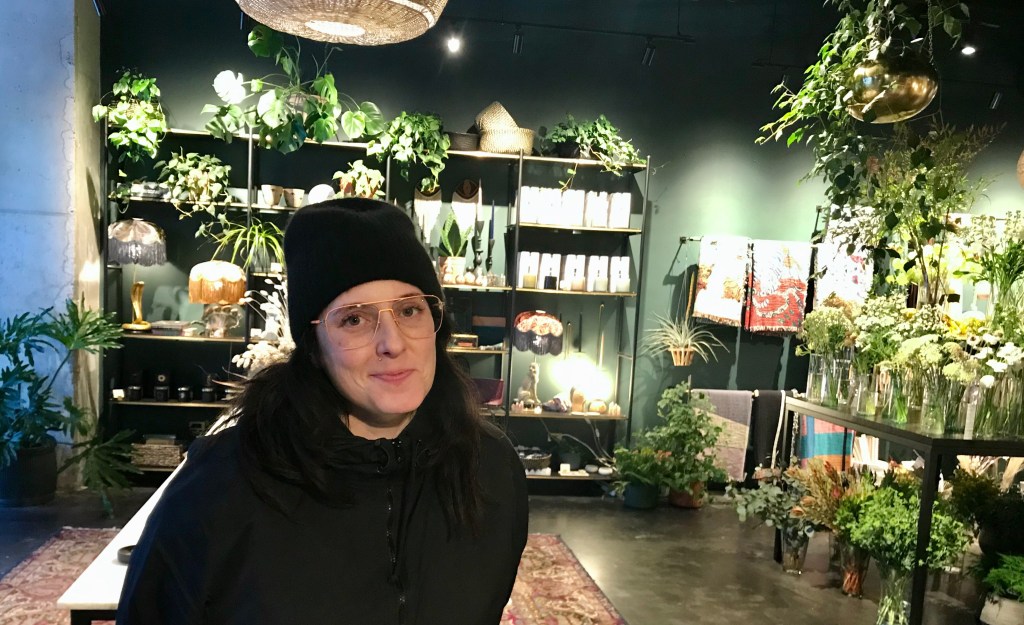 Filming outdoors in southern California in July and August presented logistical challenges. Each 30-minute episode took roughly nine hours to film. The majority of work days were filmed in 100-degree weather while wildfires raged in the background.
"Not only are these folks trying not to pass out and die themselves, under extreme pressure, an extreme time crunch. … These are flowers," Cronin said. "Flowers are not meant to be outside in 100-degree weather, especially once they're cut."
While fans have likened the show to "Great British Bake Off," "Full Bloom" pitted professionals — not amateurs — against one another for a $100,000 grand prize. Given what was at stake, Cronin said she was moved by how kind the contestants were to one another.
"They are professionals. Every single one of them could use that money to help their business," she said. "It does show … how much these folks loved and cared for one another."
At the end of filming each episode, floral arrangements were donated.
Grocery store workers, health care workers and the local Big Brothers Big Sisters group were among the recipients of arrangements. After florists decorated bicycles, those bikes were donated to families living in a low-income housing development.
These acts of kindness made the show "somehow even more sentimental and special," Cronin said.
Throughout each episode, judges offered tips for floral arranging, such as:
Only use a quarter of the flower food packet in your first batch of water — and add a bit more each time you change the water (daily).
Rip leaves from stems so they don't fall into the water.
Chicken wire makes it easier to place flowers in a vase.
For first-time florists on a budget, Cronin shared additional advice with Block Club: Buy lots of a single type of flower for "volume," and don't spend all your money at a professional shop.
"Buy your grocery store flowers, three bunches, then come to Asrai and buy a few stunner blooms," she said. "You're not gonna get coral-turned peonies or terra-cotta anthurium at a grocery store. Go buy the basics in bulk at the grocery store, then come to us … to get your star flowers."
21 Years In Wicker Park
Cronin opened Asrai Garden in Wicker Park, 1935 W. North Ave., on. Dec. 1, 1999. The name was inspired by the Brian Froud book, "The Dark Crystal." 
Cronin grew up on the Northwest Side. She took many trips to the Chicago Botanic Garden, where she attended children's workshops on gardening.
As a young adult, Cronin lived in Wicker Park and worked in a floral shop, followed by a brief stint making flower arrangements for events. After opening her Wicker Park shop, Cronin opened a second location in West Loop, 309 N. Morgan St.
What sets the Asrai Garden shops apart — and perhaps what intrigued HBO — is Cronin's devotion to native plants and natural-looking arrangements. Cronin's arrangements celebrate the "wild" look of flowers, often including prairie greens native to Illinois or taxidermied insects. 
RELATED: Owner Of Wicker Park's Asrai Garden To Judge On 'Full Bloom,' A Competitive Floral Arranging Show From HBO Max
In describing her approach to floral arrangements, Cronin referenced the "Dutch master" philosophy of keeping things natural. During a "Full Bloom" episode dedicated to this philosophy, two of Cronin's arrangements were on display as inspiration for the florists.
While "Full Bloom" thrust Asrai into the spotlight, it did not mark the shop's TV debut. In the early 2000s, MTV's "The Real World" filmed in a home on North Avenue across the street from Asrai Garden. 
Not everyone has made the Chicago connection. Some customers who watch "Full Bloom" have come in and asked, "Have you seen the floral show?" to which employees respond, "Our boss is the lady judge."
Asrai has survived the pandemic thus far, but like all small businesses, it's not easy, Cronin said.
"I would love for more people to be visiting our website," she said. "The web shop is so great. Local delivery, local pickup. We ship anywhere. … We're doing OK, [but] we can't survive like this forever. Please come and spend your dollars at small businesses."
Asrai Garden is open 11 a.m.-5 p.m. Thursday-Sunday for in-store shopping at 1935 W. North Ave.. Curbside pickup is available and you can set up a remote personal shopping appointment by clicking here. Asrai's West Loop location, 309 N. Morgan St., is open 11 a.m.-5 p.m. Friday-Sunday.
A Block Club subscription is an excellent gift. Get a subscription now and you'll get a free tote bag — and you'll help us reach our goal of 15,000 subscribers by the beginning of 2021. We're almost there! Subscribe or buy a subscription as a gift here.


Already subscribe? Click here to support Block Club with a tax-deductible donation.