BRONZEVILLE — Timuel Black, the son of Alabama sharecroppers and the grandson of freed slaves who moved to Chicago in 1919, celebrated his 102nd birthday Monday.
A few dozen well-wishers gathered outside Black's Drexel Boulevard home and dozens more drove past him in a car caravan Monday afternoon, honoring one of earliest participants in the Great Migration from the agricultural South to the industrial North.
In Black's century in Chicago, the ever-present historian and civil rights activist has influenced mainstream and radical politics while serving as a living relic of the complicated, bustling "Black metropolis" that shaped him.
In recent years, much of Black's work — including helping create a University of Chicago scholarship in his name — has been geared toward urging younger generations to continue his legacy.
Black said he was honored by the people who celebrated his birthday.
"You will find that you feel so much better because you made a difference in more lives than yours, and it makes your life a beautiful place," he said. "I am inspired by the numbers, and the diversity, and the quality of people who come out in this funny weather to share the birthday of Timuel D. Black."
A Black Belt Icon
When Laurel Stradford met Black, Stradford's teacher at Hyde Park High School, Black was such a talented storyteller Stradford thought, "This is going to be an easy class."
Instead, the class was so informative Stradford kept Black's cultural teachings in mind as she traveled the world years after graduating.
As the daughter of a Black father and a white mother, Stradford took comfort in Black's ideology that "we're all in this together" — all the more important growing up biracial in a racist American society, she said.
Having a Black male teacher, a "refreshing" rarity at the time, also helped Stradford connect with and understand her heritage on her father's side.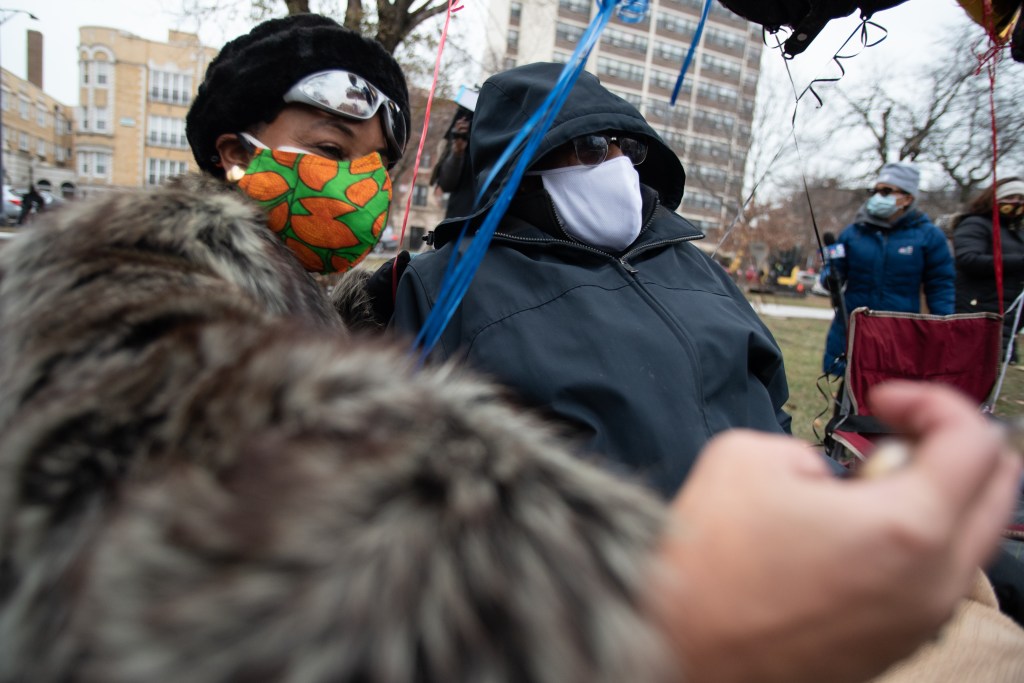 "I'm very honored to have had him be my teacher," Stradford said.
Black was a Chicago public high school teacher from 1955 to 1966, first at DuSable High School, then Hyde Park.
Teaching Stradford, the great-granddaughter of Black Wall Street pioneer J.B. Stradford, is just one example of the historian's deep and numerous ties to Black American history.
Rev. Jesse Jackson paid a visit to the birthday celebration and expressed his love for Black, who lives a block away from Jackson's Rainbow/PUSH Coalition headquarters on Drexel.
Jackson "was a little boy when I first met him," Black said. "He has continued making this a better world by starting with a better community."
Black Chicagoans in city, state, national and radical politics have all been influenced by Black's work.
Jeff Fort, whom Black previously described as the "untrained and uneducated but very intelligent" founder of the Blackstone Rangers, also was Black's student at Hyde Park High School, he said in an interview with Block Club ahead of his 101st birthday last year.
In later years, Black tried to encourage Fort and the South Side street organization to build a coalition with the Black Panthers on the West Side, to no avail.
The groups "were kept separated by some of the financial whites who wanted to recapture" Chicago's disinvested areas for urban renewal projects, Black said. "They stayed separated until they no longer needed [to be], after [the elites] had cleared the land in Woodlawn and other places west in the old Black Belt."
Barack Obama "asked to know Tim Black" upon becoming a community organizer, Black said.
The young politician wanted to connect with "someone who knew about the old Black Belt" and the type of activism that succeeded in bringing about change. Black happily obliged.
Illinois legislator Howard Brookins Sr., who was a state representative and senator 1983-1993, also attended Monday's celebration. His son, Howard Brookins Jr., is 21st Ward alderman.
Black is "a fantastic guy with a fantastic memory, and was able to personally guide me at points when I was in office," Brookins Sr. said. Now 89, he credits Black's consistent mentoring of younger politicians and activists for inspiring him to do the same thing.
Harold Washington's successful 1983 mayoral campaign came about in no small part due to Black's organizing work. Black was "visible in just about every political committee" that led Washington to be the first Black mayor in the city's history, according to the Chicago Public Library.
One of the committees Black chaired was the People's Movement for Voter Registration, which organized the Come Alive October 5 registration drive in 1982. Ivy Martinez met Black as coordinator of the drive, which convinced Washington a run at becoming mayor could be successful.
"Harold had said he didn't want to run for mayor unless we put 50,000 new registered voters on the roll — that was his mandate to us," Martinez said at Black's birthday party. "We did come alive Oct. 5 and we registered over 100,000 new voters. That was it; Harold ran, and he won."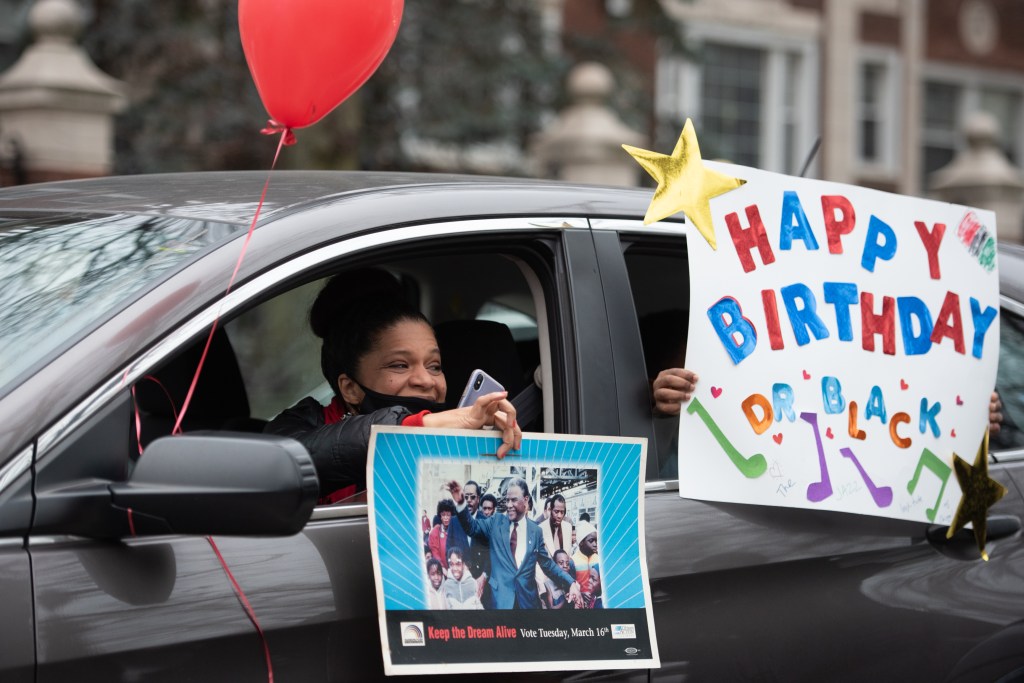 Even with all this history — and more: Black saw the horrors of the Buchenwald concentration camp as part of an all-Black supply unit in World War II; served as A. Philip Randolph's Chicago coordinator for the March on Washington; and worked alongside Martin Luther King Jr. on his Chicago campaign, among other things — Black is surprisingly accessible.
He still regularly shares his wealth of knowledge with his neighbors, and even the coronavirus pandemic hasn't stopped him from virtually educating the community.
People "call on him for everything, and he's there to answer anybody's questions," Martinez said. "If you know him, you have his home phone number. He's just that kind of guy that he's never too busy for you."
Continuing His Legacy
Black is so open about his expertise because he knows if the causes he's advanced are to succeed, the youth must learn and refine the organizing tools and technology of generations past. He hopes to see Chicago schools follow his lead.
"The education institutions have a moral obligation to teach younger people … the evolution of the tools that now exist," Black said.
With that goal in mind, a committee has formed around Black to fundraise for an annual scholarship "to support a University of Chicago student carrying on the legacy of our South Side legend."
As of Dec. 1, the fund had raised $45,000 of its $100,000 end-of-the-year goal, said Bart Schultz, director of UChicago's Civic Knowledge Project. The project was a co-sponsor of Monday's celebration.
"We're supporting young African American students that want to follow in the same type of direction that Tim is about: Helping and working in the community," committee member Alice Smith-Jones said.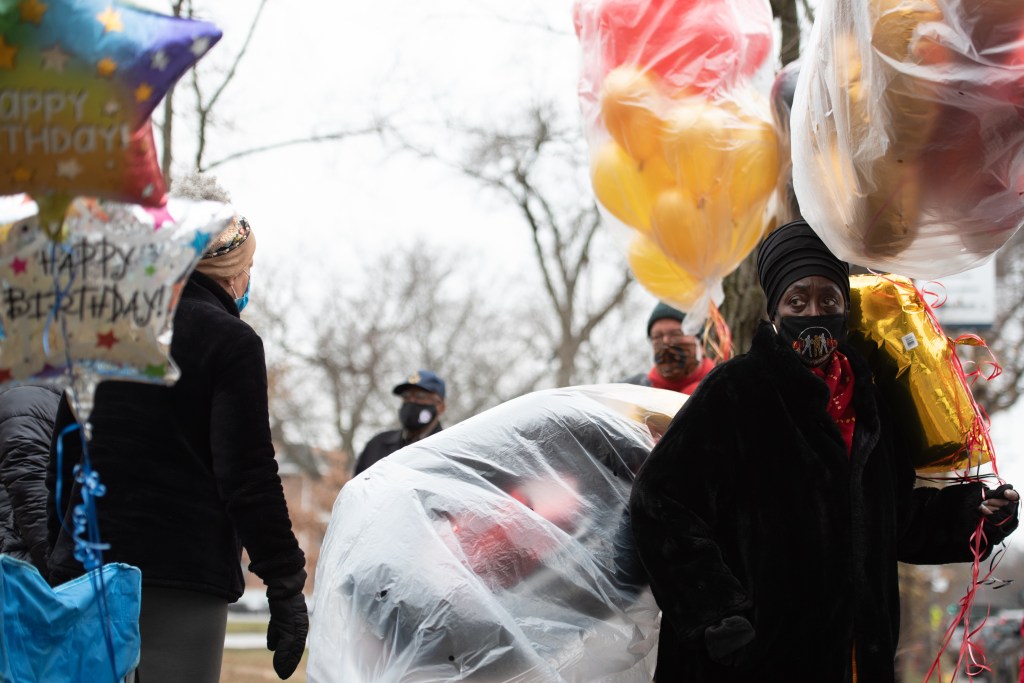 Educators in Chicago must do a better job of engaging with history makers like Black while they're still alive, especially when those history-makers are as public and as active as he is, Smith-Jones said.
Until that happens at scale, it's important residents share their oral histories with young loved ones and neighbors — "not only about Dr. Black, but other historians and people that have given their lives" to the betterment of Chicago, she said.
For his part, Black said he will continue making himself available and advocating for intersectional justice, as he hopes to reach the youth who will continue the fight he's led over his 102 years.
"I do this hoping that knowledge and that inspiration will encourage them to feel an obligation, which their ancestors did," he said. "Trouble don't last always. … Carry the message forward."
To donate to the Timuel D. Black Legacy Endowment Community Solidarity Scholar Fund at UChicago, click here.
A Block Club subscription is an excellent gift. Get a subscription now and you'll get a free tote bag — and you'll help us reach our goal of 15,000 subscribers by the beginning of 2021. We're almost there! Subscribe or buy a subscription as a gift here.


Already subscribe? Click here to support Block Club with a tax-deductible donation.