PILSEN — A Christmas window display competition is in full swing in Pilsen — and organizers need help to decide the winner.
Economic Strategies Development Corporation kicked off its Pilsen Christmas Window Walk last month. Local artists partnered with 13 businesses to design a Christmas window display, said the group's president, Alex Esparza.
The aim is to boost people's morale and attract shoppers to commercial corridors during the holiday season, Esparza said.
Thirteen businesses and 14 artists are participating in the initiative. People can vote for their favorite display online and the winner will receive $1,000 prize.
The final day to vote is Dec. 21. The winner will be announced Dec. 22.
RELATED: Window Display Contest Aims To Bring Christmas Magic To Struggling Pilsen Businesses
The campaign is particularly important for artists who are a staple of the Pilsen community and have been hit hard during the pandemic. With events and gatherings unsafe during the pandemic, they've lost their primary places to showcase their work, Esparza said.
Artist Leticia Rodarte designed a window display from recycled items at the Jumping Bean. The display harkens back to her childhood, when she spent time around a campfire with her grandparents in Michoacán, Mexico.
"We didn't have much … but we did have the company of our loved ones," Rodarte said. "We had to make miracles with what we had."
Rodarte's display depicts those childhood memories alongside a Christmas tree made from cornhusks.
Given the strain the pandemic has had on everyone, Rodarte hopes the displays can "warm people's hearts." 
"It's a nice way for loved ones to get together and go for a walk in the neighborhood, and see some art, especially with museums closed," Rodarte said.
The window decorations will be on display until Jan. 3.
The participating shops:
Bellis, 1307 W. 18th St.
Artist: Victor Enriquez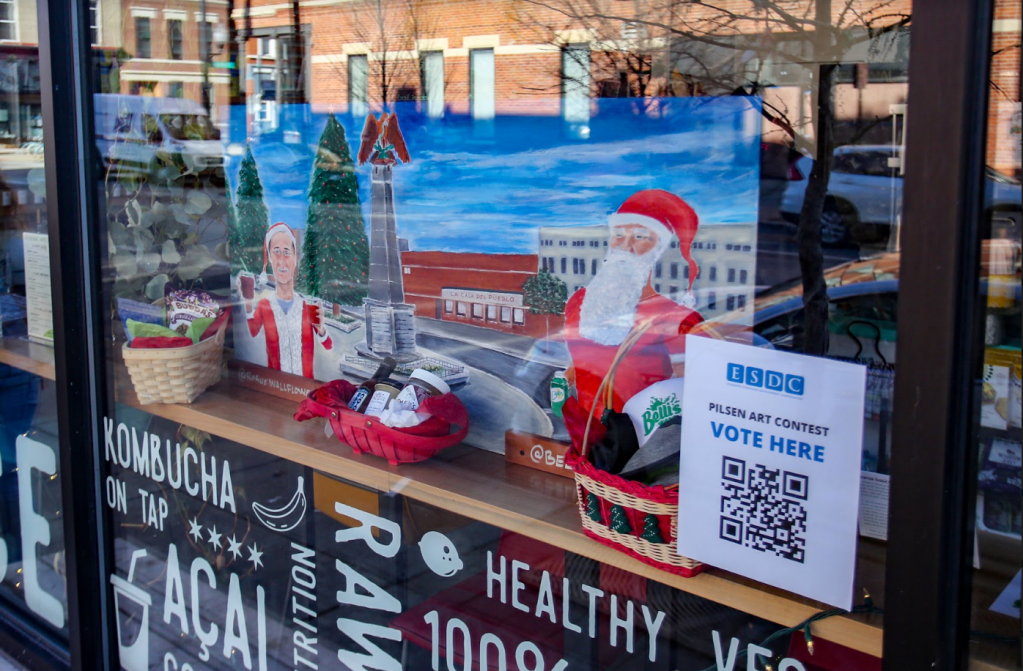 Andres Miranda, 1441 W. 18th St., 2nd floor
Artist: Armida Olivares
Artis: Devon Williams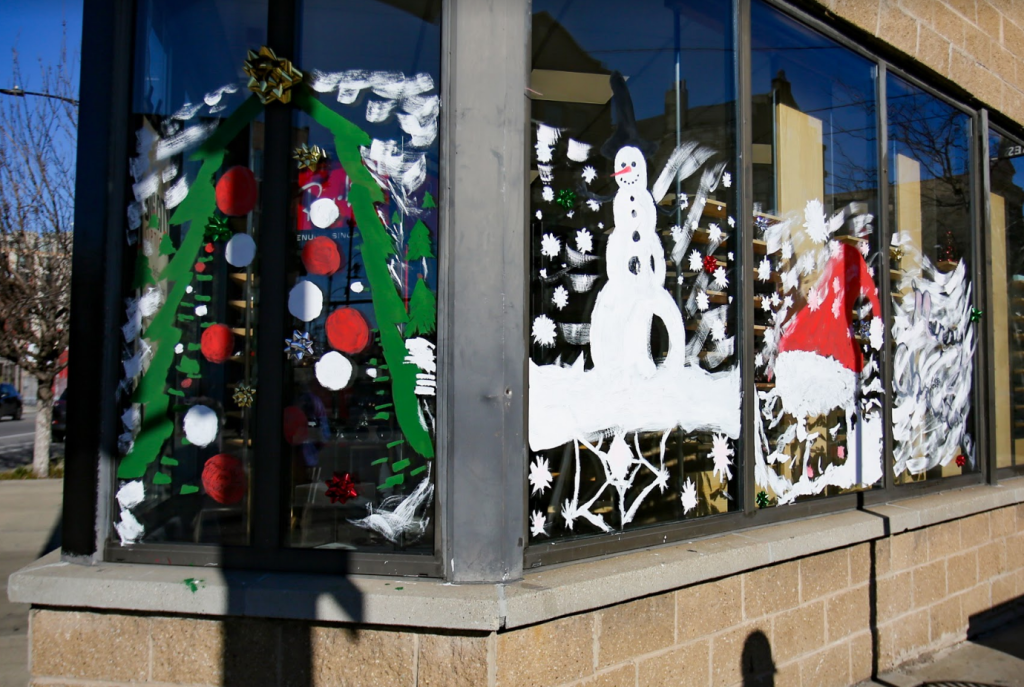 Artist: Leticia Rodarte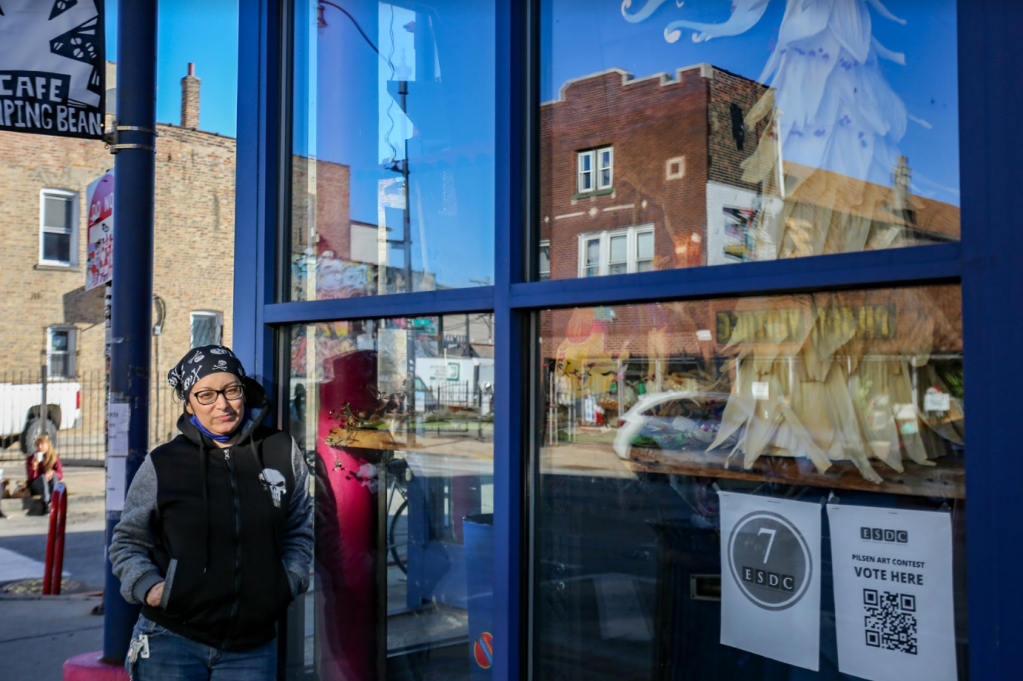 Artist: Stephanie Sysounthone
Mestiza, 1523 W. 18th St.
Artist: Adriana Rivera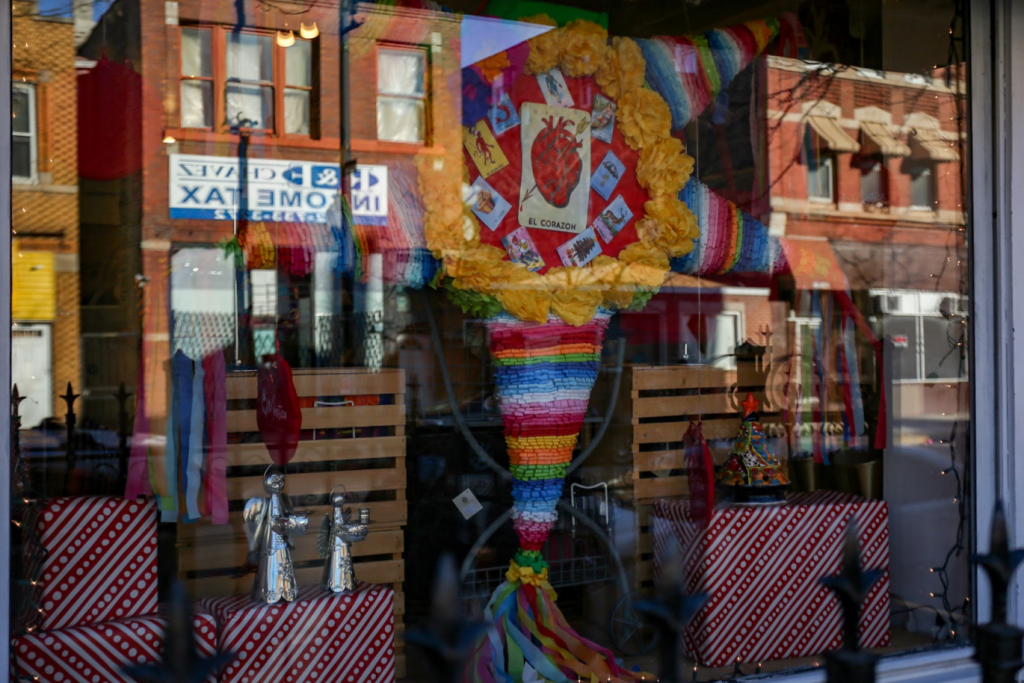 Artist: Jamie Lynn Porto ("Shero")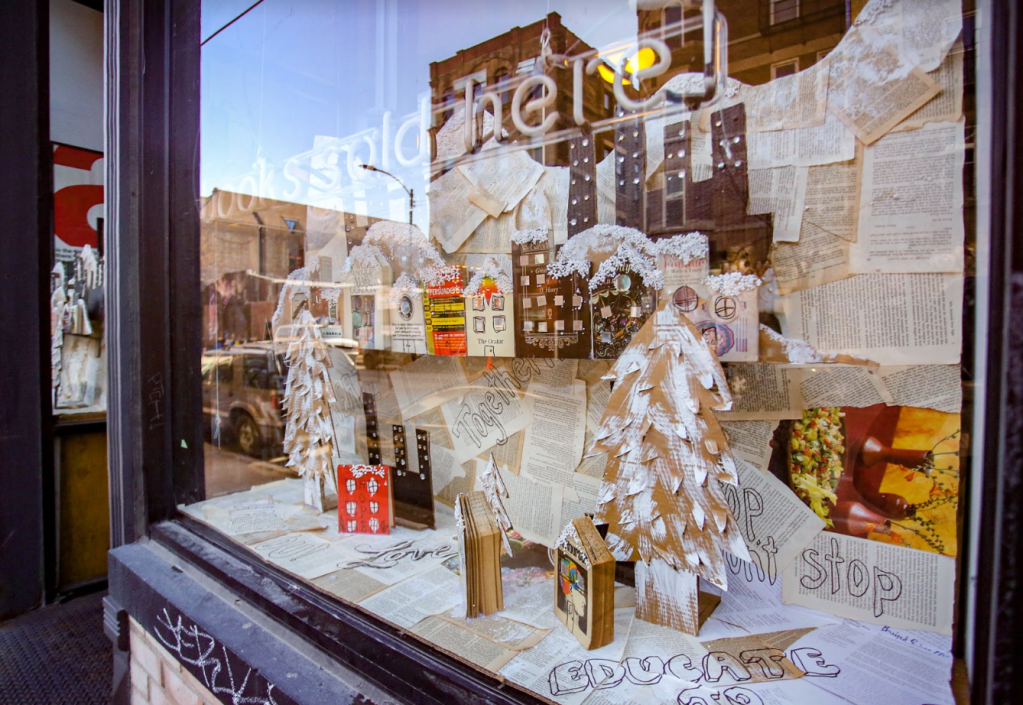 Artist: Maggie Reynoso
Artist: Angelica Larios
Artist: "Nuco" Villanueva
Artist: Beatriz Thomas, a.k.a Medusa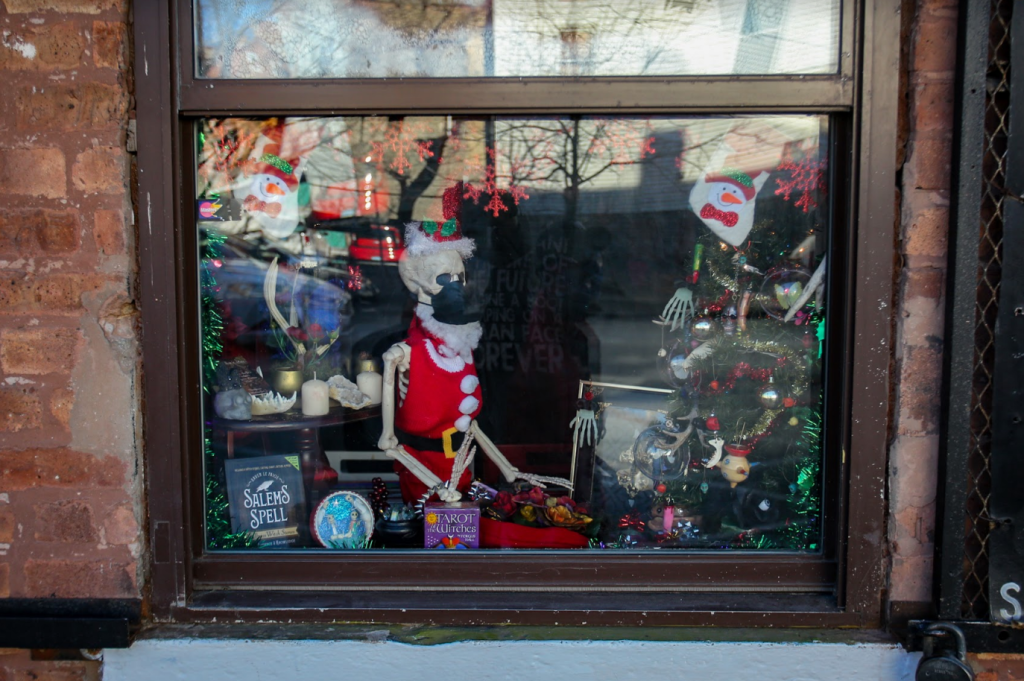 Artist: Gabriel Reinaldo Andres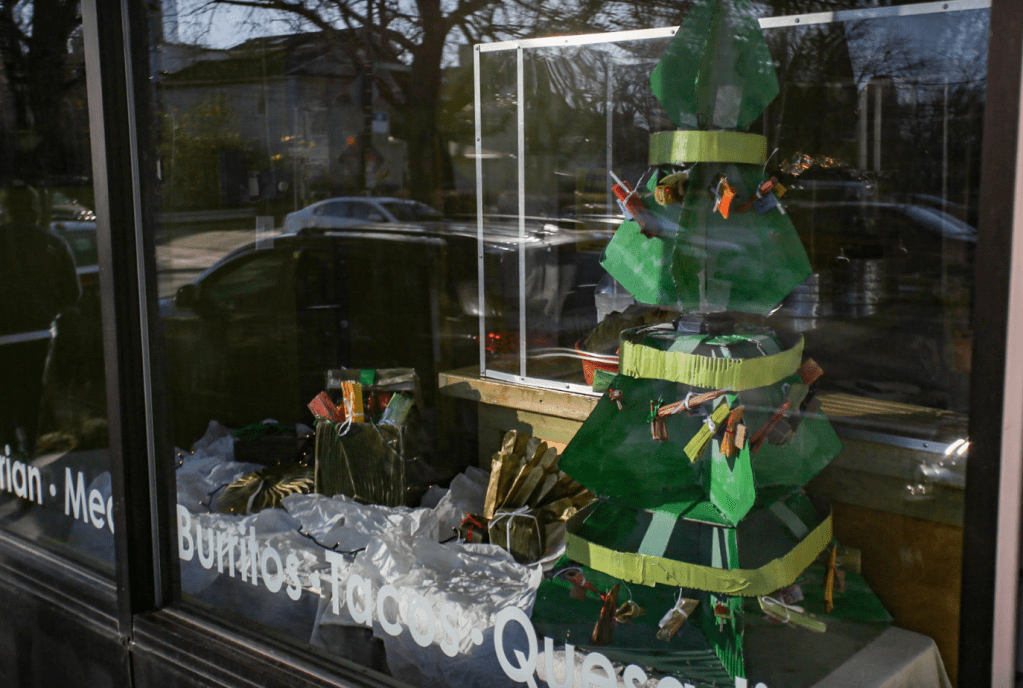 Artist: Erika Berumen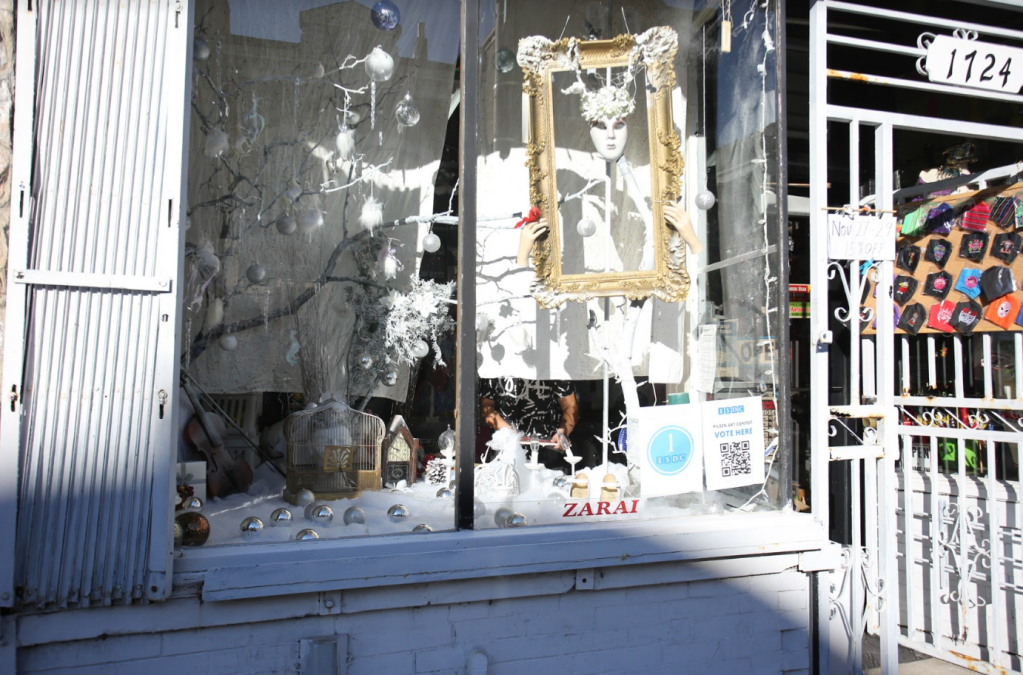 A Block Club subscription is an excellent gift. Get a subscription now and you'll get a free tote bag — and you'll help us reach our goal of 15,000 subscribers by the beginning of 2021. We're almost there! Subscribe or buy a subscription as a gift here.


Already subscribe? Click here to support Block Club with a tax-deductible donation.