CHATHAM — The first time Andre Russell saw Santa Claus was at church.
Taken in by the beard, the excitement and the round belly that shook like jelly, Russell was an instant fan.
It only follows Russell would eventually become Dreezy Claus, Chicago's Black Santa, visiting and delighting families throughout the area.
After years of donning the big red suit informally, Russell started professional Dreezy Claus services in 2018. Now he has written a children's book, "Dreezy Claus & The Boy Who Didn't Believe," inspired by the questions he gets from skeptical kids trying to figure out if he's the real deal.
"The book is a personal 'thank you' and message to everybody out there who wants to believe in something like a Black Santa Claus," Russell said.
The South Side native and Chicago Vocational School alumnus began adopting the Black Santa persona for kids at St. Ailbe's Church in Calumet Heights. Then his colleagues at the Mercy Home for Boys and Girls asked him to put on the suit for the children there.
"I enjoyed that energy. I don't think they knew who I was, but I knew them, and to be able to connect with them … they thought Santa was cool," Russell said.
When Russell needed a Santa for a Christmas toy giveaway he was organizing through his nonprofit, the Smith Center for Community Advancement, a friend on his board of directors happened to have a spare Santa suit laying around. The friend offered to wear it, but Russell said it had to be him.
The next step was to buy a Santa suit of his own. Soon, he was fielding requests for appearances from family and friends.
And like that, Dreezy Claus was born.
"It was amazing to me. I didn't even realize there was a market for this. It's a huge demand," Russell said. "I've only seen one other professional Black Santa in Chicago. One."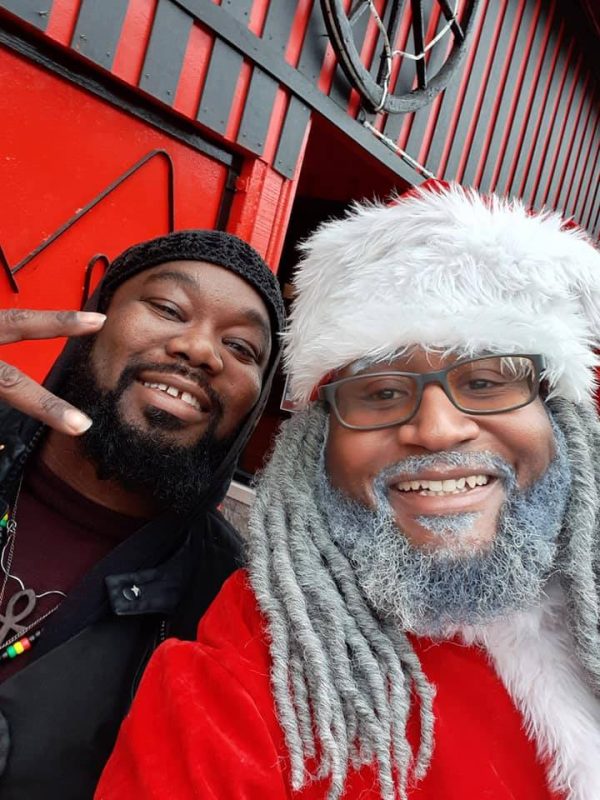 The overwhelmingly positive response in Chicago is in contrast to how poorly Black Santas have been treated over the years across the country.
When Black men began donning the costume in the early 20th century, they were usually met with scorn and, sometimes, violence. When the Mall of America hired its first Black Santa in 2016, some called for a boycott.
So when the occasional skeptical 9-year-old grills Russell about his origin story and his toy distribution strategy, he doesn't take offense. It's all part of the job, he said.
"That kid was adorable. He was asking me questions like it was his job. 'What are the elves doing right now if you're here? What do they eat?' It forced me to come up with a script, a story for Dreezy Claus," Russell said.
That script led to "Dreezy Claus & The Boy Who Didn't Believe," a story about a boy named Alvin who refuses to believe in Santa. Russell wrote it to honor his grandfather, who died over the summer. The main character is named after him and goes through a journey with a girl named Bryce, who tries to convince him Black Santa is real.
While this Christmas season looks a lot different than seasons past, Dreezy Claus remains booked and busy. Russell has been working with a local creator, Andrea Bowman Butler, who makes toy elves, making surprise dropoffs at families' homes.
"Usually a parent will contact me and feed me intel, so when I meet the kid I know all about them and they're so surprised. It's amazing," Russell said.
To learn more about Dreezy Claus, or to order the book, go to his site.
A Block Club subscription is an excellent gift. Get a subscription now and you'll get a free tote bag — and you'll help us reach our goal of 15,000 subscribers by the beginning of 2021. We're almost there! Subscribe or buy a subscription as a gift here.


Subscribe to Block Club Chicago. Every dime we make funds reporting from Chicago's neighborhoods.
Already subscribe? Click here to support Block Club with a tax-deductible donation.