WASHINGTON PARK — As holiday anthems like Nat King Cole's "The Christmas Song" played in the background, hundreds of volunteers from across the city joined My Block, My Hood, My City Saturday to light up miles of the South Side.
Volunteers packed into more than 100 cars, picking up supplies at Washington Park to decorate 200 homes — plus buildings and light poles — along a miles-long stretch of Martin Luther King Drive.
Jahmal Cole, founder of My Block, My Hood, My City, said the goal of the massive "Be A Part Of The Light" effort is to bring hope to the South Side — especially during a season where so many have suffered because of coronavirus.
"We look down King Drive now, and we see a lot of helicopter lights, police lights, a lot of blue lights flashing and shot spotter technology on the poles," Cole said. "There's more technology on the light poles than there are in the classrooms. That's not inspirational. I wanted to do something simple and reduce the blight by hanging up some lights."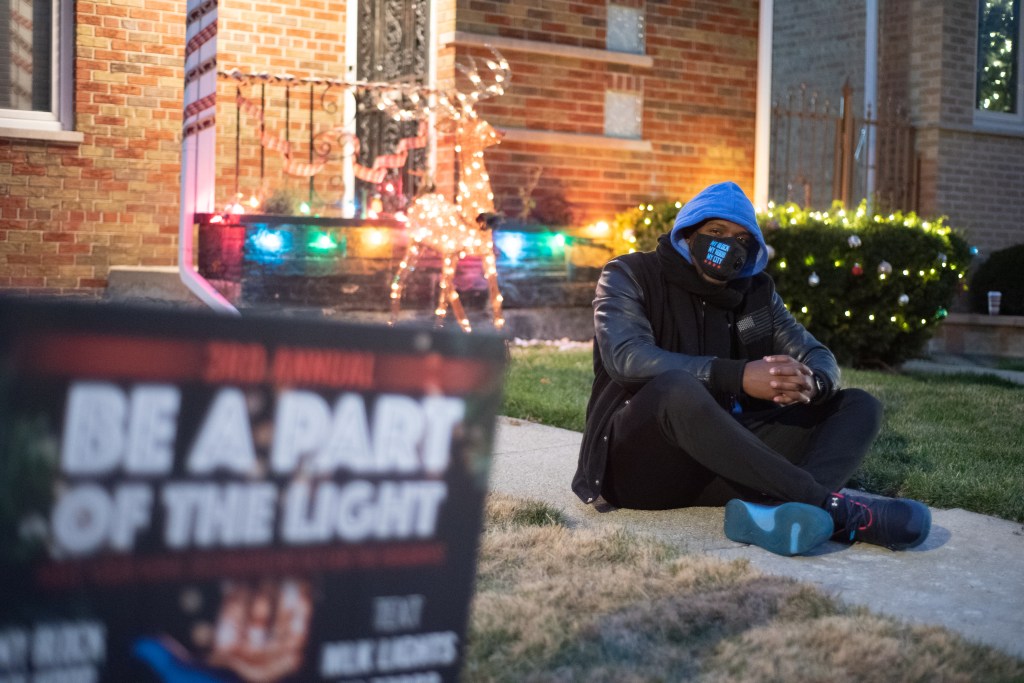 Cole started the lights celebration three years ago, hoping to make King Drive "just as magnificent as Downtown." Neighbors who live along the route can sign up to have their homes decorated by volunteers and receive a subsidy to help with their electrical bill — all for free.
This year, he's set a goal of lighting up 500 homes and 500 light poles on an eight-mile stretch from McCormick Place to 115th Street — a holiday treatment "usually reserved for The Loop," he said.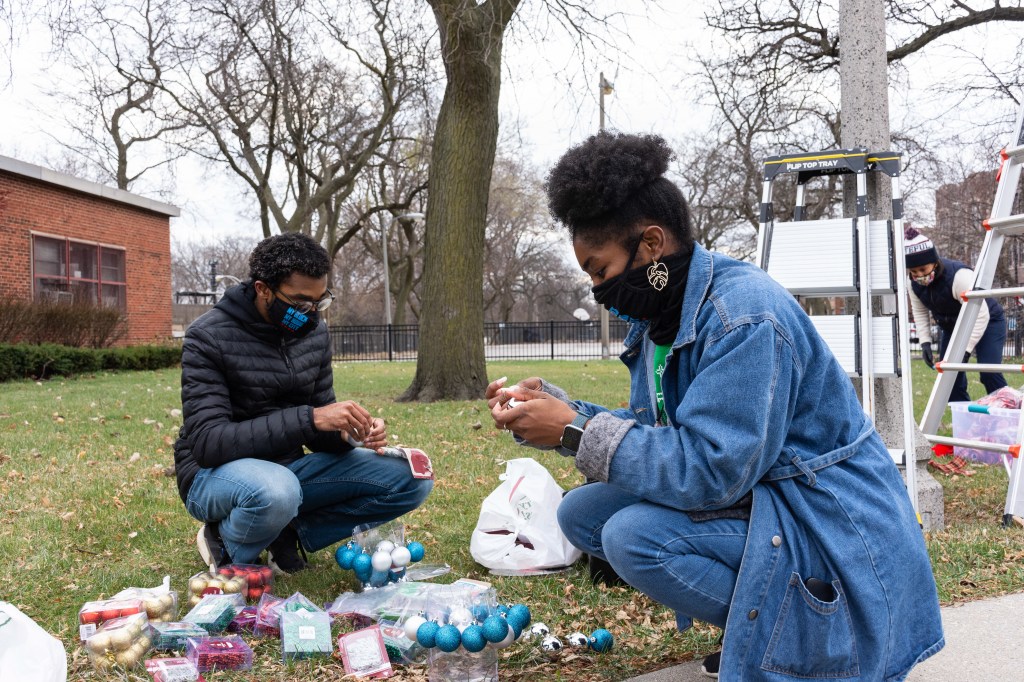 "When you look around now, you see trash on the ground. There are 15 currency exchanges but no banks. You see all the billboards say 'cheap divorces' and '$6,000 cash advances in taxes.' When you have to order your food through bulletproof glass windows, you can't dream through that," Cole said of parts of King Drive, which passes through several South Side neighborhoods.
"But when you see holiday lights and people coming together, you feel hope. You feel hopeful."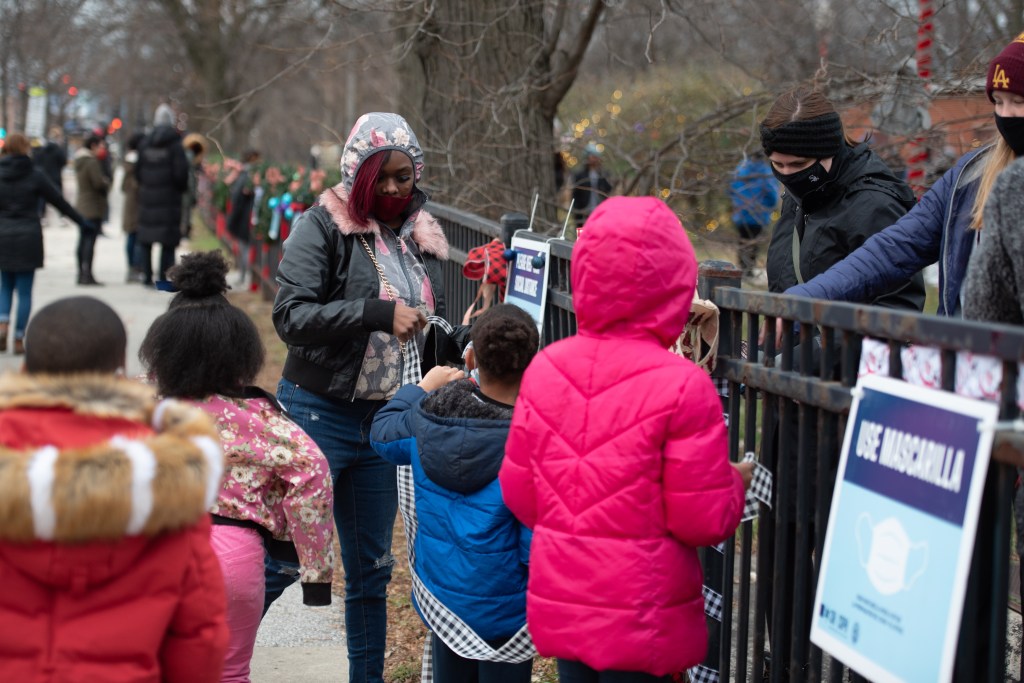 That first year, Cole said he was trying to light up just one home on King Drive.
"But the neighbors started to ask, 'Jahmal, why didn't you do my home?' So I decided, 'OK, I'm going to do all of King Drive.' I spent $38,000, money I didn't even have, three years ago," he said.
Support grew for the effort each year, and even companies such as the Chicago Bears, Amazon, Pepsi and Tropicana have supported the cause.
"Now, looking at this, we have over $100,000 in donations for lights and trees and bows this year," he said.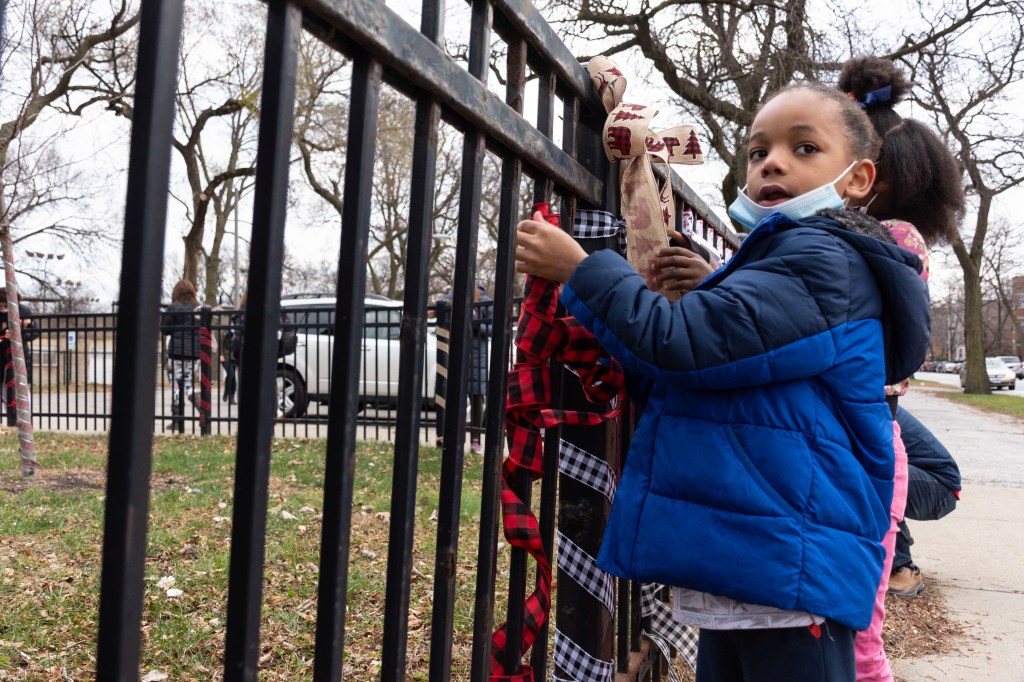 For Takala Welch, who has called Bronzeville home for 47 years, watching volunteers come together to string lights was "a breath of fresh air" amidst a year of grief.
"I lost my best friend in April, and when I first came and lined up to get the ornaments, I started crying a little bit because this is my first Christmas without her," Welch said. "It's been so much grief in the city, so much sickness. I'm hoping when people drive up and down King Drive, it'll
bring a smile to their face — something warm, something friendly and something that is normal."
Daniela Anderson, a volunteer from East Humboldt Park, said she was hoping to make people smile Saturday.
"Bringing holiday cheer, particularly this year when people can't be with their families and there's no sense of normalcy, will really help to bring a sense of remembering what life was like before the pandemic and a sense of joy," Anderson said. "I think having these warm lights and colorful ribbons will make some people smile."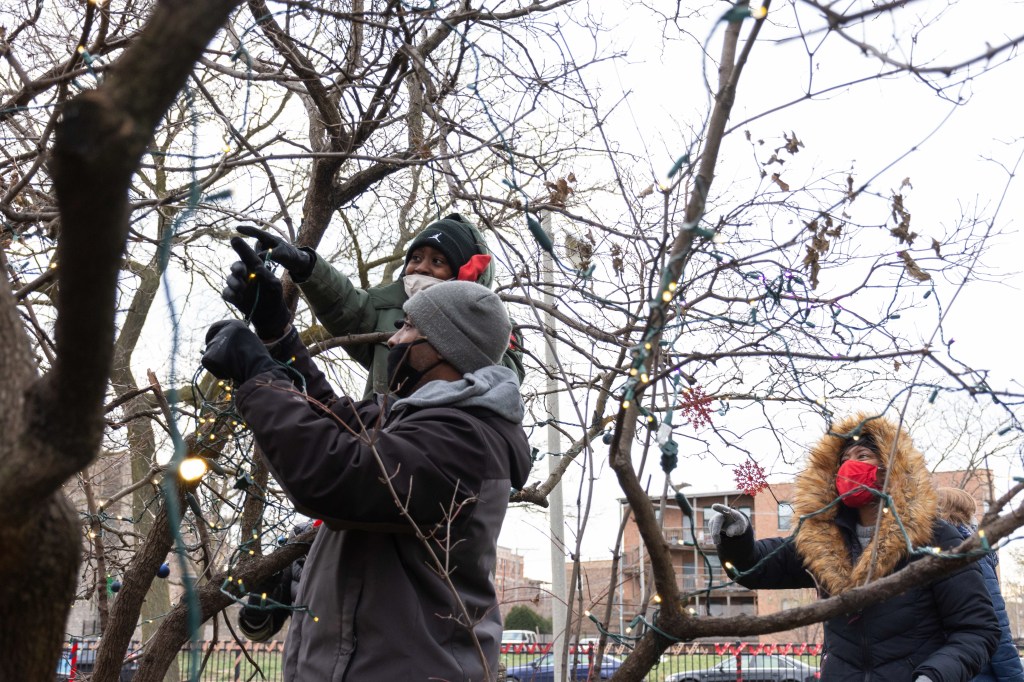 Luke Hochgesang, a volunteer and Lincoln Park resident, said he hopes the lights remind people that there is a light at the end of the coronavirus tunnel.
"Growing up, I always had so many Christmas decorations everywhere, and thought it'd be really important to have that everywhere and not just in different pockets of the city," Hochgesang said. "In a year like it's been, I want people to see the Christmas decorations and know that there are a lot of traditions that can still go on and Christmas can be the same this year."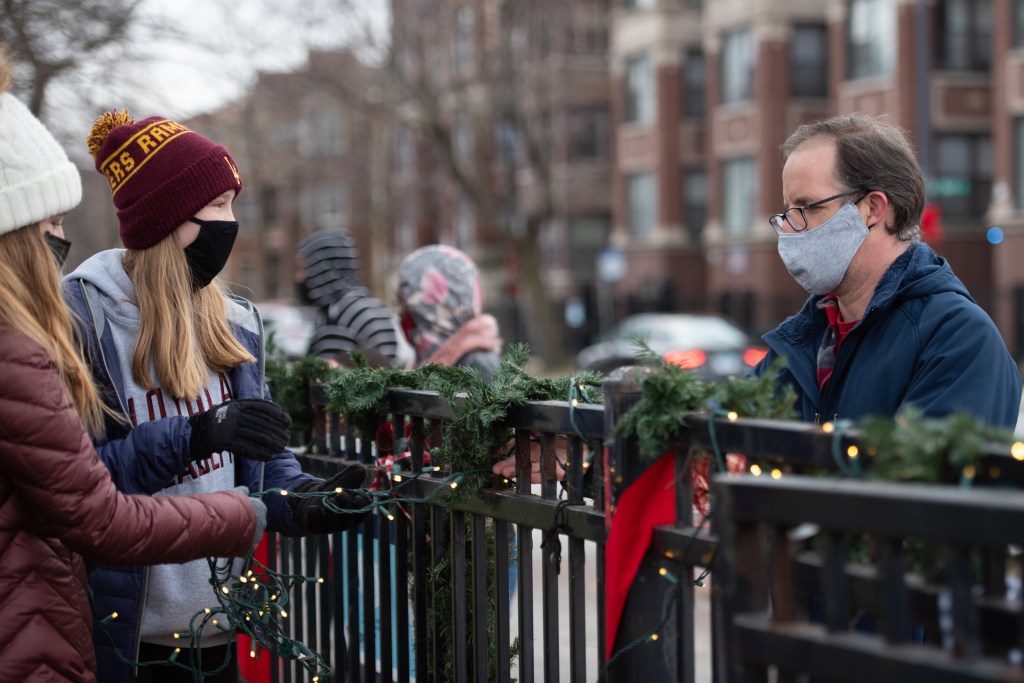 My Block, My Hood, My City will host another volunteer session to decorate King Drive on Saturday, Dec. 12. Volunteers can sign up to help here.
The outdoor event is limited to small groups to allow for proper social distancing. Decorations will be retrieved using a contactless pickup system and volunteers must wear masks and gloves.
A lead volunteer in each group will drive through to pickup supplies to decorate homes.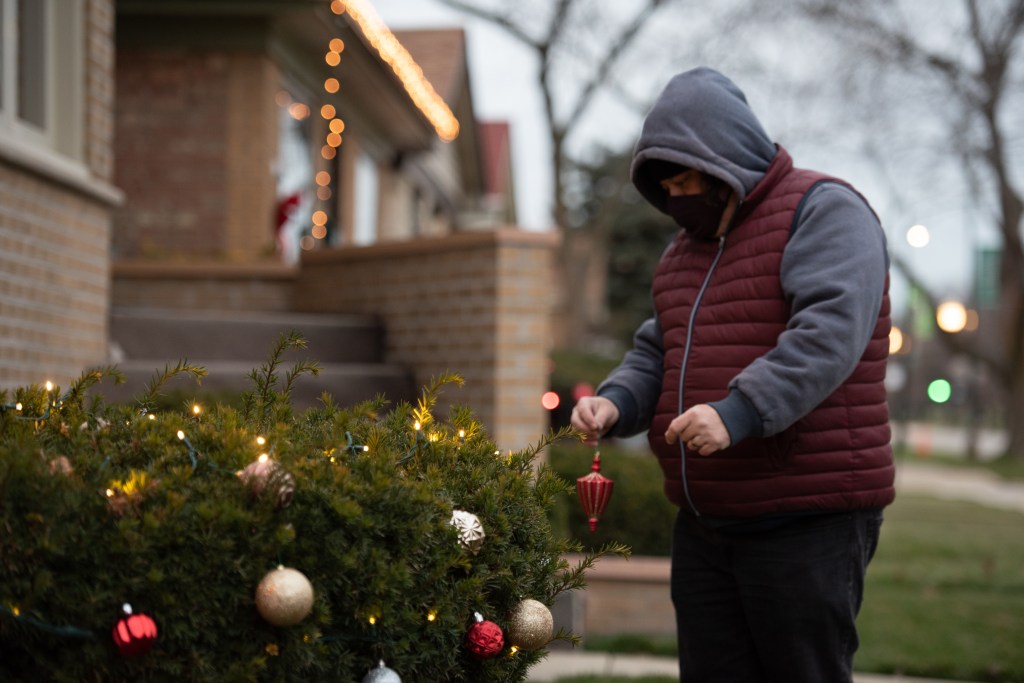 As more volunteers sign up to help, Cole said he has a dream that King Drive will become a destination during the holidays.
"I want there to be thousands of homes that have these lights," Cole said. "I want there to be a traffic jam down King Drive because people from all over Chicago are driving down to see the magnificent King Drive. They're going to stop saying it's the Magnificent Mile and start saying the magnificent King Drive. I want this to be the new Bud Billiken."
People can still donate lights and other supplies for decorating homes on King Drive via this Amazon wish list. The supplies will be delivered to My Block, My Hood, My City.
People can donate money to support the effort here.
Founded in Chatham, My Block, My Hood, My City provides youth from underresourced neighborhoods opportunities to experience places and cultures beyond their communities. The nonprofit also has several initiatives focused on building community, including its effort to revitalize block clubs, help South Side businesses devastated by coronavirus and looting and shovel homes for the elderly.
A Block Club subscription is an excellent gift. Get a subscription now and you'll get a free tote bag — and you'll help us reach our goal of 15,000 subscribers by the beginning of 2021. We're almost there! Subscribe or buy a subscription as a gift here.


Subscribe to Block Club Chicago. Every dime we make funds reporting from Chicago's neighborhoods.
Already subscribe? Click here to support Block Club with a tax-deductible donation.