LITTLE VILLAGE — Nine days after a driver killed an 86-year-old man in a hit-and-run in Little Village, his family is pleading for more police attention to bring the driver to justice.
At 12:30 p.m. Nov. 24, Eliseo Mendoza was walking in the 3200 block of West 26th Street when a driver in an SUV hit him and drove off, according to Chicago police.
Mendoza's daughter, Leticia Torres, said her father was returning from the grocery store.
The 86-year-old was taken to Mount Sinai Hospital with head injuries and pronounced dead a short time later, police said.
No arrests have been made. Earlier this week, police issued an alert asking for help to identify the driver of the SUV, a 2008-12 dark gray or black GMC Acadia. 
It's been days since Mendoza's funeral and Torres said her family hasn't received any updates on the case aside from being given a photo of the car thought to have hit her father.
Standing Thursday at the corner of 26th Street and Sawyer Avenue, Torres and her six sisters vowed to continue their fight to bring the hit-and-run driver to justice.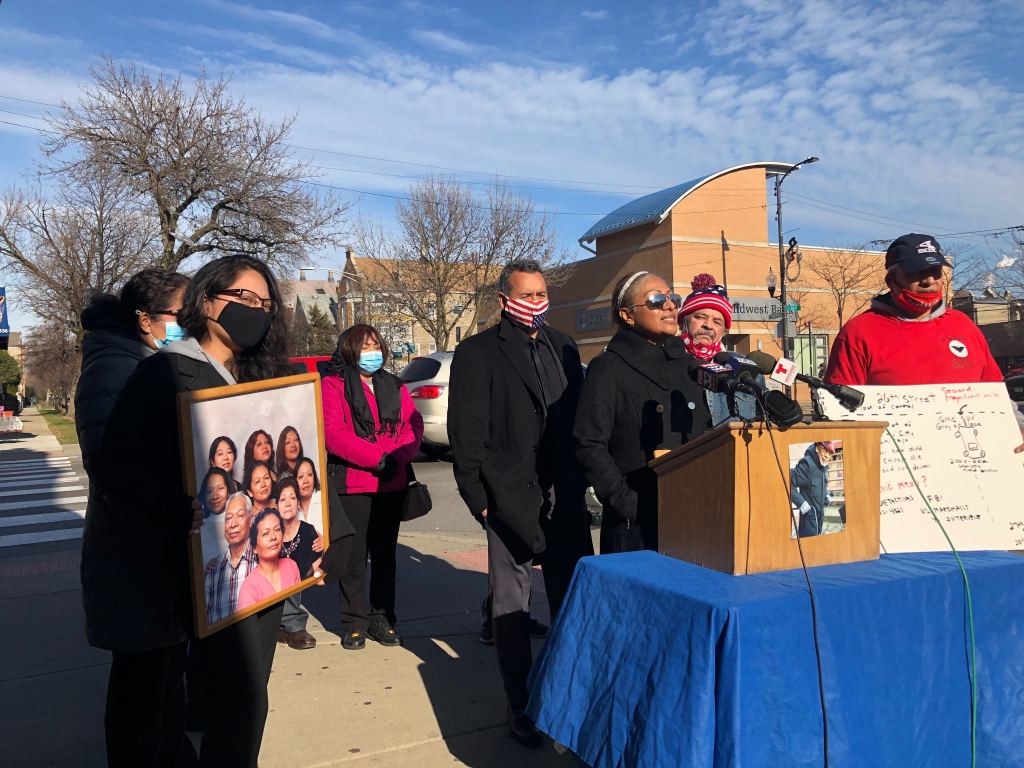 "We don't want this case to go cold," Torres said.
On Thursday evening, the Police Department said there were "unfortunately … no updates" in the case and the Major Accident Investigation Unit is investigating.
Torres remembered her father as a hard worker who came to Little Village from Cuernavaca, Mexico, more than 50 years ago. He worked at the Cracker Jack Company factory for 30 years before it closed down and then worked at another factory, Torres said.
Mendoza dedicated the last 20 years of his life to caring for his 82-year-old wife, who is unable to walk, Torres said.
He was always worried about not having enough fruit, milk or juice for his wife, his daughter said.
"He was a good man," said Torres, 50. "He was always very supportive …always there for us."
In the days since Mendoza's death, the family has discovered poems and paintings he stored in his room.
"He was very creative," Torres said.
Activist Raul Montes and the family are offering a $7,000 reward for information leading to the arrest and conviction of the driver.
Montes said the case has not received enough attention.
"We are in dire need of answers," Montes said.  
Montes said he's advocated for cameras to be installed along 26th Street for years, as it's one of the highest-grossing retail strip in the city, second only to the Magnificent Mile. Aldermen who represent the area should prioritize adding cameras there, Montes said.
Torres agreed.
"Maybe it's going to prevent a hit and run, a robbery, a sexual assault," Torres said. "It could prevent it … and that's what we want."
Torres said bringing the driver to justice will bring closure to the family.
"We have questions and we need answers," Torres said. "We are not going to stop until we get them."
Anyone with information is asked to call detectives at 312-745-4521.
A Block Club subscription is an excellent gift. Get a subscription now and you'll get a free tote bag — and you'll help us reach our goal of 15,000 subscribers by the beginning of 2021. We're almost there! Subscribe or buy a subscription as a gift here.