ANDERSONVILLE — Hopleaf may be closed for the time being, but there's still a way to enjoy the beloved bar's craft beer selection from home.
The bar and restaurant at 5148 N. Clark St. is selling off its stock of kegged beer, offering local and regional craft brews that aren't easy finds at grocery stores.
There were at least 20 kegs available as of Sunday, when Hopleaf owner Michael Roper posted on Facebook about the sale.
RELATED: Andersonville's Hopleaf Closes For Winter To Survive Pandemic: 'We Just Hope To Ride This Out'
Hopleaf sold off some of its kegged beer early in the pandemic, but that time the beer was sold off in growlers, or in 64-ounce quantities. To buy a keg, email michael@hopleaf.com and check Hopleaf's Facebook page for updates on its stock. 
This time, the whole keg is for sale.
"These are all very fresh and nicely priced," Roper wrote on Facebook. "Perfect for the holidays!"
Available kegs include Sierra Nevada Northern Hemisphere Harvest Ale ($200), Half Acre Sailors Kush (5 gallon, $128) and Goose Island Bourbon County Brand Wheatwine ($250). For more options, see below.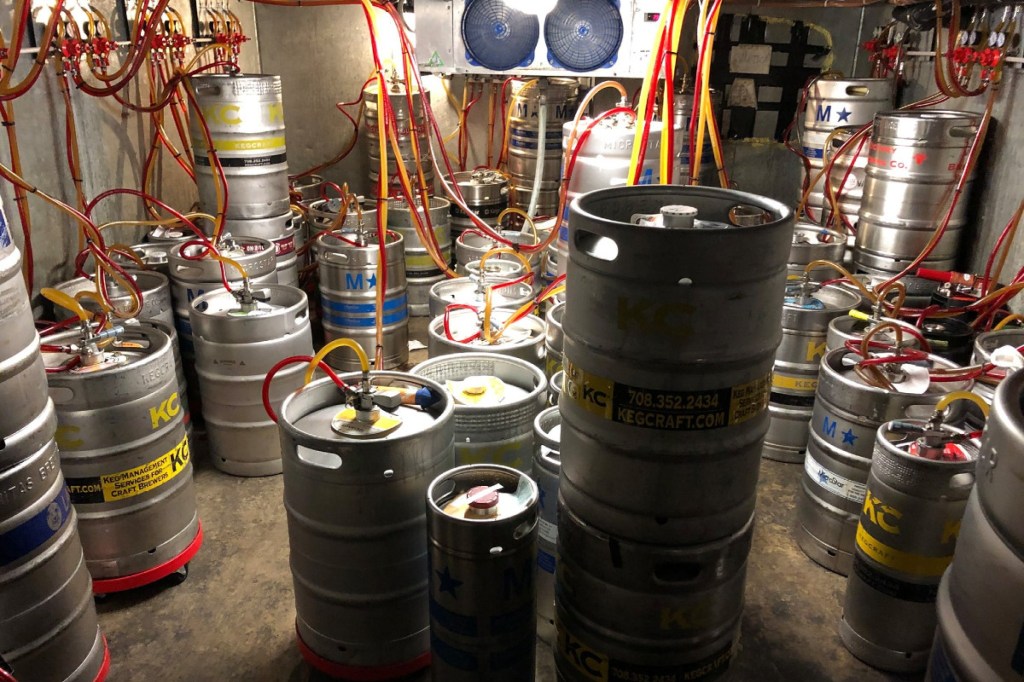 There will be a $30 deposit for the kegs. Buyers will need their own taps.
Hopleaf closed indefinitely earlier this month in an attempt to wait out the coronavirus pandemic — or at least wait out the pandemic-caused business restrictions.
Roper said he could open if indoor dining is allowed at 25 percent capacity, but it is more expensive to stay open and provide only takeout than to close temporarily.
While closed, Hopleaf launched a GoFundMe for its employees, who are now without work. Since Saturday, the fundraiser has raised nearly $5,000.
Hopleaf is among the growing number of Chicago restaurants closing temporarily in an effort to make it through the pandemic.
Hopleaf opened in Andersonville in 1992 and this year made Thrillist's list of best beer bars in Chicago.
Here is the available kegged beer at Hopleaf as of Monday:
Ommegang Solera: half barrel ($209)
Half Acre Tome Hazy Pale Ale: half barrel ($209)
Half Acre Sailors Kush: 5 gallon ($128)
Pollyanna Orenda Vol. 2: 5 gallon ($132)
Sierra Nevada Northern Hemisphere Harvest Ale ($200)
St. Bernardus Apt. 12: half barrel ($190)
Hirter Morchl Austrian Dark Lager: 13.2 gallon ($137)
Noon Whistle Hop Prism IPA: half barrel ($190)
Dovetail Lager: half barrel ($180)
Allagash White: half barrel ($190)
Three Floyds Zombie Dust: half barrel ($209)
Five Rabbit Chinga Tu Pelo: half barrel ($179)
Firestone Walker Double Barrel Ale: half barrel ($164)
Great Lakes Edmund Fitzgerald Porter: half barrel ($172)
Plank Funkler Weizenbock: 13.2 gallon ($265)
Old Irving Beezer: half barrel ($240)
Three Floyds Alpha Klaus Christmas Pilsner: 5 gallon ($128)
Off Color Apex Predator: half barrel ($175)
Goose Island Barrel Country Brand Wheatwine 2019 ($250)
Chimay Doree: 5 gallon ($209)
Subscribe to Block Club Chicago. Every dime we make funds reporting from Chicago's neighborhoods.
Already subscribe? Click here to support Block Club with a tax-deductible donation.