CALEDONIA — Farmer John Peterson doesn't wear his feather boa anymore, but he still revels in the theater of farming — the dance of weather and crops, the clank and rattle of machinery, the customers like a rapt audience waiting for the curtain to rise.
Each growing season, each day, is different, but the underlying drama remains the same. 
"All these people are counting on this food," said Peterson, 71, standing in his fields on a fine autumn day. "And you go, well, can I do it? It's living in a kind of daring connection."
Truth is, though, Farmer John is ready to step away from the grueling day-to-day work, marking the end of a chapter for one of the Midwest's most prolific and influential organic farmers. Like many of us, Peterson longs for a more balanced life. He wants to write books and spend more time with his wife, 29-year-old Haidy, who suffers from recurring bouts of poor health.
With a penchant for art and glamour, Peterson upended tradition in 1990 when he converted his family's northern Illinois dairy farm into an organic vegetable operation that depends on its shareholders, a model known as community supported agriculture, or CSA. His vision and struggles — including clashes with his neighbors who accused him of devil worship and orgies, among other things — were well documented in the acclaimed 2005 movie about his life, "The Real Dirt on Farmer John."
Legendary Chicago film critic Roger Ebert, who gave the movie 3.5 out of 4 stars, called Peterson a visionary — with a playful caveat. 
"Let it be observed, however, that Peterson is a strange man, and celebrates his own oddities," Ebert wrote.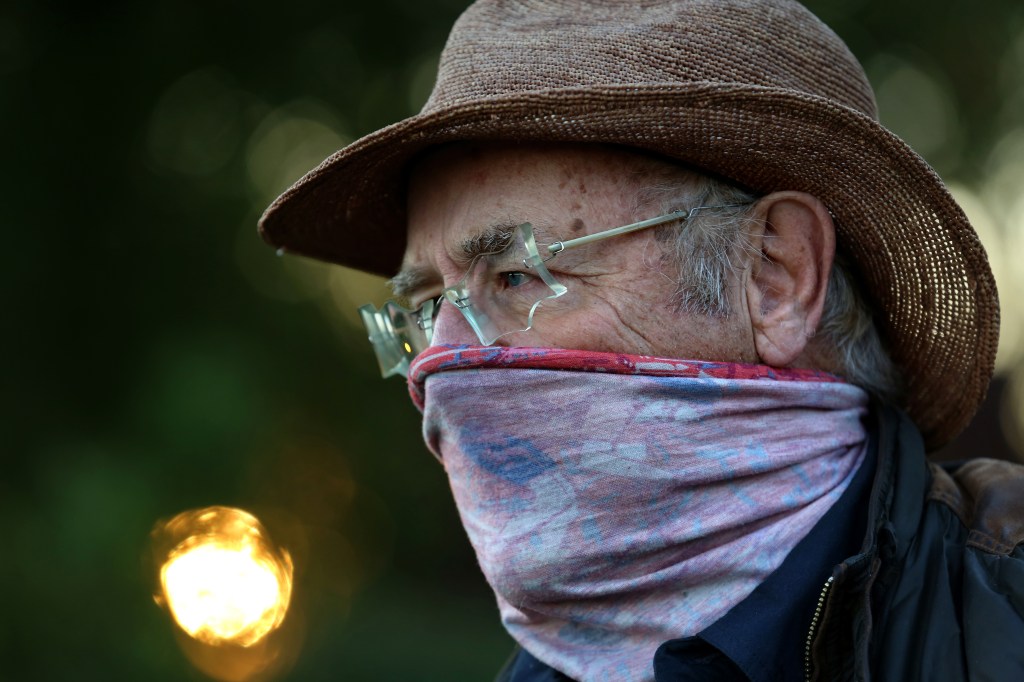 I doubt that Peterson himself would object, but his accomplishments more than match his eccentricities. Today, Angelic Organics in Caledonia, Illinois, is the largest and longest running organic CSA farm serving the Chicago area, where most of its 3,000 shareholders reside. With the film and a subsequent cookbook, he's inspired a global niche audience with a vision that a farm is more about community than food.
That vision is what inspired me to rise hours before dawn and drive country backroads to spend a day and night on his farm. I expected Farmer John, the flamboyant character who grew in my imagination after seeing his film, to offer a rosy outlook. The truth, as always, is more complicated. 
His reedy voice drops an octave when he talks about the hard reality of farming. 
"I'm under siege with the responsibilities and the demands and the details," Peterson said. "I have way too much. This year is better and it's glorious. But it's still overwhelming." 
Searching For Connection
Back in May, when we were still dreaming that our daughters' school year might resume, I leaned from my work-from-home desk and told my wife that I was thinking about buying a farm share from Angelic Organics. 
There was still such heightened demand then for grocery store pickup and delivery services that there were frequent delays and screwed-up orders. I also just liked the idea of it — it felt like something bright and healthy in this time of collective crisis.
I'm not alone. 
After years of being jilted by consumers for purveyors of cheaper, shinier, more homogenous produce, organic community-supported farms across the country have experienced a pandemic boom. It's an oddly poignant silver lining in this ceaseless national nightmare: Farms are growing community again.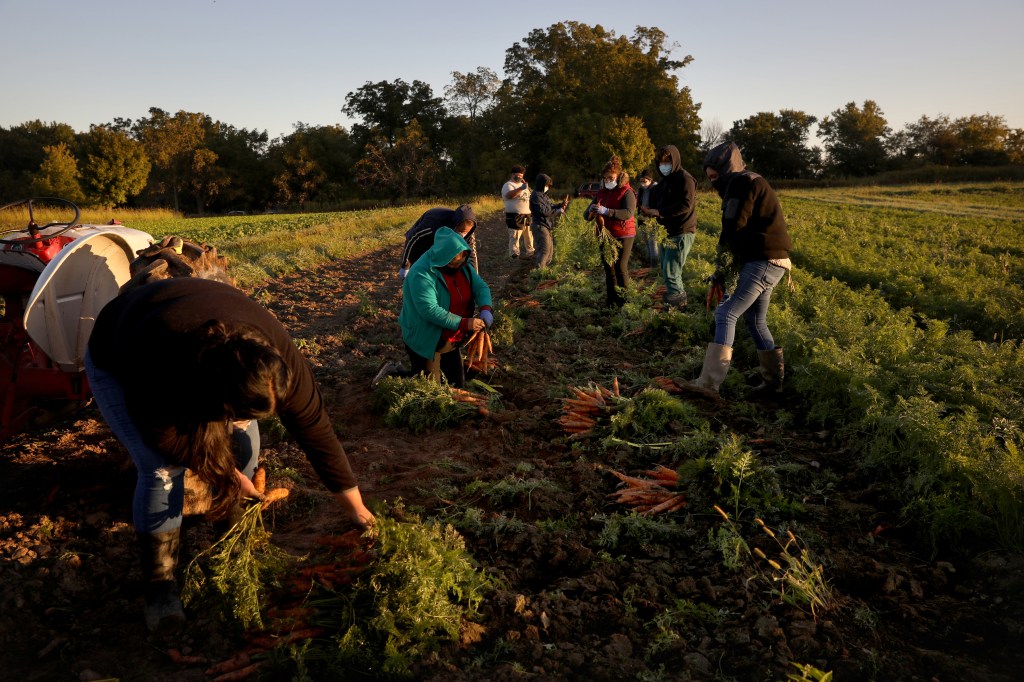 We haven't been perfect on our end. We neglected a bag of chard in the fridge until it turned to slimy mush. As of this writing, various forms of squash continue to accumulate on the kitchen counter.  
But the CSA supply brought delight, too. Delight in dashing out after work to pick up our veggies, sifting through the contents at home, trying to figure out what the hell to do with mizuna, for example, or pea shoots. Delight in tasting carrots and realizing, as if from a forgotten dream, that this is what they should taste like.  
At a time when many of us feel more disconnected than ever, we are reaching for a communion with the earth and other humans. 
Peterson's own connection with his farm began well before he was born. His parents, Lester and Anna, moved on to the land after marrying in the 1930s. His mother, who steals several scenes in the film, also recorded much of the early footage from Peterson's childhood. His father died when John was still a teenager. 
All about the farm, vestiges from Peterson's past lurk like ghosts, each with a story waiting to be unspooled. There's a Steinway piano weathering all seasons at the base of an old oak tree. There's the former dairy barn where he milked cows from age 9 into his early 20s, and the yellow Volkswagen Beetle, once a prop in a music video, now permanently parked as a sort of art installation.  
And there's the maple tree one of his former girlfriends climbed naked in an unsuccessful attempt to hide from his mother, a story the farmer recounted to me with a high-pitched giggle. 
The most lurid rumors about this farm weren't true, but there has been some wildness here over the years. 
When Peterson attended nearby Beloit College in the 1960s, he came to see the family farm anew through the eyes of his college friends, many of whom are described in the movie as "hippies, radicals, philosophers, midwives … drifters, waitresses, childhood sweethearts and future monks." 
In the movie, Peterson recalls pulling his friends on hallucinogenic-infused hayrides in his red tractor. But those who came to stay for a while also worked hard to keep the farm going. 
For Peterson, an enduring truth emerged.  
"I experienced many people experiencing a farm for the first time here," Peterson said. "And I could see how important that was."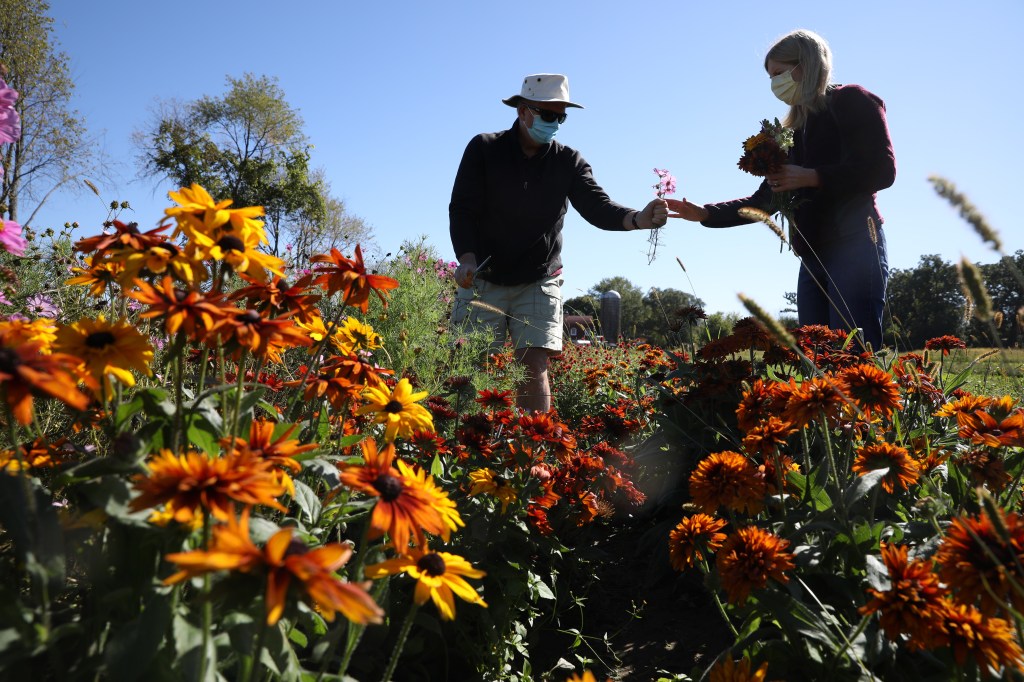 The farm's future was cast into uncertainty during the farm financial crisis of the 1980s when debt and foreclosures soared. After a period of expansion, he had to sell much of his family's land. But with the help of Chicago investors, he was able to save enough of the land and convert the family farm into the organic operation called Angelic Organics. 
Peterson wasn't the first CSA farmer in the Midwest, but he was among the trailblazers in the late 1980s and early 1990s. 
In the intervening years, Peterson's weathered all manner of droughts, floods, blights and bugs only to experience one of his best growing seasons during, of all things, a pandemic. His farm turned a profit for the first time in years. 
What's less clear is whether farms like Peterson's can sustain the resurgence of interest. 
Do people really care about supporting a farm? 
"You want people who feel like this is theirs, this soil, this weather, it's theirs. It's part of how they belong to the earth," Peterson said. "Maybe people in their quarantined state are responding to that."
A Legacy That Ripples Out
In downstate Illinois, some three hours south from Angelic Organics, Hans and Katie Bishop of PrairiErth Farms have experienced perhaps their most difficult growing season yet, despite doubling their number of CSA shareholders. They've weathered staffing challenges related to the pandemic, endured drought and pulled out of the local farmers market because people weren't consistently wearing masks.
Before Hans and Katie left comfortable insurance jobs to go into farming, they found inspiration in 2008 when watching "The Real Dirt on Farmer John."
Like Peterson, Hans Bishop grew up in a more traditional farming culture. Starting an organic CSA farm felt like a radical act in the heart of corn and soybean country.
"After I saw that movie, I thought, 'Wow, this is possible,'" said Hans Bishop, 36, who also recently took on his father's organic row crops.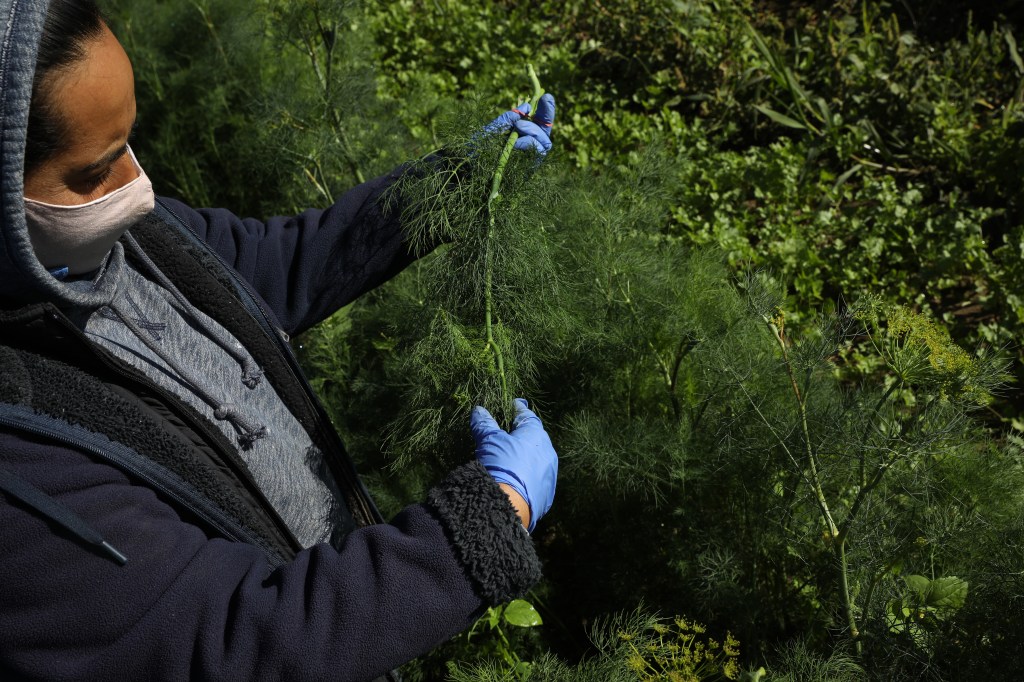 For five years, from early 2005 to late 2009, Peterson toured with the film, traveling to 16 countries and racking up a slew of awards in the process. Former Vice President Al Gore hailed the movie as "unbelievably special." 
Peterson never sought out to romanticize farming in the film, which was directed by Taggart Siegel, and he wasn't trying out to proselytize the merits of organic food. 
"The biggest impact of the movie was that it empowered people to keep going with whatever challenge they had in life," Peterson said. "The most comments that came in about the movie were from people who had been in despair and we're up against tremendous odds and who found strength in the movie to go forward. And that's why we made the movie. It wasn't to make people eat better."
There's no question the impact of Peterson's work, including the film, have rippled out. As but one example, the affiliated nonprofit Angelic Organics Learning Center, tucked behind Peterson's farm, has provided technical guidance and training to hundreds of farms over the years. 
"That kind of awareness and sense of community is something that he really sparked," said Irv Cernauskas, co-owner of Irv & Shelly's Fresh Picks, a local produce distribution hub in Chicago. "That's a legacy that's lived on."  
While Peterson's distinct personality and story are unique, it's his farming that has set him apart, said Peter Seely of Springdale Farm in Wisconsin, one of the few CSA farms in the Midwest that's been operating longer that Peterson's.  
"His scale obviously far surpassed just about any other farm," Seely said. "John's a character, but he's a darn good farmer, too."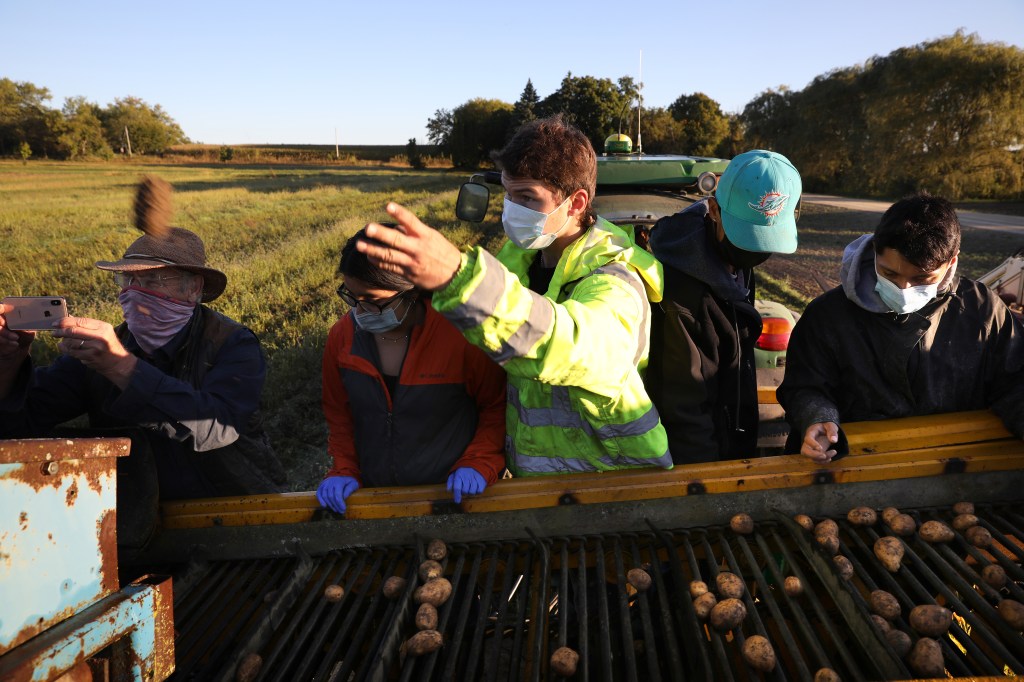 To this point, though, Peterson's been unable to step back from the direct management of the farm. 
Peterson's eventual retirement could also provide one last useful lesson for his fellow farmers. His transition plan is a work in progress, but he hopes to maintain continuity by transferring certain managerial responsibilities to four of his staff members. He plans to continue for the time being in the role of head farmer, eventually tapping a successor from within the ranks of his workers.
"He's been this pioneer and has taught all of us farmers in the Midwest about running the CSA, about coming back to the farming, about missteps and recovery," Katie Bishop said. "But I look forward to seeing his exit plan because that's another thing that we farmers in the Midwest don't really have. How do you leave?"
An Impossible Task
On the day of our visit, as photographer Nancy Stone and I tagged along, the farmer's mood seemed to brighten and dim with the arc of the sun across the sky. 
In the morning, he oversaw a frustrating potato harvest, pacing alongside the harvester and advising his workers. Too many potatoes were slipping through the chains of the aging machine.   
Later, beneath the canopy of the maple tree, Peterson and his workers and their family members gathered for a communal Salvadoran lunch of pupusas and curtido. The group of about 20 people was a mish-mash of rural high school students, immigrants and artists.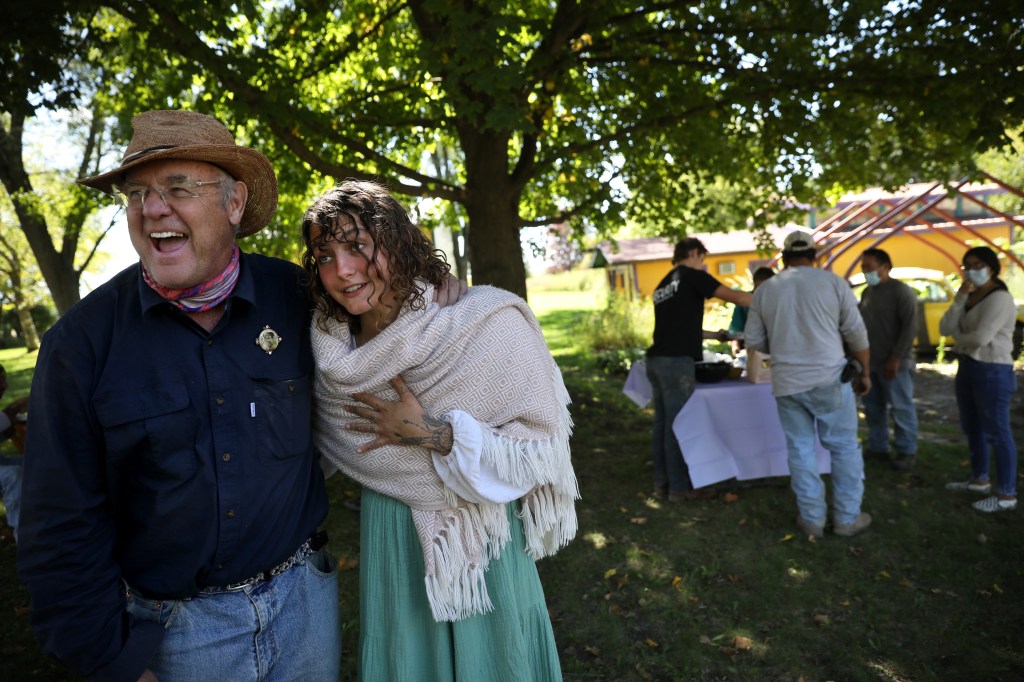 They were, very clearly, Peterson's family of sorts. In between bites of food, Peterson beamed and laughed and traded stories. The the stress seemed to slough off of him. At one point, he mused whether he might someday become an "artist type." 
Almost in unison, several of his young workers laughed and said, "You already are, John."
Alize Yaccino, a 20-year-old visual artist, worked on the farm all summer with her husband, who is a muralist from the Dominican Republic. Having grown up in the area, Yaccino said she visited the farm years ago with her family and it "felt like a magical land." 
"I don't think it's changed much," Yaccino said of her first impression. "It's just deepened. The colors have saturated."
Dulce Jimenez, 19, who worked in the farm office this season, said the experience could help an eventual career in business. Her mom and sister previously worked at Angelic Organics, too. 
I asked her why she thinks so many people have signed up to be shareholders of the farm during the pandemic. Will it last? She paused a long moment before finding the right words.  
"He makes all of us feel like we're family," Jimenez said. "I hope that's what they feel, too."
Throughout the afternoon, families from Chicago arrived to pick flowers in the field and select pumpkins off a flat bed. Children clambered onto old tractors at Peterson's encouragement.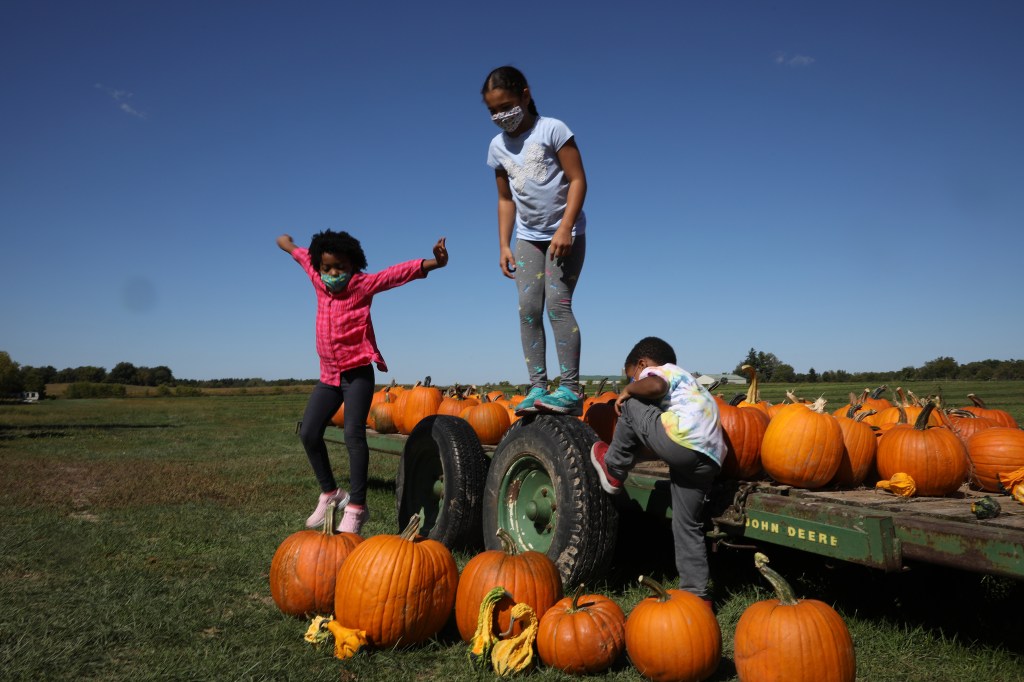 Peterson was downright giddy and talkative leading groups on a tour of the farm, launching into old stories and a soliloquy on biodynamic farming. Eventually, the city dwellers left with tired children, trunks full of pumpkins and water bottles stuffed with flowers. Their day at the farm was complete.  
As the sun was setting, though, Peterson was still vexed by the potato harvest. He showed us a lineup of machinery painstakingly maintained over the years. The equipment must be maintained so that it never gets in the way of the work that must be done, he told us. 
His point seemed to be a source of pride and bottomless exhaustion. 
"That's the way you have to do this farming or it will just consume you and it will throw you away," he said. "Most people don't even understand that kind of talk. They go to school, they get an extension for their exam or their paper they're supposed to write. They go to work, they get sick, they get paid to be sick. A farm is nothing like that. You always get the work done on time. Nothing should ever get in the way of that.
"Well, that can kill you. It's an impossible task, really; an impossible goal, really. But you have to honor it, continually."
'The Farm's About The Farm'
This December, John and Haidy Peterson will celebrate their 10th wedding anniversary. 
They met at a biodynamics conference in Jarna, Sweden, in the summer of 2009. John was there for screening of his film. Haidy, a then-18-year-old from Helsinki, Finland, signed up for a workshop he was leading. 
They felt an instant connection. 
"His listening made me feel seen, and it created a space for me to discover things about myself," Haidy wrote to me in an email. "I felt like I had always known him, despite our different backgrounds. I had met my soulmate, and I was not expecting it."
They're aware their 42-year age difference makes some people uncomfortable, but that hasn't diminished their bond, which is admired by their close friends. 
"We so belong together that when we're out, we don't notice there's an age difference," John said. "But that's a way to really be marginalized and ostracized."
Haidy, who suffers from chronic fatigue, is not involved in the farming, but she helps John with strategic planning and administrative work. Together, as they work toward this next phase of life, they plan to stay involved with what they call "buildings and beauty." Over the years, they've painstaking restored the farm buildings to create an atmosphere for inspiring art and beauty in others.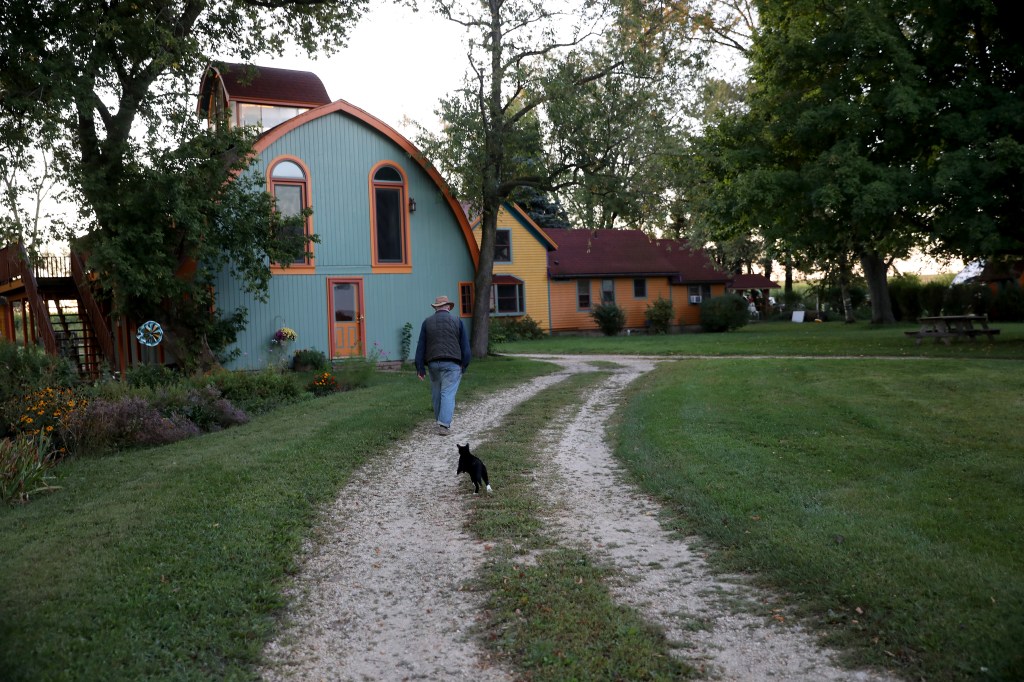 On the night of our visit, I slept in what used to be the corn crib, which has since been reimagined as an office and living quarters. Though exhausted, I lay awake for a bit staring at the stars through the cupola, trying to piece together the prevailing themes from a long day of talking with Farmer John. 
The next morning, Peterson had final thoughts to impart before I drove home. 
"This place isn't just the growing, which is hard enough, but it's beauty and it's art," Peterson said. "This is the thing that people will let go until the end to see if there's any time and energy to paint the barn. One of the biggest losses here would be the loss of the commitment to beauty, which is really there to make human beings feel better about life."
The buildings, he explained, need people to complete them. They are part of the living organism that is the farm.
"For a lot of people, the farm is about the food," he continued. "But for me, the farm's about the farm. And the food is the blessing that the farm takes out into the world."
That's at the very heart of community supported farming, the underlying message that Peterson has espoused for years. At a time when so many are going hungry, it may feel almost esoteric. But there's also something urgent and unshakable in what it seems to imply. People need the kind of community that a farm can provide to be fully human. 
Peterson's in fine health, but he's aware of his own mortality. He's well past the average age of the American farmer. His farm insurance skyrocketed when he aged into his 70s. His father was 66 when he died. Now 71, Peterson has books to write and a wife to love. 
I apologized for the grim nature of my last question, but the fleeting nature of time was on my mind. 
How do you want to be remembered when you're gone? 
Peterson took no umbrage with the question. Nor did he hesitate in response. He stepped closer, his blue eyes clear and unblinking.
"I think I'd like people to have the story of my life, or their experience of knowing me, to keep going because you don't know what's around the corner," Peterson said. 
"Keep going. Find a farm to love. And create beauty."  
Subscribe to Block Club Chicago. Every dime we make funds reporting from Chicago's neighborhoods.
Already subscribe? Click here to support Block Club with a tax-deductible donation.