NORTH LAWNDALE — West Side neighborhood groups are raising money for a free meal program aimed at feeding community members through the spring.
The program, called Soup for the Soul, provides free soup to West Side residents in need. It's a show of kinship between Lawndale neighbors pitching in to care for one another, said Pastor Reshorna Fitzpatrick, of Stone Temple Missionary Baptist Church. Volunteers at the church, 3622 W. Douglas Blvd., give away the packages of fresh soup every Monday.
Soup for the Soul launched in response to the need for fresh food in North Lawndale, which has intensified because of the coronavirus pandemic.
"It's empowering [to engage] people who are already in the community to come together and to show the power and the resilience that we have," Fitzpatrick said. "People are grateful to be able to help and to share. One thing about our community is that people are always willing to help and assist."
Soup for the Soul is a collaboration between neighborhood groups on the North Lawndale Community Coordinating Council's GROWWS Committee, which works on projects to improve greening, public space and food access in the neighborhood. National non-profit Trust for Public Land gave the groups a small grant to launch the project.
The groups surveyed where and when food is available for people in North Lawndale. They saw several food programs and food pantries each week, but noticed a major gap in availability of free food on Mondays, which they decided to fill.
The group is hiring local chefs to prepare the meals in Stone Temple's commercial kitchen so the project also can benefit businesses that have been hurt by the pandemic.
The first batch of soup was cooked and individually packaged by ChiFresh Kitchen, a cooperatively-owned prepared meals business run by formerly incarcerated Black women.
RELATED: Co-Op Owned By Formerly Incarcerated Black Women Wins Grant To Bring More Healthy Meals To South And West Sides
The group gives away 200 portions of soup Mondays and they are raising money to cover the $700 weekly cost of the program.
Leftovers are placed in the Love Fridge at Stone Temple for anybody to take.
The program also provides residents an opportunity to get fresh produce through a partnership with the Urban Growers Collective, which stations its mobile farmers market, called the Fresh Moves Mobile Market, at the church at the same time as Soup for the Soul.
Visitors receiving soup are given a $10 voucher for produce from the market. They can buy additional fruits and veggies.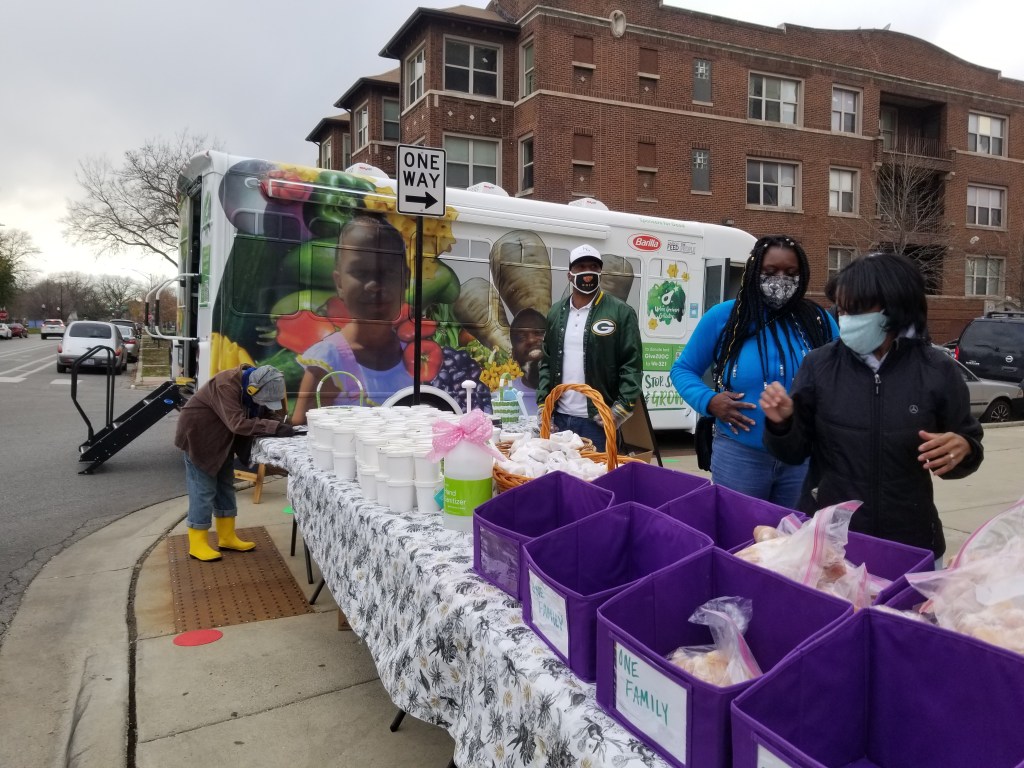 Organizers hope the free soup can make a difference for West Side residents who struggle to access healthy food, especially due to the economic fallout of the pandemic. But the meal program is designed to be a service for the entire community that is a "dignified way of feeding people" regardless of their circumstances, said Annamaria Leon, of the GROWWS Committee.
"It's not a handout. We're just feeding our neighbors. I eat the same soup myself. And if it wasn't for COVID right now, we'd be having these meals together," Leon said.
At its core, the project is about building community and a sense of connection, said Andrea Lee, external affairs manager at UCAN.
"We wanted to not just feed the body, but feed the soul, too," she said.
The GROWWS committee wants Soup For the Soul to evolve into a weekly community meal after COVID-19. The meals will bring neighbors together at the new community stage at Stone Temple to share food and build fellowship.
"We really wanted people to be able to share food together and to be able to eat on site and talk with other people and enjoy some entertainment," Lee said. "And then to have an expectation among people in the community that it's a place where you can go to be around people to celebrate the community, to just share joy."
Fitzpatrick hopes that by the spring, the stage at Stone Temple will be able to host local performers, storytellers, musicians and spoken word poets at the weekly meals "to tell their stories. To tell their truths. To tell their own narratives the way they see fit."
Soup for the Soul is 2-4 p.m. Mondays at Stone Temple Missionary Baptist Church, 3622 W. Douglas Blvd., through March 31.
Pascal Sabino is a Report for America corps member covering Austin, North Lawndale and Garfield Park for Block Club Chicago.
Block Club Chicago's coronavirus coverage is free for all readers. Block Club is an independent, 501(c)(3), journalist-run newsroom.
Subscribe to Block Club Chicago. Every dime we make funds reporting from Chicago's neighborhoods.
Already subscribe? Click here to support Block Club with a tax-deductible donation.