LOGAN SQUARE — Since its founding a decade ago, the nonprofit arts organization Comfort Station has become one of Logan Square's most significant cultural hubs, regularly hosting film screenings, art exhibitions, concerts, lectures and more.
But the programs neighbors have come to rely on might come to a halt if the organization can't fill the $20,000 budget hole it's facing due to the coronavirus pandemic.
To keep its programs going and to support struggling artists, Comfort Station leaders are holding an online auction Dec. 7-14 in which neighbors can bid on original, locally made art commissions.
All of the commissions being offered are custom works for people's homes, hence the name of the auction, Home Comforts. One of Vivian Maier's photographs, taken in 1952, is also up for bid. The money raised will go to Comfort Station and the artists.
If the auction is successful, Comfort Station leaders will be able to "make some bold plans" for 2021, said Jordan Martins, the group's executive director.
"We could just shut down and wait it out and not do anything until COVID is gone and therefore not have to spend any money on programming and pay artists, but we felt like that was not going to be a long-term solution we'd be happy with," Martins said.
"We wanted to enter 2021 with some bold plans that are responsive to COVID and not just hibernate while COVID is here."
The auction will feature the works of 20 artists, all based in Chicago. A light installation made by Sean Gallero and Petra Bachmaier, who go by the moniker Luftwerk; a custom portrait by Zakkiyyah Najeebah Dumas-O'neal; and a bent metal sculpture by Robert Burnier are among the offerings.
For a full list of artists, go to Comfort Station's website.
Martins said they chose artists whose work they could easily imagine "as being incorporated into the interior design of someone's home."
"We're really thinking about the buying public here and curating 20 works that offer a buyer and a homeowner a very, very unique opportunity," Martins said.
Comfort Station, like many arts organizations across the city, has struggled to bring in revenue this year with in-person gatherings restricted due to the pandemic.
Every year, Lula Cafe hosts a fundraiser dinner to support Comfort Station, but this year's event had to be canceled, as did other planned fundraising events with Middle Brow and Webster's Wine Bar.
"We took in $10,000 a year from the Lula dinner alone," Martins said. "The $20,000 figure reflects our anticipated losses based on what we were expecting to raise through these three partnerships."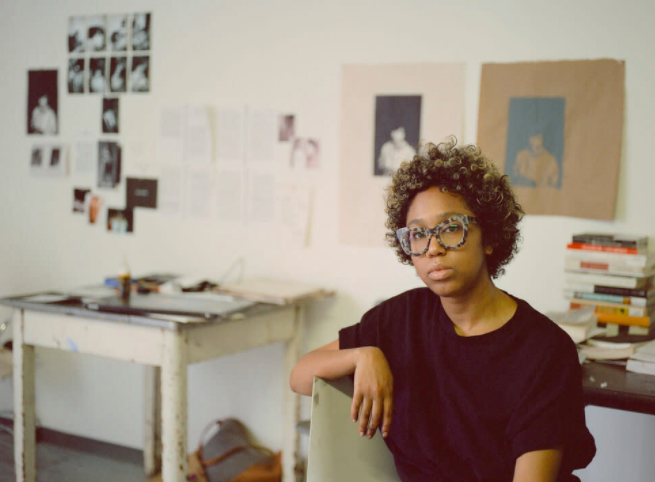 Unlike other arts organizations, Comfort Station is not in danger of closing completely. The volunteer-run organization has a partnership with the city and Logan Square Preservation that allows it to operate rent-free out of a one-story cottage, an old city warming station at 2579 N. Milwaukee Ave., and that won't change.
"We're very, very relieved and grateful that we can weather this. And a lot of of other arts organizations don't have this luxury. They may not weather it; they may not know if they can reopen. We know we can reopen. There's been a lot of gratitude for that," Martins said.
Still, a successful auction is key to continue operations next year.
If they raise enough money, they hope to host more outdoor film screenings during the warm months and produce high-quality videos of concerts and musical performances they can put online for neighbors to enjoy, Martins said.
The money will allow them to buy and maintain equipment, and it will allow them pay artists, which is important to the organization, Martins said.
"If we don't hit our targets, we'll have to be much more conservative," he said.
Comfort Station's online auction begins Dec. 7.
Subscribe to Block Club Chicago. Every dime we make funds reporting from Chicago's neighborhoods.
Already subscribe? Click here to support Block Club with a tax-deductible donation.