LITTLE VILLAGE — An eighth Cook County Jail detainee has died of coronavirus, the Sheriff's Office confirmed.
Harold Graszer, 85, died Monday at Stroger Hospital after contracting coronavirus at the jail, according to the Sheriff's Office. His cause of death is still being determined.
Graszer was facing charges, including predatory criminal sexual assault, in two cases, according to Chicago Police. He was accused of sexually assaulting two people under the age of 13, police said.
Graszer's bond was set at $150,000, and he was denied a bond reduction Sept. 30, Sheriff's Office officials said. He is the first jail detainee to die of coronavirus since May.
Meanwhile, Cook County Jail's population has swelled to pre-pandemic levels, causing concern that another coronavirus outbreak could hit the jail hard as Chicago's grapples with its second wave. In April, nearly 700 detainees and corrections officers connected to the jail tested positive for the virus, making the jail home to one of the largest outbreaks in the U.S. at the time.
When the coronavirus outbreak hit the jail this spring, the sheriff's office, state's attorney's office, defender's office and judges worked to reduce the jail population so detainees who weren't a deemed a threat to public safety could await trial from their homes. But the population has been slowly growing again since then.
Now, cases in the jail have grown from a few dozen at the beginning of the month to 190 cases connected to the jail — 144 detainees and 46 correctional officers as of Tuesday.
Without an overhaul of the pretrial bond process and a dramatic increase in the number of bail-eligible detainees being released, Cook County Jail is poised for a second, potentially deadlier series of outbreaks, said Alexa Van Brunt, director of the MacArthur Justice Center Clinic at Northwestern.
"It's life and death," Van Brunt said. "The numbers are scary, and we've got to get out ahead of this … to get people out of that jail."
The courts began an emergency bail review process in March that reduced the jail population by about 25 percent. The courts worked with the sheriff, state's attorney and public defender's offices to identify which detainees would be considered for release, such as those vulnerable to COVID-19 and those who weren't a public safety risk but couldn't afford bail.
The result was a historic low in the jail population of about 4,000 detainees, which freed up space and resources to facilitate more social distancing behind bars, Van Brunt said.
"The problem is, that was very temporary measure. And I think it's pretty clear that judges have reverted back to business as usual in considering bond decisions," she said.
Despite the reductions in the spring, coronavirus tore through the jail population. More than 1,000 detained people and correctional officers have gotten sick with COVID-19 and recovered, and eight detainees and four officers have died, according to data from the Sheriff's Office.
As of Tuesday, there were 5,518 detainees in the jail. On March 1, just before the pandemic hit, the jail housed 5,604 detainees.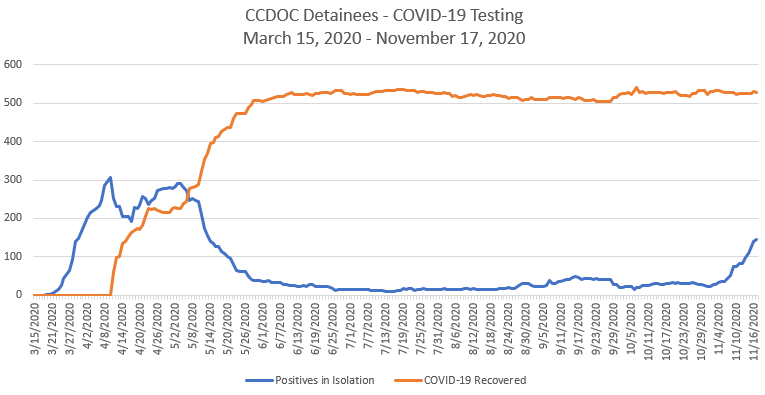 An appeals court in September overturned part of an earlier ruling that directed the sheriff to increase social distancing by eliminating double cells and group sleeping arrangements. Jail reform advocates worry this could put detainees further at risk, Van Brunt said.
The jail implemented social distancing efforts even before the earlier court order, said Matt Walberg, Sheriff Tom Dart's spokesman. The appeals court upheld the order that required the sheriff to improve other safety measures "relating to the protection of detainees," Van Brunt said.
The jail is conducting broad testing of detainees, Walberg said, and it has expanded its use of single-person cells to promote social distancing. The jail also implemented heightened cleaning practices and mask requirements, he said.
"All the things you'd want an institution to do, they've been done," and most new cases are coming from new detainees, Dart said at a news conference.
"If the virus is proliferating outside of the jail walls, it is going to eventually get through even the best defenses, either from staff who must go about their lives outside of work or through incoming detainees."
The increased jail population can be attributed to typical increases in crime over the summer, which has been compounded by social issues like unemployment aggravated by the pandemic, creating conditions ripe for crime, Van Brunt said.
"That's complicated by the fact that there just aren't the same pretrial releases now that we saw in the spring," she said.
The office of Chief Judge Timothy Evans was not available to comment.
A spokesperson for State's Attorney Kim Foxx said prosecutors are committed to working with other agencies to minimize the number of pre-trial detainees incarcerated at the jail who are not a risk to public safety.
During bond proceedings, prosecutors will recommend judges set accessible bond rates whether the person charged is "awaiting trial during COVID times, or awaiting trial during normal times," the spokesperson said.
"We are working with our law enforcement partners to assess who should be in jail. That means, who is at risk to public safety," the spokesperson said. "If their only reason for staying in jail is because they can't afford the bail the judge gave them … that means they shouldn't be in jail … when they could be sitting at home awaiting trial and providing for their families."
Pascal Sabino is a Report for America corps member covering Austin, North Lawndale and Garfield Park for Block Club Chicago.
Block Club Chicago's coronavirus coverage is free for all readers. Block Club is an independent, 501(c)(3), journalist-run newsroom.
Subscribe to Block Club Chicago. Every dime we make funds reporting from Chicago's neighborhoods.
Already subscribe? Click here to support Block Club with a tax-deductible donation.