LITTLE VILLAGE — A longtime Little Village street vendor died Sunday after contracting coronavirus two weeks earlier, according to his family.
Family members are raising money for funeral expenses and to send the man's remains back to his hometown in Mexico.
For two decades, Guadalupe Perez, affectionately known as Don Lupillo, would sell raspados naturales, or shaved ice, along 26th Street during the spring and summer. Without fail, the 62-year-old parked his cart near La Chiquita Supermercado on 26th Street and Central Park Avenue as customers young and old lined the block to get one of his many flavors. 
"He was an incredibly hard worker who loved his family," said his son, Alejandro Perez. "He was a great person with a big heart.
"He would help his friends and even strangers in any way he could. He never said no when people asked for a favor."
Claudia Perez, Guadalupe's sister, remembered her brother as being "full of life" and "always being so happy."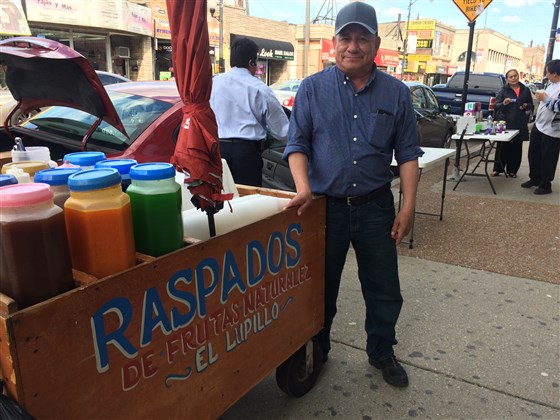 Guadalupe and Alejandro Perez, who shared a home, contracted the virus two weeks ago. Alejandro recovered while Guadalupe's symptoms worsened from a fever to a cough, and he started having difficulty breathing, his son said.
Guadalupe also lost his taste and smell and had difficulty talking, Claudia said.
Guadalupe's family repeatedly urged the man, who had diabetes, to go to the hospital, but he assured them "he was fine," his sister said.
On Sunday, Guadalupe stopped breathing and family members called 911.
At the hospital, doctors said Guadalupe's lungs had collapsed and his oxygen level had plummeted to 20 percent. Normal oxygen levels are 95-100 percent, according to health officials. 
Guadalupe died Sunday, according to the Cook County Medical Examiner's Office. He would have been 63 on Dec. 12, his son said.
In recent weeks, coronavirus cases have surged throughout the city and state. Over the weekend, 238 deaths and 21,659 confirmed cases were reported across Illinois.
In the 60623 ZIP code, which includes Little Village where Guadalupe lived, 519 people tested positive Nov. 1-7. Three people died from the disease in that ZIP code that week, according to city data.
Since March, 6,049 people in that ZIP code have tested positive for coronavirus — the equivalent of 1 for every 14 people — and at least 167 people have died, according to city data.
Guadalupe's death has devastated his family and the Little Village community. A GoFundMe campaign in his honor has collected more than $5,200 in donations.
"I'm going to miss my eggnog-flavored shaved ice. May God keep him in his glory and may Don Lupe rest in peace," one donor commented. 
"Rest in peace Don Lupillo. Your presence will be missed so deeply in LV," another wrote.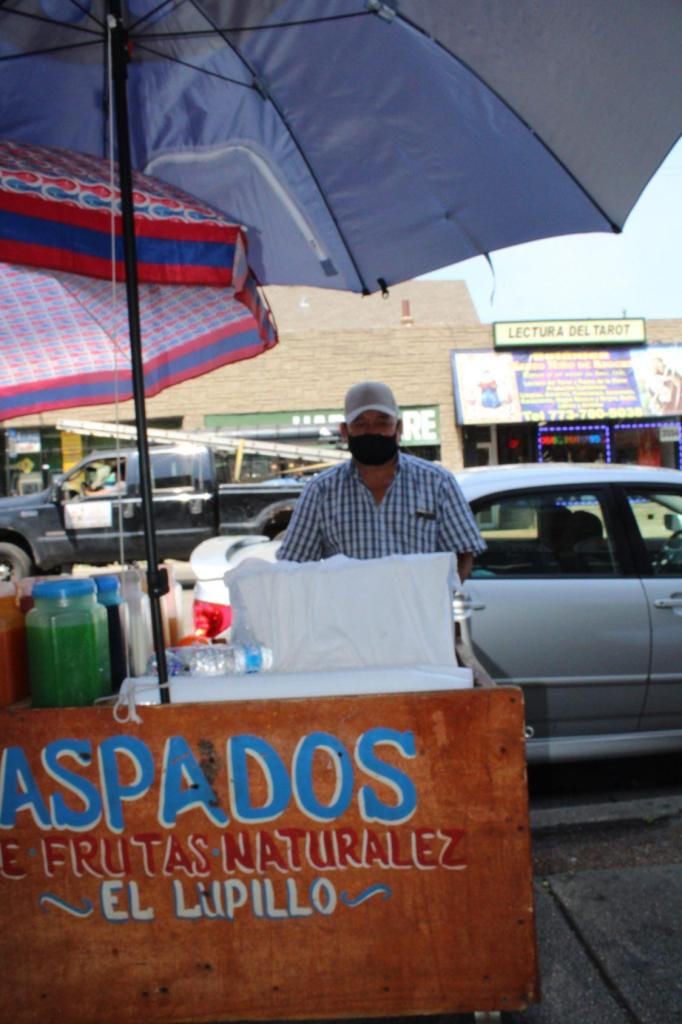 'He Built Friendships And They Became Like Family'
Guadalupe Perez first moved from San Juan Acateno in Puebla, Mexico, to Little Village in the late '90s. He worked alongside his family, selling tamales during the winter and raspados during the summer.
Over the years, he dedicated his time to his stand, which had become popular with locals as well as people who trekked from other neighborhoods to get his raspados. 
"He did his work with love," Claudia Perez said. "A lot of people would look for him. There were days were he would come back super exhausted because he had long lines of people all day long."
Guadalupe's grandson, Jason Perez, 17, remembers spending his summers selling raspados alongside his grandfather.
"He gave me my first job," he said.
In spending time with his grandfather, he saw all the friendships his grandfather had forged through his kindness and caring for others in the community, Jason Perez said. 
"He was a kind man," Jason Perez said. "He would always give advice to everyone. He made good friends here."
Street vendors who rely on foot traffic have been hit hard by the pandemic. Guadalupe's niece, Elizeth Arguelles, a member of Increase the Peace who has helped raise money for street vendors around the city, said it's been difficult for her uncle and family members.
Despite fewer people being out and about because of coronavirus, Arguelles, 25, said her uncle wasn't deterred. While there have been "rough patches," he kept setting up his cart in this summer.
"He still had his loyal customers that would still visit him," she said. "He built friendships and they became like family."
Family was the center of Guadalupe's world.
When Alejandro Perez would arrive home from his job working at a hotel Downtown, his father would have dinner waiting for him and would let him know what dinner he planned to cook the following day.
And Guadalupe made it his mission to gather enough money to send money to his five children and grandchildren in Mexico, Arguelles said.
"He loved, loved, loved his grandchildren," she said.
As the family members mourned his loss, they thanked the community for helping them with funeral costs.
"The work that street vendors do goes beyond the transaction," Arguelles said. "It's really the fabric of the community … . He leaves a legacy of raspados, kindness, putting a smile on your face and bringing joy to the community.
"He's not going to be forgotten."
You can donate to Guadalupe Perez's GoFundMe here.
Subscribe to Block Club Chicago. Every dime we make funds reporting from Chicago's neighborhoods.
Already subscribe? Click here to support Block Club with a tax-deductible donation.