ANDERSONVILLE — Hopleaf will close indefinitely, becoming the latest business to temporarily shut its doors in an effort to wait out the coronavirus pandemic.
With the end of patio season at hand and a stay at home advisory in effect, Hopleaf owner Michael Roper said he will close his doors until conditions improve.
Roper made the announcement Thursday, saying Hopleaf will stay closed until indoor dining is safe for at least 25 percent capacity. Such conditions may not arise until next year, Roper said.
"Trying to be open with this little trickle of business is just too hard," Roper said. "The numbers work out better to sort of mothball the place.
"This is going to be a longer, cold winter," he said. "We hope to just ride this out."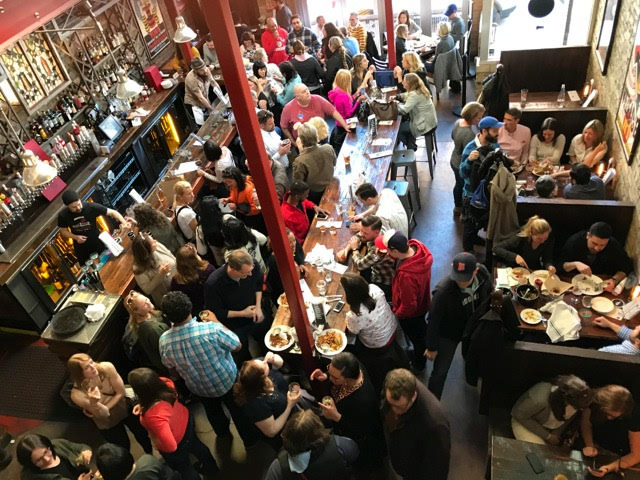 Hopleaf, 5148 N. Clark St., is among the growing number of Chicago restaurants closing temporarily in an effort to survive the pandemic. Last week, Logan Square's Scofflaw and Longman And Eagle announced they would close rather than seek to get by merely on take-out business.
After the most recent indoor dining ban was announced, Hopleaf survived on its patio service, but there are only nine outdoor tables, Roper said. Colder temperatures have cut into patio business, and rising coronavirus numbers are keeping customers at home.
"A substantial amount of our customers don't want to go out right now," Roper said.
Hopleaf can survive being closed until about April or May, Roper said. After that, Roper said he would likely have to cut into his retirement savings or make a painful decision to close permanently.
While Hopleaf can withstand a prolonged shutdown, many other neighborhood favorites are not in a similar situation, Roper said.
Roper owns the Hopleaf building, though he has a sizable mortgage. Of about the $25,000 in fixed costs each month, Roper said he has had about two-thirds of the payment sources deferred or reduced.
To pare down costs while closed, Roper turned off Hopleaf's refrigerators, shut off garbage collection, lowered the heat and renegotiated some costs like liquor license insurance, he said.
"You're going to see an awful lot of places close down permanently," Roper said. "And it's not like good vendors are staying open and bad ones are closing."
Roper, who opened Hopleaf in Andersonville in 1992, is hoping that his business is in a position to thrive when the coronavirus pandemic is curbed.
"Places that survive are likely to be rewarded with this incredible pent-up demand," he said. "I actually believe there will be a new roaring '20s when this ends. We plan to be here for that."
Block Club Chicago's coronavirus coverage is free for all readers. Block Club is an independent, 501(c)(3), journalist-run newsroom.
Subscribe to Block Club Chicago. Every dime we make funds reporting from Chicago's neighborhoods.
Already subscribe? Click here to support Block Club with a tax-deductible donation.